Learning new digital techniques from observing non-digital process, Richard Jesse Watson inspiration and some Tiffanny Varga watercolor tutorials
Although I primarily illustrate using digital methods (Photoshop CS6 with a 7.5″ x 11″ Intuos Wacom tablet), I'm starting to experiment more with non-digital media on the side. Partly because I like to always be learning something new, to try different techniques, but also because I'm often inspired to try new digital techniques after observing non-digital process.
To illustrators: whether you use digital or non-digital techniques, don't turn your nose up at The Other Side. In my experience, you can always learn something from how other creative types work.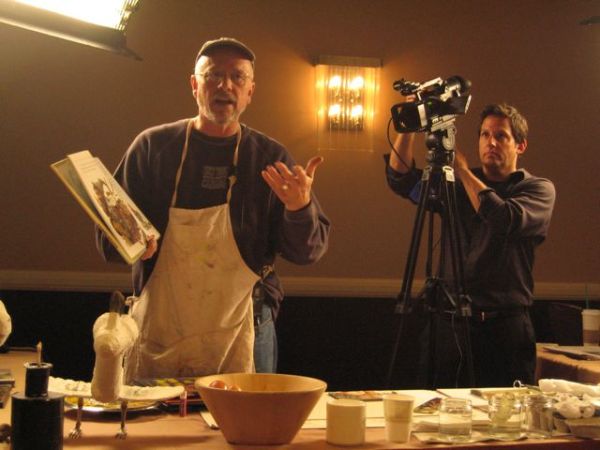 Richard Jesse Watson at the 2011 SCBWI-LA Conference
In 2011, for example, I was super-inspired by the Illustrator Intensives at the SCBWI Summer Conference in Los Angeles. That year, a bunch of experienced children's book illustrators demonstrated their techniques in a hands-on demonstration; you can see my reports about the sessions on KidLitArtists.com.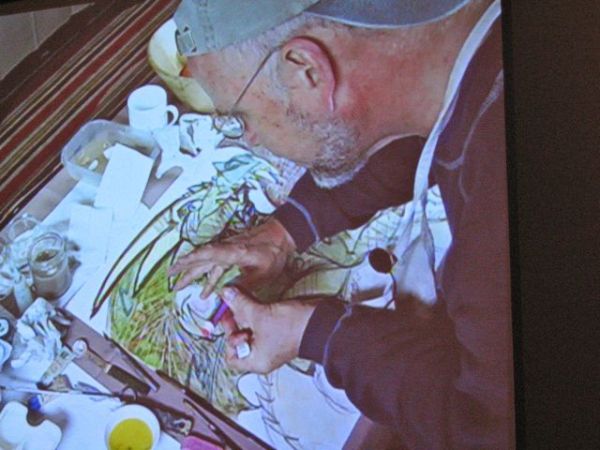 Richard Jesse Watson gives a demo
Kudos to the SCBWI Illustration Board and artists involved for providing this amazing opportunity for illustrators to observe. There were two rooms set up so that while the attendees were in one room, the next artist could be setting up, PLUS cameras set up so we could see a close-up overhead view on a screen as each artist worked. There were a wide variety of techniques and styles from renowned children's book illustrators like Paul O. Zelinsky, Marla Frazee, Richard Jesse Watson, Kadir Nelson, Denise Fleming, David Small and Jerry Pinkney.
I learned from everyone, though I was especially inspired by Richard Jesse Watson's demo because his approach felt closest to mine. I loooved how he used different techniques to add texture to his color, his frenzied creative energy. After seeing his workshop, I started experimenting with how to add more texture to my digital illustrations, including learning how to create my own custom-made digital brushes in Photoshop. I ended up using a lot more interesting textures in illustrations for NAKED!, a new picture book written by Michael Ian Black that comes out from Simon & Schuster Books For Young Readers next year: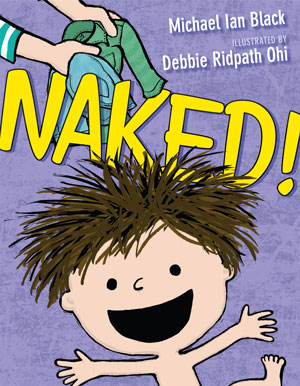 Anyway, I recently came across some fascinating watercolor tutorials by Tiffanny Varga. I love the way she how lets different hues of the colors mingle instead of mixing them completely. I'm so going to try this with my real-life watercolor experiments as well as figuring out how to do this effectively with digital watercolor.
Thanks to Children's Illustrators On Fire for the video links!
You can find Tiffanny Varga on YouTube and Twitter, plus her sketchbook blog and portfolio.