Quickie Poll Results: Strange Things That People Use As Bookmarks
Earlier in the weekend, I asked what you used as bookmarks in the last print book that you read. 42% said that you just used a regular bookmark. 9% said you fold back the corner of a page (GAH!!!). 6% said you didn't use any bookmark. The rest used irregular bookmarks (see comments below). I also asked people to list the most unusual item they've ever used as a bookmark.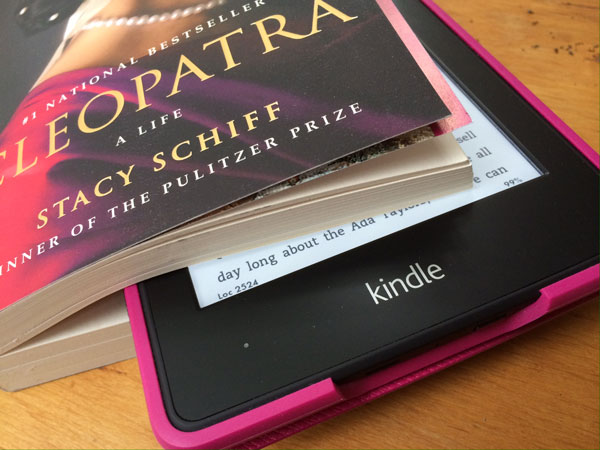 Glad to see that I'm not the only one who has used my Kindle to mark my place in a print book. I do have a large collection of bookmarks, but more often I just grab whatever nearby object's handy to use to mark my place.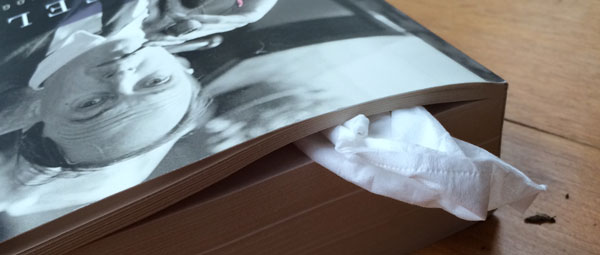 Here's a list of items that some of you said you've used as bookmarks in the past:
"Reading glasses (bonus: you also know where your reading glasses are). @amgamble"
"My wife used the dustjacket flap, which may be grounds for divorce. – @RonCharles"
"Candy wrapper. @ConnieBDowell"
"Another book, probably. Maybe that's not all that unusual. @jenhoward"
"My Kindle? True story. Or my reading glasses. I have also used clothing items. @janflora"
"A botched square from my string quilt project @krwhimsy"
"A Burger King straw, still in the wrapper. It was all I had on hand at the time. Still, CoffeeandKiwis on Twitter."
"Leaf I pulled off of a tree @MomDude56"
"An old photograph I found in a used book: three fierce-looking men standing in front of a Model T Ford."
"Another book! @rfarrenbarber"
"Leaf or twig while on the dock at the cottage @SuzanneDelRizzo"
"A sock @CMLasswell"
"Probably a hair tie – it was an emergency and the first thing that came to hand."
"(clean) tissue"
"A knitting pattern chart! Though I don't suppose that's actually 'unusual' when it's marking your place in a knitting book… @Knitronomicon"
"A pokemon card! @katefall"
"Anything that comes to hand: sticky notes, stick flags, tissues, napkins, old train tickets, receipts, photos, old Metrocards, paper money (usually just a one-dollar bill). I have plenty of real, purpose-built bookmarks, but they are never where I need them."
"I make my own by tearing reply cards into narrow strips."
"Reading in the car at kid's soccer practice, used the tow truck operator's business card that he left after last repair."
"I often use bits of paper my kids have doodled on. They make me smile. @jenhoward"
"I like to use old hotel key-cards (or similar – used gift cards, etc.). They're good and sturdy! (@JBD1)"
"Yes, I marked them all, which seems ridiculous, but I do them all and I did most of them to the recent book. I have tons of bookmarks, but I often fall asleep reading, so the book falls shut or I just grab a piece of paper in a hurry. And I have a book laying upside down and open beside me now. Note: I don't think I cornered the book I just finished, but had to check it out of residual guilt because that was a habit my mom always reprimanded me for as a child ("A tree died for that book!"). I did fold a bottom corner (of the laying open book–so bad!) to mark a quote I need to find later (guiltguiltguilt). @janflora"
"I used a letter from my girlfriend. It's still in my copy of No Plot? No Problem!. I'm CoffeeandKiwis on Twitter."
"Airplane boarding pass @MomDude56"
"I used one of my own promotional postcards…"
"One of those post-it sticky arrows."
"I usually use those "subscribe" postcards that fall out of magazines like the New Yorker. @annerallen"
"(My irregular bookmark was my chiropractor's business card). @dragonwrites"
"I made mini bookmarks from Moo mini cards to accompany promo materials. I always keep a few for myself ??@SuzanneDelRizzo"
"Don't fold the corner!! I used a glossy promotional card that was given to me by an author. @CMLasswell"
"Discarded backing paper from a sticker."
"I like The Last Line bookmarks that slip over a few pages – they stay in place and there's nothing sticking out to get caught and dislodged. Unfortunately, I don't think they're made any more… @Knitronomicon"
"Bookmark from the (indie!) bookstore where I purchased the book. @wisekaren"
"Kleenex"
————–
Also see Debbie's other Surveys and Polls.