Interview: Cassandra Morris on creating audiobooks and the narration of I'M BORED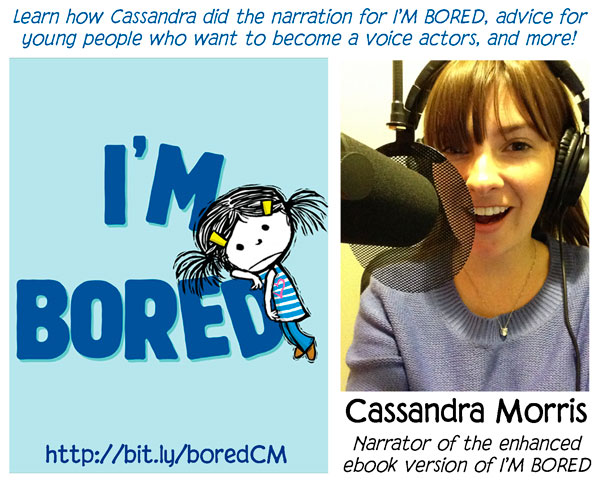 A while back I mentioned how much I loved the voice narration on the enhanced ebook version of I'M BORED. Voice actor Cassandra Morris has not only done narration work for audiobooks but also for anime and videogames, plus she is also a writer and editor.
Cassandra has kindly agreed to answer a few questions about the process of recording an audiobook, as well as share some tips for aspiring young voice actors.
You can hear a sample of Cassandra's narration here:
https://www.instagram.com/p/c_t1vDq9LJ/?utm_source=ig_web_copy_link
You can get the enhanced ebook version of I'M BORED on iTunes.
Q. How did you become the narrator for the enhanced ebook version for I'M BORED?
Cassandra with Kyubey, one of her characters.I've always loved reading. I was the kid in class who would read a book under their desk, totally oblivious to everything that was going on around them. I started doing community theater and taking dance lessons in Connecticut at age 8, and started acting professionally in New York City when I was 14. I did a lot of commercials and some TV and film, but where I really shined was voiceover work. Fast forward to 2004, when my agent sent me an audition to narrate the Young Adult novel "Dear Zoe," by Philip Beard. It was my first audition for an audiobook. I fell in the love with the story, I really, really wanted to get the part, and it showed during my audition. I ended up booking the part! And that started my career as an audiobook narrator.
https://w.soundcloud.com/player/?url=http%3A%2F%2Fapi.soundcloud.com%2Ftracks%2F21770249
The producer of that book really liked my work, and he hired me to narrate another young adult novel. Then he gave my name to some other producers, and they started bringing me in for auditions to narrate books they were working on. I also started to do a lot of networking (trying to meet as many people as possible in the audiobook industry), because I discovered that this was something I really loved to do. I wanted to narrate more, and more, and more! I still do. Audiobooks combine two of my favorite things- reading and acting, so it's the perfect fit for me.

Over the past two years or so, I've been narrating Simon & Schuster children's books regularly. They're some of my favorite books to work on! They're funny, beautifully illustrated, and it takes me back to my childhood, when my dad used to read to me before bed. I've narrated about 50 children's titles for them so far, which they've turned into enhanced eBooks.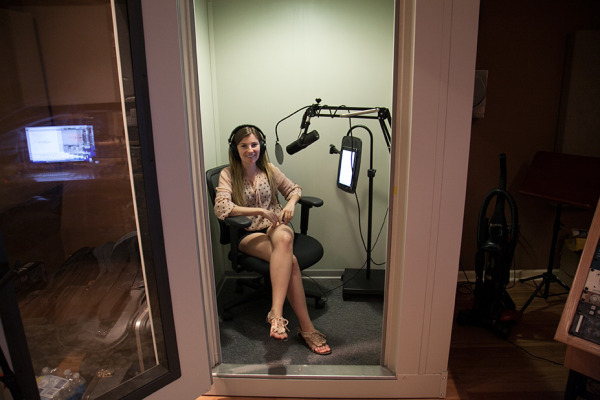 Q. What was the process like?
The producer will send over PDF versions of the books- we call them "scripts," even though it's basically the entire book, illustrations and all!- a few days ahead of time. I'll read them all, familiarize myself with the story (paying special attention to places where there should be pauses, deciding how to handle repetitive lines, what to do for the story climaxes, etc.) and come up with any character voices I'll want to do. I'll also check the script for any words or names I don't know how to pronounce. It's pretty rare to come across a word I've never seen before in a kid's book, but on a few occasions I've had dinosaur names or names out of an ancient myth that I didn't know. I'll look up the word, and contact the producer for help with any names.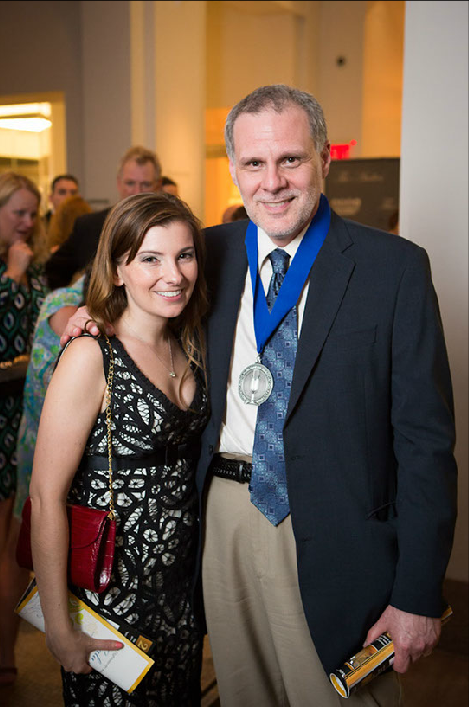 With audiobook producer Paul Gagne at the Audies (the "Oscars Of Audiobooks")Then, I show up at the recording studio for my session! The recording engineer sets up the microphone and has me do a test read of a few pages to set the recording levels and make sure everything sounds perfect. I'm in Los Angeles, but Robert Kessler, the producer/director, is in New York, so he's patched in via phone line, and I can hear him in my headphones. Then, I start reading!
We used to record off paper scripts, or even the actual bound book, but these days I record off of my iPad.
When I first started recording the Simon & Schuster kids' books, the director gave me a LOT of direction, and we would spend about an hour recording each book. I'd read the book several times, sometimes do certain pages or lines over and over, to get the cadence and delivery just right.
https://w.soundcloud.com/player/?url=http%3A%2F%2Fapi.soundcloud.com%2Ftracks%2F21770247
But like anything, the more you do it, the better you get. I know exactly what Robert is looking for, and he knows what to say to get the best performance out of me. So now we'll spend about a half hour on each book. I'll usually read each page twice, and sometimes we'll spend more time on a certain part of the book (usually during a really important turn, or the ending) to make sure the story is really brought to life.
Narrating children's books is very different from narrating novels. For novels, I'll usually do one take, and that's it. With kid's books, because they're so much shorter, I can spend a lot of time on each page and even stop and listen back if I want to hear something again.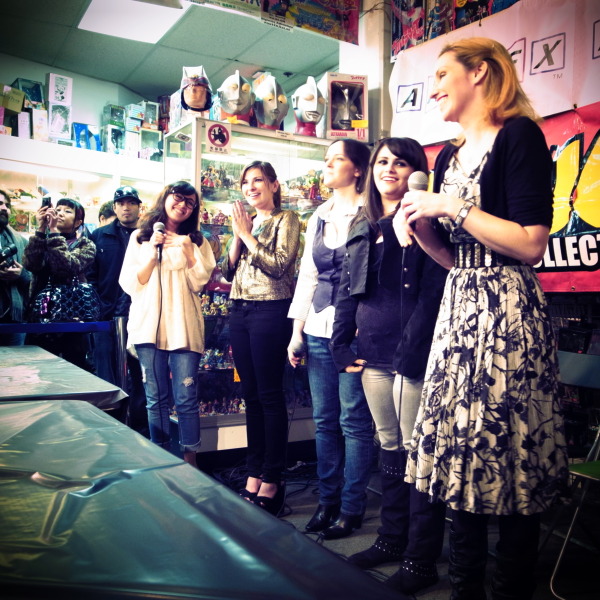 At a signing/promo event for the anime series "Madoka Magica."
Q. Any advice for young people who aspire to become a voice actor?
Start acting and performing wherever you can! Audition for your school plays, do community theater, join an improv comedy group for kids.., take advantage of any acting opportunity in your area. Go to theater camp. Get as much acting experience as you can, get comfortable performing on stage, and build up your resume.
Above: Cassandra answers young people's questions about favorite characters at Kumoricon 2013.
Narrating an audiobook for one day is similar to performing back-to-back one-person stage shows, it takes a lot of stamina and you have to keep your performance fresh and engaging. Stage acting will help you prepare for that.
Also, do a lot of research. If you want to do animation, watch a lot of current cartoons. If you want to be an audiobook narrator, listen to audiobooks.
Above: Cassandra's impromptu interview about her work in the Pretty Little Liars audiobooks.
Q. Any current or upcoming projects and events you're especially excited about?
Yes! I play Leafa in Sword Art Online, which is airing right now on Cartoon Network during their Toonami block. I'm the voice of a Disney toy and part of their Palace Pets App as Berry, Snow White's bunny. And as for the audiobooks- I have some great ones that came out this year! If you like comedy, listen to "My Brother is a Big Fat Liar" by James Patterson. If you like adventure, check out the Cronus Chronicles trilogy by Anne Ursu. And if you're looking for another enhanced ebook, I loved narrating "A Very Fuddles Christmas" by Frans Vischer- it's an adorable story about an overindulged cat!
Q. Where can people find out more about you and your work online?
My official website is www.cassandraleemorris.com. I'm also on Twitter (@socassandra), Facebook (facebook.com/ilovecassandralee), and in my spare time I run a style blog with my friend called Style Smoothie (www.stylesmoothie.com). Let's be friends!
You can get the enhanced ebook version of I'M BORED on iTunes.
Related resources:
Wikipedia entry: Cassandra Morris
——

 For more insights from book creators, see my Inkygirl Interview Archives and Advice For Young Writers And Illustrators From Book Creators. Inkygirl Interview Archive.