I'M BORED interviews, guest posts a podcast (and many giveaways of the book!)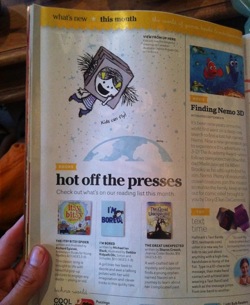 It's been an exciting and whirlwind week since I'M BORED launched on bookstore shelves last week!
Thanks so much for those of you who have been helping me promote the book online and offline. I've compiled a list of interviews, guest posts and other places online where you can find related posts, and most of these still are or were holding random draws for copies of the book.
*NEW* I am also going to be sending hand-drawn doodles to each of the book giveaway winners for I'M BORED. This applies to any blog who is doing an I'M BORED giveaway in the near fuure.
TODAY:
Wed. Sept. 12, 2012 (online): Interview by Christina Farley on Chocolate For Inspiration.
I'll also be giving a talk tonight at the monthly CANSCAIP meeting about my I'M BORED experience, the benefit of conferences like Packaging Your Imagination and SCBWI, as well as how to get the most out of these kinds of events.
RECENTLY:
Today's Parent and Parenting magazines featured I'M BORED (Today's Parent photo at the top right of this post courtesy Adele Maclean)
I was Featured Artist on PaperTigers.org
July 27, 2012 (online): Toasted Cheese interview with me about I'm Bored – by Erin Bellavia
August 20, 2012 (online): For Young Readers: Most Anticipated Books Of Fall 2012 (49th Shelf)
August 27, 2012 (online): At The Desk: Debbie Ridpath Ohi on Open Book Toronto
Tue. Sept. 4, 2012 (online): I'm Bored Releases Today! – by Christina Farley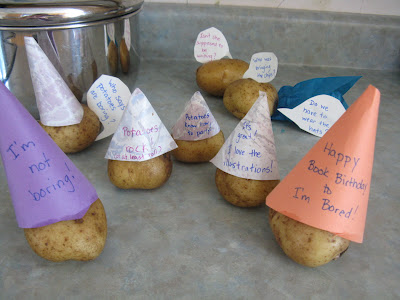 Tue. September 4, 2012: A MiG Writer Book Birthday Series: Happy Book Birthday To I'M BORED, by Christina Farley – A Fun Potato Recipe from Carmella Van Vleet – A Boring School Challenge, by Kate Fall – I'm Bored Potato Celebration, by Andrea Mack
Wed. Sept. 5, 2012 (online) – Miss Marple's Musings. Interviewer: Joanna Marple.
Wed. Sept. 5, 2012 (online) – I'M BORED contest announcement by Andrea Mack.
Fri. Sept. 7, 2012 (online) – Perfect Picture Book Friday, with Beth Stilborn.
Fri. Sept. 7, 2012 (online) – I'M BORED review by Greg Leitich Smith. "With expressive illustrations and a hilarious point-counterpoint, a little girl demonstrates that children are less boring than potatoes. And there are waterfowl, too. Really."
October issue of TODAY'S PARENT (print): I'M BORED feature mention
Sun. Sept. 9, 2012 (online) – New Voice & Giveaway: Debbie Ridpath Ohi on Cynsations. Interviewer: Lena Coakley.

Above: selection of photos from my I'M BORED In The Wild gallery of readers with the book.
Mon. Sept. 10, 2012 (online) – The Other Side Of The Story – podcast interview by Matt Mylusch
Mon. Sept. 10, 2012 (online) – It's Worth The Wait: My guest post on Beth Stillborn's blog, By Word Of Beth, about the waiting process between the offer and when the book finally appears on the shelves.
Tue. Sept. 11, 2012 (online): I'M BORED Trifecta with Mr. Schu and Colby Sharp:
— My guest post on Nerdy Book Club: In The End, It's The Story That Matters(A defence of so-called celebrity books)
— Mr. Schu's post about the I'M BORED book music video, his interview with Zoe (w/ help from Zoe's Dad)
— Colby Sharp shares his 4th grader's favorite moments from I'M BORED on Sharpreads
———-
You can find these and other press links on my Debbie's Interviews, Appearances, Guest Blog Posts and Other Cool Press Page.