Thanks to 14-year-old Caitlan for being my 26,000th follower on Twitter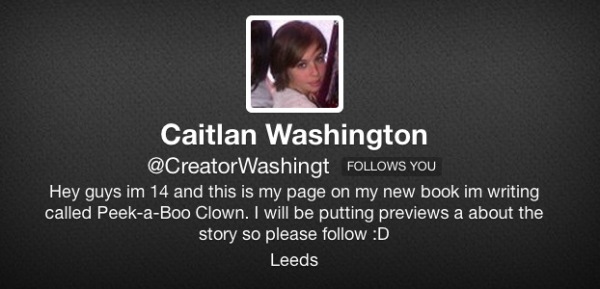 Thanks so much to Caitlan Washington (@CreatorWashingt) for being the 26,000th person to follow my @inkyelbows account.
With permission of Caitlan's parents, here's more about this young UK writer…
Caitlan says she's just "an ordinary 14-year-old girl from Leeds with a passion for performing."
From Caitlan:
Q. What kinds of books do you like reading?
"I love mystery and thriller books with cliffhangers at the end, making you want to read more."
Q. What were the last three books that you read?
Ann Cassidy – Looking For JJ
Yukiru Sugisaki – DN Angel
J.K. Rowling – Harry Potter and the Chamber of Secrets
Q. What were your favourite children's books when you were little?
The Magic Key and Winnie the Witch.
Q. Do you find that your passion for performing helps you when writing stories?
It helps so much being much more confident to be much more creative.
From Debbie: Thanks Caitlan, and good luck with your writing and performing!