MicroBookTweet: KAT, INCORRIGIBLE by Stephanie Burgis
Reading KAT, INCORRIGIBLE by @StephanieBurgis. Fun MG, Downton Abbey-esque w/ mystery & magic. I am in love with Kat.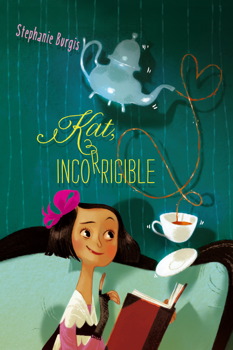 TITLE: KAT, INCORRIGIBLE
Written by Stephanie Burgis
Published by Atheneum Books For Young Readers, 2012
Grades 5-9
ISBN 9781416994480
See my interview with Stephanie Burgis about her creative process, childhood wonder and her KAT trilogy.
Also see Debbie's Reading Journal as well as Debbie's Bookstagram.