Three Questions For Kat Yeh: Twinkie Pie, Advice for Young Writers and what to do when you get Stuck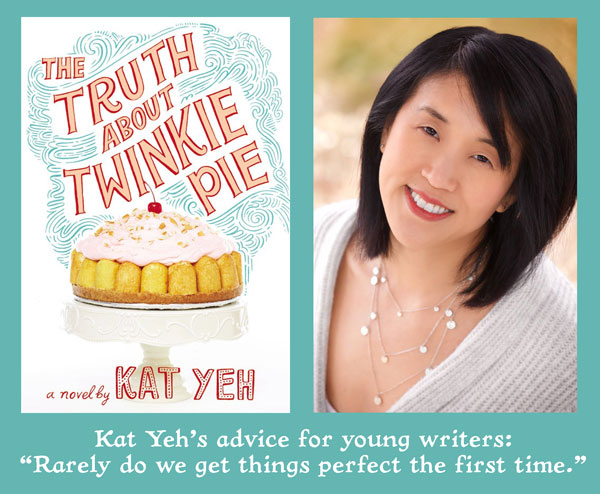 I devoured Kat Yeh's debut middle grade novel, The Truth About Twinkie Pie (comes out from Little Brown later this month), in two sessions. I got so hungry from reading the fabulous-sounding recipes sprinkled through the book that I had to take a break to eat something. Before I stopped, however, I had already teared up as well as laughed out loud at least once. Couldn't wait to keep reading!
Twinkie Pie is my favorite kind of book: a wonderful voice, characters I care about and an unexpected but thoroughly satisfying ending.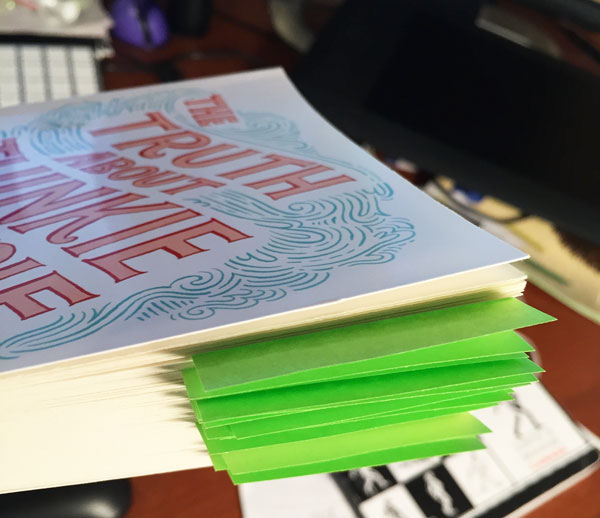 I've marked all the recipes in my copy of Kat's book that I want to try
I'm also a big fan of food books and food movies. While reading E. Nesbit's books, I lusted after an English Tea years before I really knew what it was. I always felt ripped off when a story text said "they had supper" but didn't give any details. The Truth About Twinkie Pie deftly weaves together the themes of food, family and friendship in an irresistable story about two sisters trying to make it on their own. You can find out more about the book on the Hachette/Little, Brown website.
An aside: I wasn't kidding when I said that the recipes throughout the book sound fantastic. I am SO going to try making No-Peek Chicken, Maybe Even Better Soup, Madder'n Heck Smashed Potatoes, Special-Occasion Fancy Sandwiches, Pull-Aparts, Easier-Than-Pie Pudding, Impossible Pie, Tangled-Up Pie, Heartbreak On Toast, Pick Me Up, Cherries In The Snow, and of course…Twinkie Pie!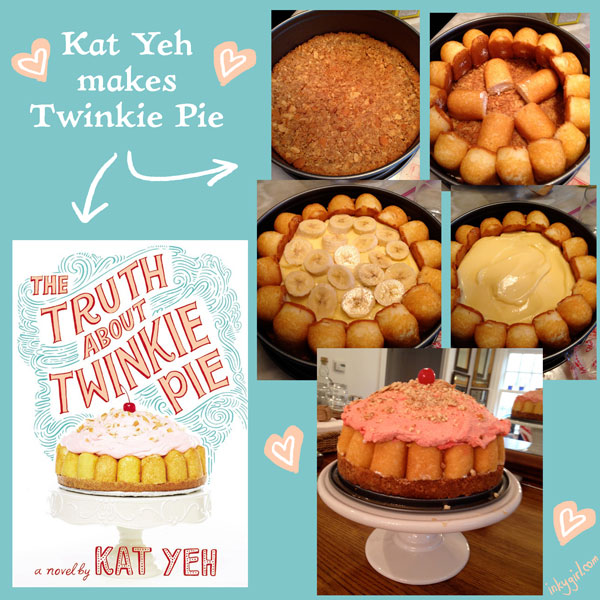 I'm not the only one who loved Kat Yeh's The Truth About Twinkie Pie. Here are just a couple of review excerpts:
"Filled with enough characters and plot for two novels, Yeh's nimbly voiced, combination fish-out-of-water, personal transformation and emotional family tale is also stuffed with charm." – Kirkus Reviews
"…in her first novel, picture book author Yeh (The Magic Brush) skillfully builds toward a breathless, emotional conclusion." – Publishers Weekly
If you're in NYC, you can help Kat celebrate the launch of The Truth About Twinkie Pie on Sunday, January 25th from 1-3 pm at Books Of Wonder. Wish I could go!
Kat has kindly agreed to answer three questions for me.
Q. How did you come up with those wonderful recipes?
The recipes! That was one of my favorite parts of this process and so much fun! Some of them are just classic recipes that have been around forever (like Banana Pudding) that I tried to give a fun little twist. Some I made up. And some, my friend, Elise Coster, who is a chef, helped me to figure out. There was an awful lot of taste testing going on in my house for a while there. I'm not complaining 🙂
Q. What advice do you have for young writers?
Last year, I started a correspondence with a young writer who reached out to me. It's been pretty amazing to hear how passionate she is about writing and creating and to read the questions that she has for me.
Our letters are rather lengthy so I will share only a little excerpt with you:
Dear Kat Yeh,

My name is _______. I'm fourteen years old and also a writer. So far I've written two childrens books (although that was in second and third grade), a novel, a play, and I'm currently working on my second novel. I do mostly realistic fiction writing.

My dream is to one day be a published author. I realize that, being only fourteen, that isn't likely to happen anytime soon, but I was wondering how you actually go about getting something published.

I was also wondering if you ever go back to read something you wrote a while ago, or even a couple days before, and just don't know what you were thinking when you wrote it. That happens to me a lot and I wanted to know if that happens to other people too.
Kat's Response:
Hi _______
…YES! I often look back at what I've written and wonder WHAT WAS I THINKING?!! This is good.
This means that you are allowing yourself to write without editing yourself. You are allowing yourself free reign to put down whatever it is at the moment that is feeling right and true. THIS is how great writing happens. Here's a secret that most writers know: Writing is Rewriting.
Rarely do we get things perfect the first time. The real art is in the work. Write something. Set it aside. Set it aside long enough that you can see it with new eyes. Read it. Think. Think about why you wrote what you did and what you were feeling and hoping. Edit. Make it better. Set it aside again. Repeat. 🙂
IF you have friends who also write, think about starting a group in your school where you read each other's work and talk about it. Find a teacher who is willing and interested in reading extra stories outside of class. Yes, you are young, but you already know what you love – this is wonderful!
—
Another thing that I often hear young writers talk about is how they get Stuck. And just do not know what to write.
So I tell them what I do. I write anyway.
I write about how Stuck I am.
And I keep going. I go on and on about the Stuckness and how Stuckish it really is and that it's as Stuck as a Stuck door or — or a painted window — you know the kind that has, like, 10 coats of paint on it so that the edges are all painted over and you can't open it. Not even with all your muscles and might! …not even if you HAD to get out because you were hiding in that over-painted bathroom and needed to sneak out the window only you didn't realize that it was stuck and now you can hear the footsteps coming closer and closer as you look at that stuck window one last time before the door knob turns and the door begins to creak open and –
well, you get the idea. You never know where one idea will lead you if you let yourself just WRITE whatever comes to mind. (I'll let the young writers finish that story for me!). What it comes down to is if you're stuck, write about being stuck. If you're bored, write about that. If you feel frustrated, write about that. And go on and on until it turns into something. You can always rewrite. But only if you write to begin with.
Q. What are you excited about or working on now?
I recently finished edits for my next picture book, THE FRIEND SHIP, which comes out next year with Disney Hyperion. AND I'm working on my next novel for Little, Brown which I am crazy excited about and nervous about and so, so hoping that I do it justice!
—–
Find out more about Kat Yeh on Facebook and Twitter.
Kat Yeh grew up reading, doodling, and scribbling in Westtown, Pennsylvania. She worked for many years in advertising and sports marketing — while writing for herself in the wee hours of the night. She currently lives on Long Island where she can see water everyday and explore all the bay and harbor beaches with her family. She is the author of children's books YOU'RE LOVABLE TO ME, Random House Books for Young Readers (2009), THE MAGIC BRUSH: A STORY OF LOVE, FAMILY, AND CHINESE CHARACTERS, Walker Books for Young Readers (2011), and THE TRUTH ABOUT TWINKIE PIE, Little, Brown Books for Young Readers (launching next week!), and THE FRIEND SHIP, Disney-Hyperion (coming 2016)!
—————-
For more insights from book creators, see my Inkygirl Interview Archives and Advice For Young Writers And Illustrators From Book Creators.