Interview: Claire M. Caterer on writing middle grade, getting published and THE KEY AND THE FLAME (Margaret K. McElderry / Simon & Schuster)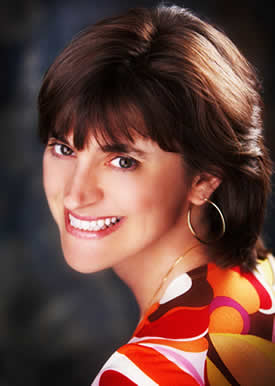 Claire M. Caterer was born in the Motor City and raised in the suburbs of Kansas City with a large assortment of cats, dogs, birds, hamsters, mice, and other creatures. Her childhood was spent reading about and inventing fantastical worlds. Today she is a full-time writer of books for all ages. She lives and writes in the Kansas City area, where she shares her home with one husband, one daughter, two dogs, and a host of imaginary friends. The Key & the Flameis her first novel.
Claire's editor at Margaret K. McElderry is Ruta Rimas, and her agent is Tracey Adams of Adams Literary.
You can find more about Claire at her website, on Facebook and on Twitter.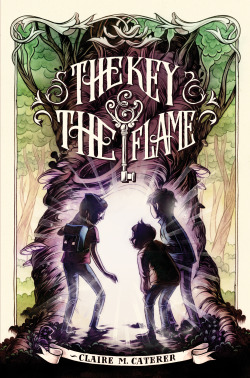 Title: KEY & THE FLAME
Written by: Claire M. Caterer
Age range: 8 and up
Published by Margaret K. McElderry Books (Imprint of Simon & Schuster)
About THE KEY & THE FLAME:
Eleven-year-old Holly Shepard wants nothing more than to seek adventure outside of her humdrum American life. She gets her chance at last when her family travels to England and Holly receives an unusual gift: an iron key that unlocks a passage to the dangerous kingdom of Anglielle, where magic is outlawed and those who practice magic are hunted. When her friend Everett and brother Ben are captured by Anglielle's ruthless king, Holly must rescue them. But that means finding—and using—the magic within herself and learning which magical allies she can trust. The Key & the Flame is the first in a brand-new fantasy adventure series for ages 8 and up.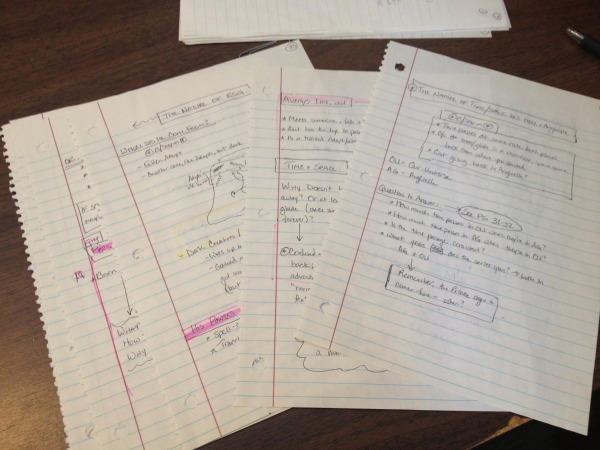 Some notes from Claire's pre-writing notebook.
Q. What was your writing process for THE KEY & THE FLAME?
I used to start with an idea and just see where it took me, but I've discovered that doesn't work very well with an intricate plot. I'd spend too much time rambling and not getting to the story. Also, if I want to weave in subplots, play with time, etc., I have to plan some things out in advance unless I want to have a big spaghetti-like mess on my plate that takes ages to fix.
These days, I usually start with a core idea. But before I start writing any actual words, I doodle. No, not cool cartoony pictures–I don't have that kind of talent–but lots of lists, big capital letters, stars, question marks. For THE KEY & THE FLAME, I had the image of a girl using a tree either to enter a parallel world or to slip into the past. Because trees can be so old–a tree might stand in one place for 200 years—they make the perfect time portal.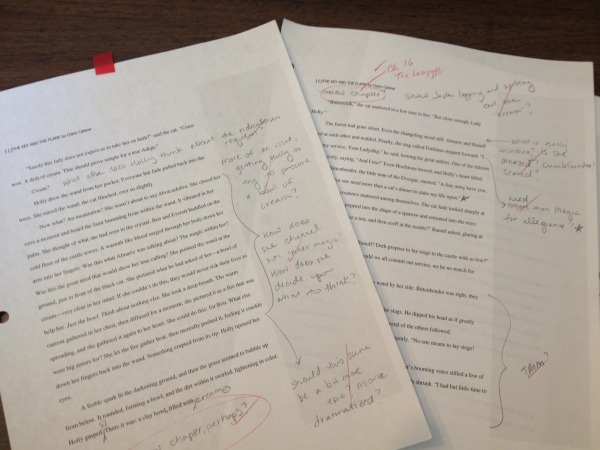 Some of Ruta's edits.
Longhand scribbling is very freeing for me. I fill pages and pages of a notebook with different ideas. Then, as the story starts to crystallize, I go back and highlight those items that resonate most. I might jot down a few broad plot points, like, "Tornado sweeps girl to magical land, girl incurs witch's wrath, needs to find a way home." (That's THE WONDERFUL WIZARD OF OZ, by the way, not my book.)
Once I know where the story is going and how it will end, I start writing. I usually don't have all the twists and turns of the plot worked out, but I have the big points in mind. Every few chapters, I'll chart out how the next few will go. That way I'm never stuck staring at that blank screen.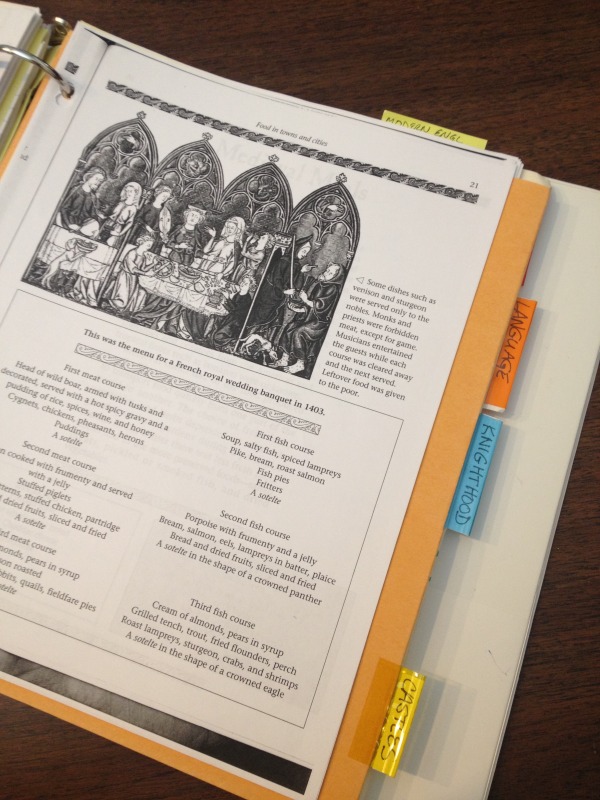 Q. How did THE KEY & THE FLAME get published?
I took a traditional–which is to say, long–route to publication. I had started writing a novel for adults—my seventh such attempt—and just couldn't get my heart into it. I knew it would be a pretty depressing book, and I was depressed writing it! I put it away and decided to write something for fun–something I'd really love to read and would've loved to read as a kid. The result was THE KEY & THE FLAME. And I knew it was clicking as I was writing it. I couldn't believe I hadn't been writing this kind of stuff all along.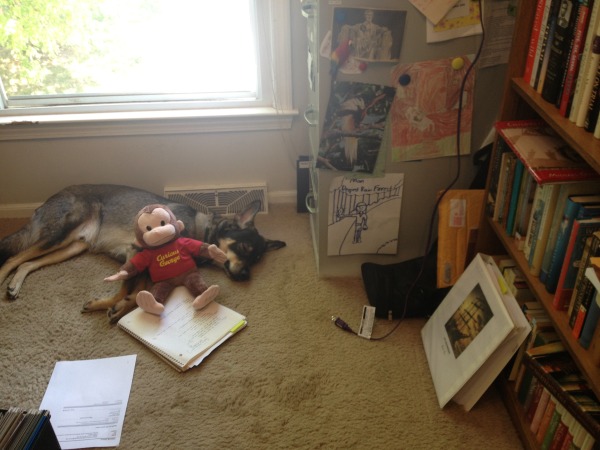 "My messy office, where Sawyer the dog always snoozes behind my desk chair. In this pic, he's snuggling a friend."
Once I'd written and revised the manuscript (many times!), I took a systematic approach to contacting agents. I started by going to AgentQuery.net and narrowing my search by genre (fantasy) and age group (middle grade). Then I went through every name and researched each agent separately.
When I queried a particular agent, I noted exactly why I was considering her–she'd mentioned at a conference that she loved classic fantasy; she'd told a blogger that C.S. Lewis was her favorite writer. Putting that much detail into a query takes time. Each one took about an hour to research and write.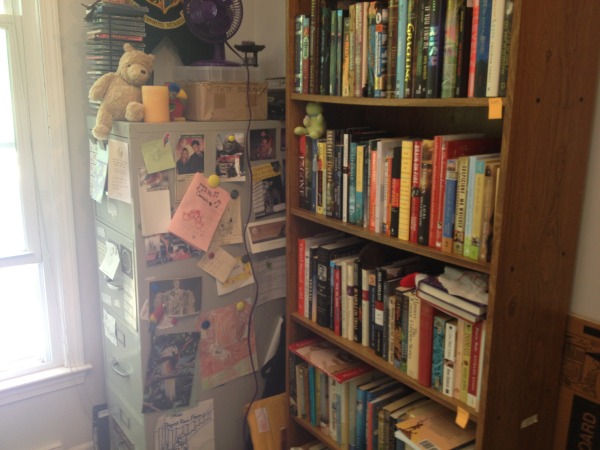 Books and files in Claire's office.
Chris Richman of Upstart Crow Literary was my top agent pick, but he was inundated with queries and was closed to submissions. So I moved down my list, gathering a big stack of rejections. Some were very nice, as in, "Not this one, but I like your writing, try me again." Some didn't respond at all, which is just what happens. I tried not to take it personally.
After I did another major revision and received about 20 rejections, Chris Richman was finally open to queries again. When I contacted him, he responded the same day with enthusiasm, and we became a team. He was a great agent for THE KEY & THE FLAME. He had me do still more revisions, which took several months, and finally he started subbing out the book in August 2011. By October, we had an offer from Margaret K. McElderry Books, a legendary imprint at Simon & Schuster. After dreaming of publication since childhood, and seriously writing and submitting for about 25 years, I honestly could not believe it was really happening. When Chris called to tell me, I kept saying, "No way—no way!" until he got a little annoyed with me.
Sadly, Chris decided to leave the agenting business this year, and I started my agent search over again. But I'm thrilled to have found Tracey Adams of Adams Literary. She's marvelous!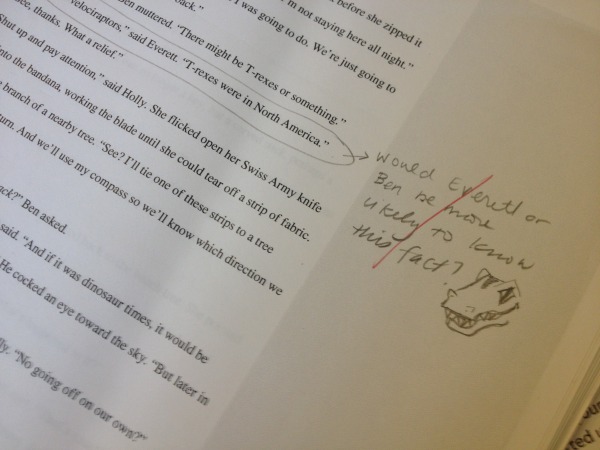 More of Ruta's edits. "See the cute little dinosaur head she drew above? Aww…"
I've really enjoyed the editorial process. It's so exciting to talk about my book with someone else who seems to think the characters are real people. My editor at McElderry is Ruta Rimas, and she's marvelous. I look forward to getting her questions and seeing her scribbles on the pages. Sometimes she even makes little doodles.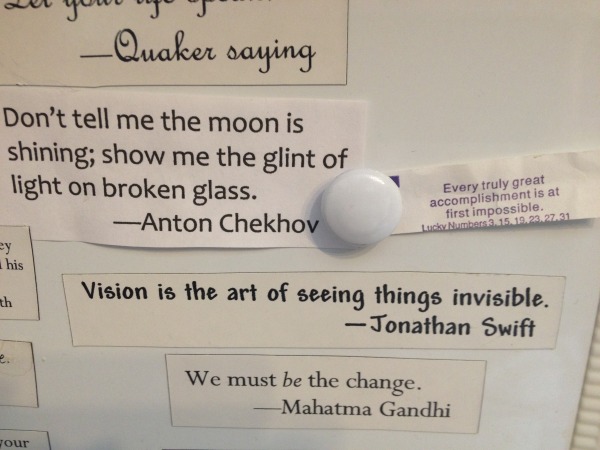 Inspiration quotes on Claire's bulletin board.
Q. What advice do you have for aspiring middle grade writers?
I always say I have six pieces of advice: Read, read, read. Write, write, write.
You positively, absolutely have to be a reader to be a writer. If you want to write for middle grade, read as much of it as you can, both the classics and the current stuff. Analyze it: Why do the old standbys have such staying power? Kids still read LITTLE HOUSE ON THE PRAIRIE and JAMES AND THE GIANT PEACH. Why? And what's new and exciting for this age group right now?
That said, don't ever read with the idea that you'll hop on the next hot trend. By the time you have your zombies-in-middle-school novel written, submitted, accepted, edited, and printed, zombies will be long gone and no one will care. Tell the story you want to tell, that you burn to tell.
Which brings me to the writing: You need to do it. A lot. And just as is true of reading, it pays to write lots of different kinds of things. Your muscles stay supple, and the writing doesn't get stale. Sometimes, write for fun, just as an artist doodles for fun. Try your hand at short-short stories and post them on your blog. There's a really fun site that started up early this year, Cabinet of Curiosities, wherein each of the writers submits a creepy story each week. It's fantastic!
The famous science-fiction writer Ray Bradbury recommended writing a story a week for a year. Not everyone has to practice that rigorously, but think about it: If you tried that, how could you NOT improve?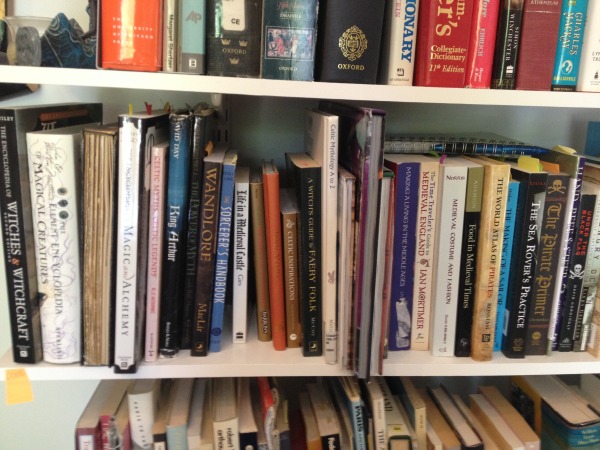 Claire's research bookshelf.
For writing middle grade, it also helps to be around kids. For years, I volunteered at my daughter's school library once a week. I overheard conversations, watched the kids interact, and as a bonus, got to see what they were interested in reading. If you haven't any kids of your own, see if you can get involved with your local school, church, or library. Go to other authors' events or children's book fairs.
Finally, you have to be able to think and feel like a kid—not how you think kids SHOULD feel, but how they DO feel. What's important to them? What do they dream about? If you have any old school papers or journals of your own, pull them out. Look at old photo albums and try to reach back to your 11-year-old self. Try writing about a day in your kid life as if it's the present. (Warning: This can be an emotional experience.) If you can't access your own kid feelings, you probably should write for adults.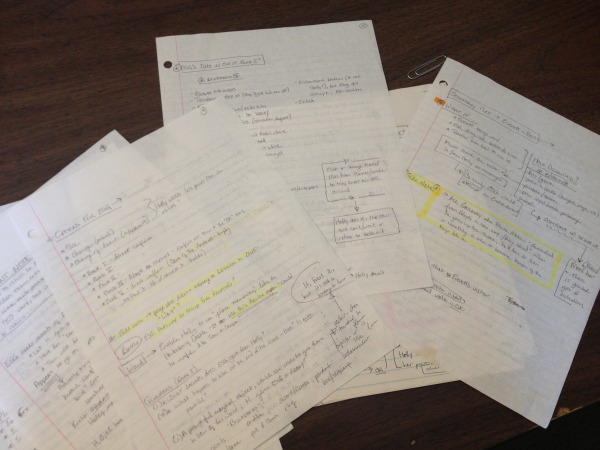 Some notes from Claire's pre-writing notebook.
Q. What are you working on now? Any other upcoming events or other info you'd like to share?
Right now my editor and I are working on polishing up the manuscript for the second book in The Key & the Flame series, which is slated to come out in summer 2014. I'm also starting work on the third book as well as kicking around some ideas for standalone novels. I don't have firm dates yet, but I hope to visit many schools and book festivals this fall. I love finding and connecting with readers!
You can find more about Claire at her website, on Facebook and onTwitter.
TWEETABLES:
THE KEY AND THE FLAME's @ClaireCaterer shares edit notes, how she got her agent, more: http://bit.ly/1aQ8PV5 (Tweet this)
You positively, absolutely have to be a reader to be a writer. – @ClaireCaterer on writing MG: http://bit.ly/1aQ8PV5 (Tweet this)
THE KEY AND THE FLAME's @ClaireCaterer on how she got published, advice for MG writers, more: http://bit.ly/1aQ8PV5 (Tweet this)
——
For more insights from book creators, see my Inkygirl Interview Archives and Advice For Young Writers And Illustrators From Book Creators.