MicroBookReview: THE DARKEST CORNER OF THE WORLD by Urve Tamberg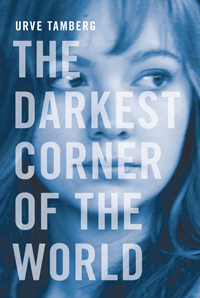 THE DARKEST CORNER OF THE WORLD
Author: Urve Tamberg
Publisher: Dancing Cat Books, an imprint of Cormorant Books
————-
Had a fantastic time in NYC. More on this soon. But one of the books I read during the trip was Urve's The Darkest Corner Of The World, which is about a teen girl's struggle in Estonia during the World War II Soviet occupation.
I was never a huge history fan back in school. I got great marks, but that was only because I was very good at memorizing. As soon as the school year over, all the dates and facts I had spent hours committing to memory melted away like the last bits of dingy snow left after a long winter.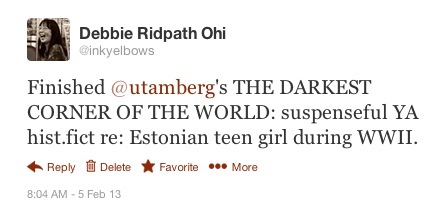 It was only years later that I began to become more interested in certain periods of history because of historical fiction I was enjoying. Caring about the characters made me care more about their world. After finishing a novel, I'd research using the library and (later) online resources to find out more.
I'm currently reading The Rise And Fall Of The Third Reich by William Shirer and enjoying it MUCH more than I expected. As a result, I'm also starting to seek out historical fiction tied in with related events. Code Name Verity was one, and The Darkest Corner Of The World was the latest.
Lots of fascinating details about Estonian culture and life back then, all skilfully woven into a fast-paced story about 15-year-old Madli and the difficult choices she must make in order to survive.
Also see Debbie's Reading Journal as well as Debbie's Bookstagram.