Book Trailer Survey Results: What Works & What Doesn't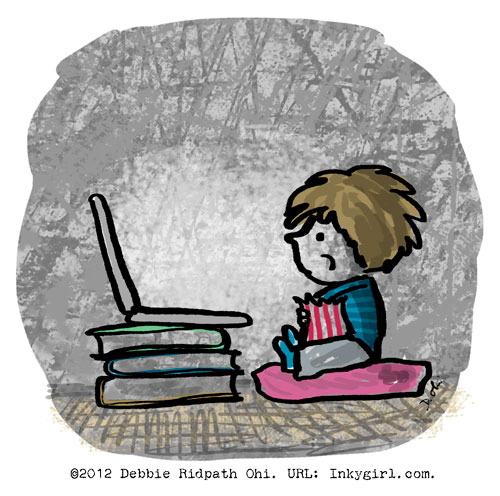 A couple of weeks ago I posted a survey (as part of my ongoing series of surveys) about book trailers and whether people thought they worked.
I've included some data details and a selection of comments at the end of the post, but here's a summary: 104 people responded. 85% of them said they had never bought a book solely because of a book trailer. 46% said a book trailer did have an influence on their buying decision, usually when they were already considering buying a particular book but were on the fence. 60% thought that book trailer sometimes helps sell books, depending on the trailer.

Overall, it doesn't seem clear that book trailers have a direct influence on book sales. However, they do make people aware that the book exists. Also, a number of teachers and librarians said that trailers for children's books were useful for showing students in schools.
What makes a good book trailer, according to most respondents who commented on the topic:
– Accurately conveys the mood of the book. The key is "accurately" – comments included complaints about trailers that were better or significantly different in feel from the book.
– Short and simple, and doesn't give away too many specifics of the book. ("The best book trailers are more like flap copy—setting the scene and the story, but not literally "showing" it to me. And they should be short. 2 minutes tops. 1.5 is better.")
– Rather than trying to reproduce scenes from the book in low-budget live action, good trailers instead focus on the essence of the book (mood, atmosphere). If you have the budget & expertise for high quality production & editing, then there's more leeway.
– For nonfiction books and picture books, show some interior pages (content not easily found elsewhere online).
Main criticisms of bad book trailers:
– Cheesy, melodramatic and amateurish-looking.
– Misleading – doesn't reflect what the book is going like, either in mood or content.
– Too long. Suggestions for max length: 30 sec-1.5 minutes. Max 2 minutes, though some said that even 2 minutes was too long.
– Illegal use of images or music.
Related online resources:
Why Flashy Book Trailers Don't Work – by Catherine Ryan Howard
Eight Million Viral Views Later: In Search of the Ultimate Children's and YA Book Trailer on Publishing Perspectives
Why Book Trailers Are Now Essential to the Publishing Industry – Mashable
How To Make A Book Trailer – by teacher-librarian Michelle Harclerode
How To Make A Book Trailer by Myrlin A. Hermes
5 Free Tools for Creating Book Trailer Videos – by Richard Byrne
How To Make Your Own Book Trailer by Julie Cantrell
Some places where you can find kidlit/YA book trailers:
Mr. Schu Reads: Exploring Children's Literature Through Book Trailers
Also, many publishers have channels on YouTube where they will post book trailers.
MORE DETAILED SURVEY RESULTS:
104 people responded as follows:
1. Have you ever made a book purchase SOLELY because of a book trailer?
15.5% said YES, 84.6% said NO.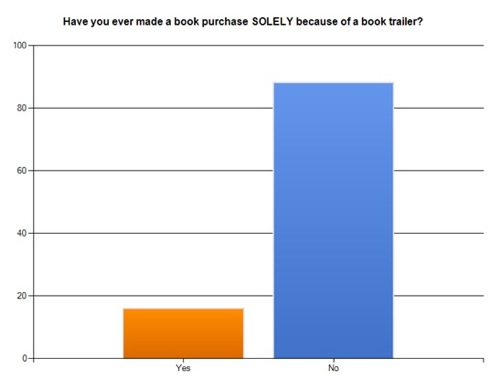 2. Have you ever purchased a book PARTLY because of a book trailer? (e.g. you were already considering buying the book anyway, but the book trailer helped convince you)
45.2% said YES, 54.8% said NO.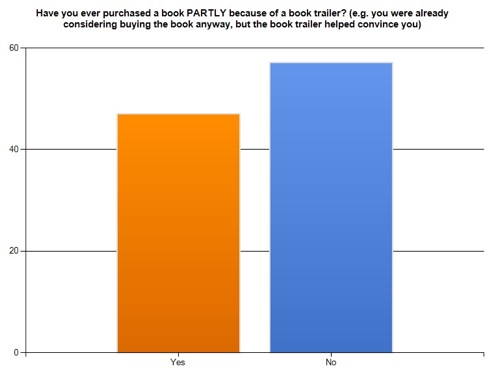 3. Do you believe that book trailers can help sell books?
27.9% said YES, 59.6% said SOMETIMES/DEPENDS and 12.5% said NO.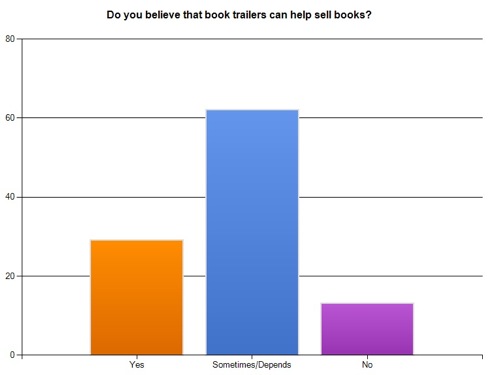 Selection of comments and comment excerpts:
"A book trailer can flop if the maker "Tries too hard." For me, someone tries too hard when it's too "shiny." There's too much going on. Background music along with a voice over and too much movement on the screen. Some really good book trailers I've seen have been almost minimalist. A few words on the screen, with a voice over. Ending with an image of the cover and date of release, or somesuch."
"Unless a book trailer is as professional-looking as a movie trailer, it is still going to look amateur-ish in my opinion. Better to let the book cover and description tell the story than to cheapen it with a trailer. Besides that, it takes either a lot of time or a lot of money on the part of the author, which could probably be better spent."
"I don't tend to do the "oh, I need to run out and buy that" unless I already know the author, and even then they're more likely to go onto a queue. However, there *have* been some book trailers which have called my attention to authors I didn't know, on the level of "Interesting concept. If the trailer's accurate, that's worth keeping an eye out for." On the other hand… Trailers are essentially equivalent to back-cover blurbs or equivalent-size print ads. We already know how misleading those sometimes are. On the other other hand, one _hopes_ that the author has more opportunity to review the trailer than the blurb. All of which boils down to: It's probably more effective than a typical small print ad, for me. But I'm honestly not sure how much bang for the buck it actually delivers. And I'm atypical, both in being a sf geek and in being the son of an ad man."
"Trailers full of illegal images grabbed off google search, or with equally illegal use of music, ensure that I will never read the book. Ever. It shows that not only is the book self-pubbed, but self-pubbed by someone who has no artistic integrity and no sense of professionalism. Trailers that work as movies are hard to do, and risk being too long and too cheesy. Image trailers need to be professional and respective of other artist's rights. The images need to match in type, whether they be photos vs illustrations etc. Video trailers need to be short, SHORT, and with a strong hook. The trailer for Miss Peregrine's Home for Peculiar Children, for instance, was better than the actual book it advertised. Personally, I liked the trailer for Across the Universe by Beth Revis. Visually simple, legal stock images, nice voice-over, and a great hook."
"Book trailers need to be more professional, made properly like a film trailer. Just using screenshots of text set to copyright-free music isn't really enough. We need to see imagery and hear realistic voice-overs… the book trailer needs to accurately capture the feel of the book. Done properly, book trailers can be as exciting as film trailers, and play a key marketing role."
"I usually turn off the radio or change the channel when I see book trailers. For the most part, they're too cheesy and don't really portray the "feel" of the book itself or what the reader can expect from it."
"For me as a market target (I buy and read a LOT of books), a trailer is most effective when it's 1) short 2) has great music 3) expresses the high concept of the book only (I can click through to a synopsis) 4) doesn't attempt production values it can't afford (I'd rather see something simple that's well done)"
"I've watched trailers for books I'd have never heard of without someone linking to the video as being entertaining or worth watching. With those books, I decided that the book wasn't for me, but raising awareness can't hurt."
"They need to be done professionally, have either simple text to read or a narrator. I hate amateur videos with scrolling text and terrible blurry photos set to music"
"Answer to number 3 is actually "not to me". I know some people are fascinated by video and might be thus lured to a book – I am bored or uninterested (you could have given me that info a lot faster/clearer in text!), so avoid trailers. And when I can't avoid them, I glaze over pretty fast. I have enjoyed some trailers, I think, in and of themselves – which usually means they have good music and/or enjoyable graphics – but as a lure for a book? No."
"Book trailers assume somebody's going to watch them, and that somebody is going to get their ideas of which books to buy through watching book trailers. I'm not sure that particular audience exists. I think they're more useful as an educational tool to start classroom discussions about books, or maybe to be used by librarians/teachers as booktalks for getting them to read the book."
"It has to be noted that book trailers are advertising vehicles, not sales-promotional tools. There must be a clear set of objectives defined before the trailer can be created. Otherwise, you end up with a slide show that is not truely representative of the book. Too many trailers fail, and are far too long. Have a look at mine and tell me what you think. Cheers! Gerry"
"Don't have the book's characters in the trailer. Books are often sold based on the author's name (why the type is always the same size or bigger than the title, I wager), so sell me the author. … Children's books are quick bursts of entertainment, and I don't need to be sold on Patricia Storms the author, I'd actually prefer to see a pirate and a penguin do a little dance. Whatever you do, though, hire me to shoot and edit it 😛 Just remembered, one of my first video gigs was a book trailer of sorts! https://vimeo.com/23288627 … I'm a lot better now than I was then, heh."
"I bought Leviathan 95% because it had an awesome trailer, but it's also the only trailer I've ever loved that much. I've enjoyed a few since then (the Born Wicked trailer comes to mind, along with Shiver), but with those I'd already planned on buying the book. For me, a good trailer is one that doesn't look amateur, that makes use of good costuming (if using actors) and lighting, that is careful with the details."
"Like a good cover for a book or a good song on an album, a trailer can create an atmosphere, evoke a feeling or mood that might snag some readers. Frankly, I don't see a lot of book trailers because I don't go looking for them. They are not necessarily right in front of the consumer the way a tv ad is."
"Sometimes they're great as little 'shorts' in their own right but like with movies, the more 'teasing' and 'mysterious' a book trailer is, and the less information it gives, the less inclined I am to bother following it up. The "This Is Not My Hat" trailer for Jon Klassen's upcoming book is a great example of a trailer (for a children's book, at least) done absolutely right."
"But then again, I make them. For my own book, as well as for others. http://224pages.com"
"Adding various media to your marketing strategy is usually a good idea, though it seems that few people probably buy based solely on the trailer (hopefully this survey will say for sure!)"
"I would rather read back cover copy than watch a trailer."
"Hi, I enjoy making trailers for my own books. So far I have made three, but before I even started I watched many, many trailers in order to find out what I did and didn't like about them. While there was much I admired about the ones I've seen (and yes, I did buy books because of them!), there were quite a few that had the following problems: a) they were too long, b) they could be very repetitive (same action or pictures repeated several times in the same trailer, c) the music was overwhelming, too dramatic, and didn't match the story, d) the same music had been used too many times on other trailers, e) the voice-over was muffled, too fast, or had a tone/quality that I then didn't want to read, and f) the trailer was SO professionally produced, acted, etc. that there was no way it could ever match the book, i.e., it really seemed like the trailer to a film, not a book, and I felt like I had seen too much already. I've now presented several seminars on making trailers, and these are the main points I do my best to help others avoid."
"I have books with trailers but is it impossible to tell if they are creating sales, so will be interested to see what your find."
"I loved The Chicken Problem book trailer. I also loved the I'm Bored song trailer thing. I'd like to see book trailers for graphic novels. Usually when I see book trailers they are posted with reviews or comments, so it's hard to say that I've ever purchased a book solely based on a book trailer."
"Hello, The example below is just the beginning and the end of the trailer, but are the parts that really hooked me. "The Red Garden introduces us to the luminous and haunting world of Blackwell, Massachusetts, capturing the unexpected turns in its history and in our own lives. In exquisite prose, Hoffman offers a transforming glimpse of small-town America, presenting us with some three hundred years of passion, dark secrets, loyalty, and redemption in a web of tales where characters' lives are intertwined by fate and by their own actions. . . . . . . . Beautifully crafted, shimmering with magic, The Red Garden is as unforgettable as it is moving." This trailer really made the book seem rich and deep, but Alice Hoffman is not a hard sale anyway. Thank you, Ann"
"I guess I'm too old school i.e. book trailers are too flash for me. I saw a few and I was put off. I tend to stick to my favorite authors who don't need to create trailers to sell books. If I hear about a good book (outside of my favorite authors) I'll research it further to see if I'll like it. if so I'll buy it."
"Don't give away too much. It's just like with movie trailers. If I feel like I've practically read the book by watching the trailer, I won't read the book."
"Most book trailers are just so cheesy, that they do more harm than good sometimes."
"I think some teachers use mine in schools but I'm not sure they really sell books."
"A book trailer needs to give me something I can't get from looking at the cover and reading the back cover copy. It needs to portray a sense of emotion and tone. I don't want to see the authors vision of a low budget film based on their book. Makers of book trailers would do well to study successful television and radio commercials. Keep them short (30seconds), match your music to the tone of the product (book) but remember it's background music and not the star of the show. Grab me with something shocking, funny, or unusual in the first 5 seconds if you want me to keep watching."
"I think trailers have not quite caught on yet – personally, I haven't bought a book because of one. But I do say sometimes, as I think they will become more and more important as book buyers become aware of them. I am an author – and I have begun work on a book trailer. So, I'll see what happens."
"I think that a decent, fun book trailer gets shared around the internet, so I think that's the main reason to make one. I like book trailers that show the inside and outside of the book, especially for picture books and art books. I like to see the physical-ness of the book. Too many sites don't show what the insides look like. I wanna know what I'm buying!"
"Book trailers totally grab my grade 3-5 students. Books that have a trailer fly off the shelf after I have book talked them using the trailer as a supplement."
"I use them in the media center. When I show one to my students they line up to check the book out."
"The best book trailers (to me,) focus on the book and not on dramatizing scenes from the book. When I see a trailer that looks like a movie, I always think: "Wow—I'd see that movie." But I never think: "I want to read that book." They feel counter- productive to me. Also, I don't always like seeing actors as the characters—it interferes with what I see in my head. The best book trailers are more like flap copy—setting the scene and the story, but not literally "showing" it to me. And they should be short. 2 minutes tops. 1.5 is better."
"Goals for a good trailer: -Set the tone -Inform the reader about the book -be entertaining -market towards target audience in imaginative ways (e.g. If the book is about how to take care of your dog, try to have links with pet stores, grooming stores, etc. and not just book trailer sites)"
"Isn't a book trailer just a commercial for a book? If done well it can help, if done poorly it can hurt."
"I think if a trailer is done right it can boost readership. I have never decided not to read a book based on the trailer, but I have chosen to read one I'm borderline on after seeing a good trailer for it."
"I am answering as a librarian. I can say that professionally created BTs of 30 seconds in length are an invaluable tool in spotlighting books on our middle school morning news show which reaches 1000 students per day. Longer trailers can generate interest but can only be shown to the class I'm working with."
"I don't know if there is a solid venue for book trailers? I think there needs to be more awareness of them."
"Most book trailers I have seen are cheesy and melodramatic. I usually avoid them."
"As an illustrator, I find the thumbnail of the trailer video important. It makes me decide to play it or not. Sneak peek pages could be more effective than trailers."
"Don't like live action book trailers. Prefer artsy ones that hint at the themes in the books. (See Maggie Stiefvater's trailer for The Raven Boys or Laini Taylor's trailer for Daughter of Smoke and Bone) Must have appropriate music. Badly done book trailers can do more damage than good. Those by self-pubbed authors tend to be generic and poorly produced. Spelling/grammar mistakes in a book trailer will make me not buy the book. This is a deal breaker."
"I don't understand book trailers at all. I don't get why people make them or watch them. They never tell you anything. Unlike movie trailers they can't even tell you if the movie will be well shot or well acted because books have no cinematography or acting. A book trailer is just a really self indulgent commercial. This book is sooo awesome, let me show you show pictures and clips relevant to the storyline while someone tells you how awesome it is. You should buy it. I have strong opinions on book trailers but maybe I'm in the minority."
"If the trailer is good, I think it helps. (Well I hope so or my trailer is a waste of time) I have seen some really bad trailers that made me decide not to buy a book."
"It seems like book trailers are getting shorter, which I think is a good thing. 2:00 is a lonnnnng trailer to me."
"Book trailers can be intriguing and build up higher interest in the book. But only if done professionally. Many, many book trailers I've seen are clearly not the author's forte, nor properly funded by the publisher. A cheap-looking trailer (for me) often makes me skeptical of buying the book because then I'm left wondering where else they cut corners."
"I don't see many book trailers. Every once in a while one will pop up, but without them being prevalent, it's hard for them to work. Also, since book trailers are a somewhat recent advertising scheme, a book trailer feels like a ploy to sell a book that wouldn't sell based on the quality of writing."
"My cousin uses them in her English class and I used them in my teen book club."
"I love movie-like book trailers, but they're expensive to get right. So unless writers have a big budget or an extremely talented friend, it's best if they just go with an amazing photo/words slideshow (and put the money into great music) or use the low-budget aspects as part of the story (character relating things to his own webcam, jostled smartphone video, etc.)."
"For me I don't really see the point. But some trailers are cute, I guess"
"Book trailers need to be more like a hook, a why-to-read pitch, not an overview or summary of plot points. Bad ones can really turn me off."
"Some very good trailers have lead me to take the books out of the library and recommend the trailer to others who may have purchased the book. As well, I have a couple of books on my to-read list because of a trailer. A lot of trailers are crap. Slow. Long. BORING! Look homemade. Uck. They are a couple of slides and photos in PowerPoint and (sadly) look it. They lack originality and don't pull the reader in. They have to, have to have to. And if you can entertain–please do! Bobbie Faye's Very, Very, Very Bad Day is AWESOME. As well I love the Sense and Sensibility and Sea Monsters. So funny. Love the humour!"
"Twice now I've bought a book because I liked the trailer, but after I read the book I usually felt let down, because the trailer was better, or significantly different in feel, from the book."
"ONLY IN NON-FICTION. I cannot stress this enough. The only time I have ever bought a book from a trailer, it was a quilting book that I bought because the trailer showed all the quilts and patterns and I couldn't find interior pictures of the book elsewhere."