I'M BORED is A Junior Library Guild Selection!
Last week, I was tickled to get a package from Simon & Schuster Books For Young Readers that contained a letter of congratulations from the Junior Library Guild (see bottom of post) as well as a certificate….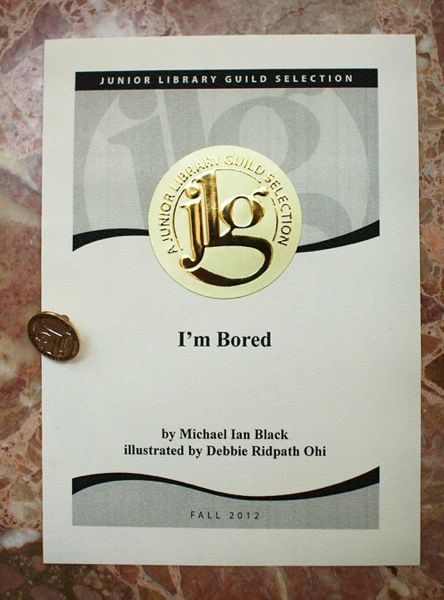 … and a cool lapel pin: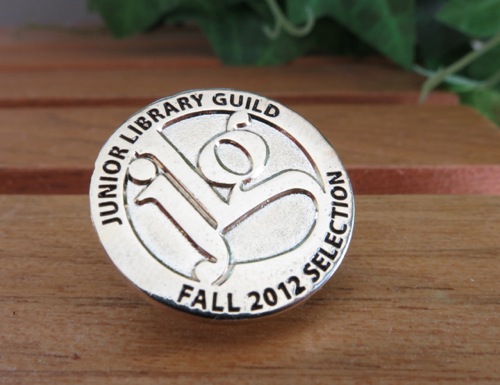 I had seen "A Junior Library Guild Selection" on book covers before but confess that up to now, I didn't know that much about the designation. So in addition to asking my editor and publisher (Justin Chanda at Simon & Schuster Children's), I also did some research online.
What I found: Having your book selected by the Junior Library Guild is a BIG DEAL.
Apparently the JLG editorial team reviews thousands of new titles each year, in manuscript or prepublication stage, and end up choosing what they say is "the best of the best." According to the Junior Library Guild website, nearly 95 percent of their selections go on to receive awards and/or favorable reviews.
JLG's mission: to help libraries wade through the mass of books published every season and pick what's best for their collections. You can read about different ways that schools and libraries have been using JLG to cope with staff and budget cuts, etc.
What does all this mean for an author and illustrator? Good things. It means that JLG orders a bulk quantity of your book from your publisher, then includes your book in their recommend lists…and these lists are used by schools and libraries. When I posted the announcement on my personal Facebook Wall, one friend said:
"Excellent! That means that there is a high probability that my school district will buy it for all of our elementary schools; they rely on the JLG lists for purchases!"
Yay! 🙂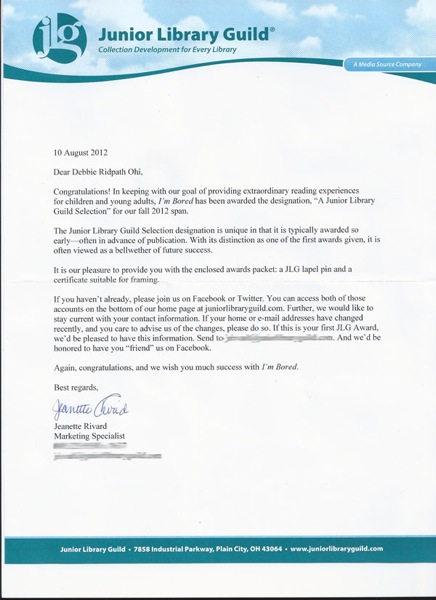 In summary:
I am absolutely thrilled to have I'M BORED chosen as A Junior Library Selection, and am grateful to the JLG for the honor.
More more info about the Junior Library Guild:
On Twitter: https://twitter.com/JrLibraryGuild
On Facebook: https://www.facebook.com/pages/Junior-Library-Guild/329843906949
Wikipedia entry on Junior Library Guild