Board Game For Writers: Cyrano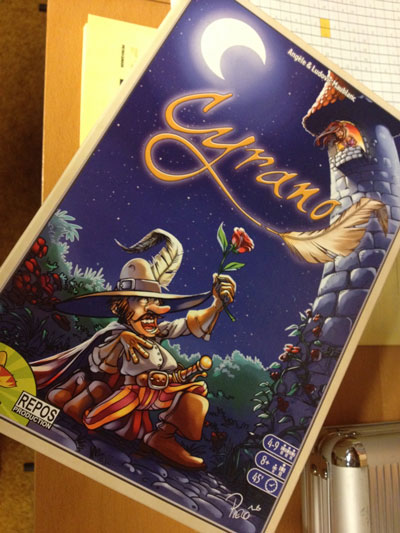 If you're looking for a fun board game to try with a group of writers (all levels of experience), I recommend CYRANO.
When I introduced this to our local gaming group, people were skeptical and hesitant ("I can't write poetry!"). By the end of the game, however, most of the participants admitted that they enjoyed the game much more than they expected. One of them said that his kids would enjoy the game as well.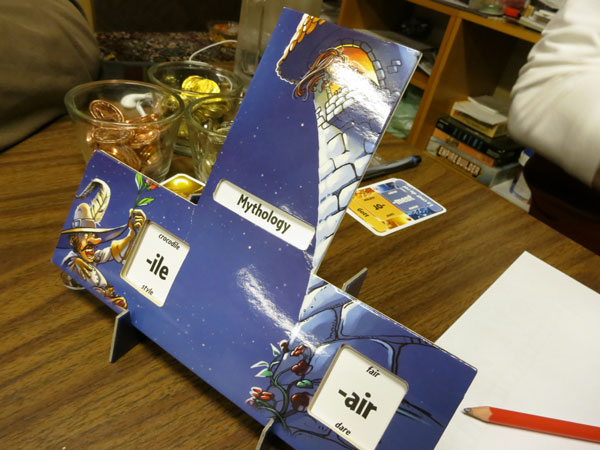 In each round, a card determines the theme (in the case above: "Mythology") as well as the line endings (the card also gives suggested rhyming words for those who are having trouble coming up with their own). Each player then composes a quatrain (poem of four lines) with two of the lines ending with one of the rhymes and the other two lines ending with the other rhyme.
I found that because the poems had to be written very quickly AND with specific parameters (rhyme scheme and theme), I stopped worrying about whether the poems were any good or not … and just had fun. 🙂 The game is also a great creativity booster and reminder of the joy in writing purely for the fun of it.
I suspect that playing with a group of writers would be even more fun! You can find out more info about the game on BoardGameGeek.
Basic info:
4-9 players
Playing time: about 45 minutes
Suggested age of players: old enough to be able to write rhyming poetry. Manufacturer suggests 8 and up while BGG users suggest 14 and up.