Interview: Sue Lowell Gallion and Lisk Feng talk about creating their new board book, OUR WORLD, A FIRST BOOK OF GEOGRAPHY (Phaidon)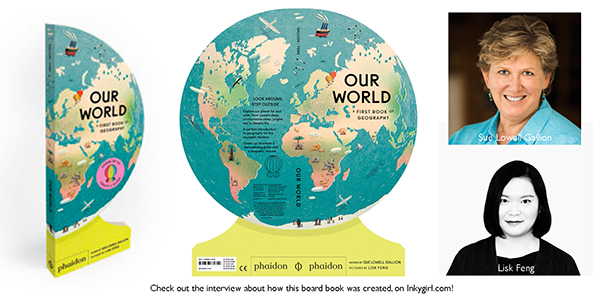 Thanks to Sue Lowell Gallion and Phaidon for sending me a copy of OUR WORLD, A FIRST BOOK OF GEOGRAPHY. This unique board board shaped like a globe is written by Sue and beautifully illustrated by Lisk Feng. Here's my livestream about OUR WORLD:
OUR WORLD, A FIRST BOOK OF GEOGRAPHY is written by Sue Lowell Gallion and illustrated by Lisk Feng. "Every day is Earth Day with this globe-shaped board book that introduces children to physical geography. The book folds back and connects magnetically to form a freestanding globe. A visual tour of different habitats features animals around the globe. Landforms such as mountains and rivers are illustrated in lush color. A secondary, interactive text layer offers more detailed facts about concepts such as weather. OUR WORLD encourages children and adults alike to learn more about the planet, explore the natural world around them, and expand their view of the world and its wonders." More info on publisher website.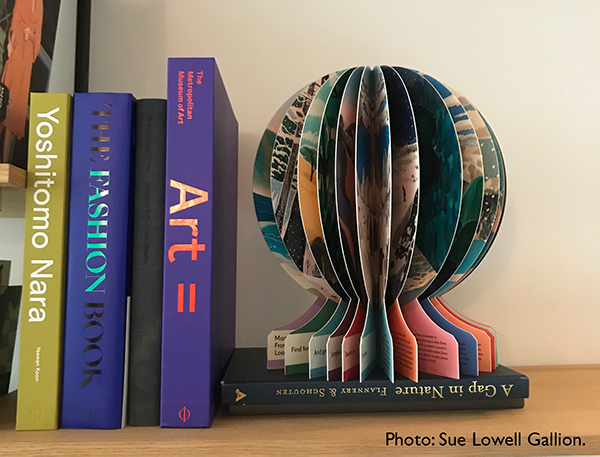 Sue Lowell Gallion grew up around paper, presses, and ink as the daughter of a commercial printer. She stayed in the trade as a writer and began writing for children about 15 years ago. Now that she has a die cut board book published, her next printing goal is a book with at least one gatefold. Sue has three books coming out in 2020: OUR WORLD, A First Book of Geography, illustrated by LIsk Feng, Phaidon Press (7/22); TIP & TUCKER: PAW PAINTERS, part of an early reader series co-authored with Ann Ingalls and illustrated by Andre Ceolin (Sleeping Bear Press, 8/15); and a picture book, ALL EXCEPT AXLE, illustrated by Lisa Manuzak Wiley (Aladden/S&S, 9/22.) Sue is the author of the PUG MEETS PIG series, illustrated by Joyce Wan. PUG & PIG AND FRIENDS (Beach Lane Books/S&S) releases spring 2021. Find out more about Sue at her website, Instagram and on Twitter.
Lisk Feng is an award-winning illustrator who is initially from China, and now a New York-based freelance illustrator. She graduated from MFA Illustration Practice from Maryland Institute College of Art in 2014, with a lot of publications and advertisings projects seen by the world, such as The New Yorker, Apple, Penguin, Airbnb, The New York Times, Chanel, etc. Meanwhile, her illustrations received some awards and recognitions such as Silver Medal from the Society of Illustrators, Communication Arts Excellence Award, 3X3 Silver Medal, American Illustration winner, etc. She also published several children's books with Flying Eye Books, Abrams and Kids Can Press. She was awarded one of the Art Directors Club 15 young gun artists among all artists from all fields worldwide in 2017. You can find Lisk on her website, Instagram and Twitter.
Thanks to Sue and Lisk for taking the time to answer a few questions about how OUR WORLD came to be….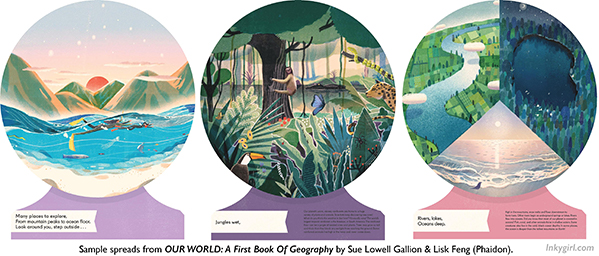 Q for Sue: What was the publication process for this book? Did you envision it as a board book from the beginning, for example? How did you pitch it?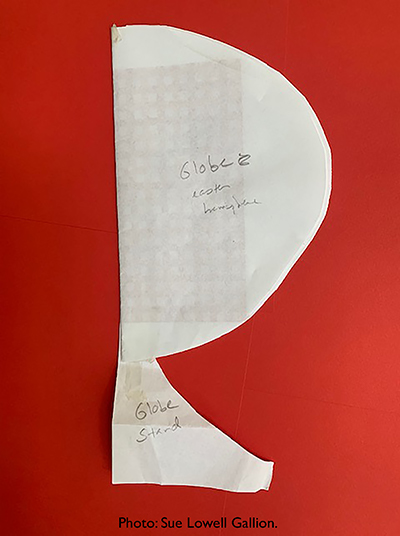 From Sue: This idea was for a board book from the very beginning. OUR WORLD is an SCBWI success story — I came up with the idea during a fascinating workshop on novelty board books presented by Ariel Richardson of Chronicle at an SCBWI Kansas/Missouri conference in fall 2017. After she spoke, she gave us time to play with paper, scissors, and tape. Isn't it amazing how ideas can flow when you're learning in the presence of other creative people?
I'd just become a grandma, so I'd been doing a lot of hands-on research on board books with two little ones on my lap. The format and interactive possibilities intrigued me. I thought a globe-shaped board book would be a creative way to introduce young children to different landscapes on the globe and show the connectedness of our world. The stand would be a good handhold. Here's the dummy I made that day.
Over the next few weeks, I worked on a poem and shared it with my critique partners. Then I sent the 56-word rhyming poem (paginated into 11 spreads) to my agent, Liza Voges. Ariel Richardson had encouraged us to submit dummies with board book manuscripts and give our ideas on possible novelty elements. So, I cut and pasted a dummy with the text and art notes for my dream novelty elements. Liza began submitting the manuscript and dummy just a month after the conference. This isn't typical for me, believe me!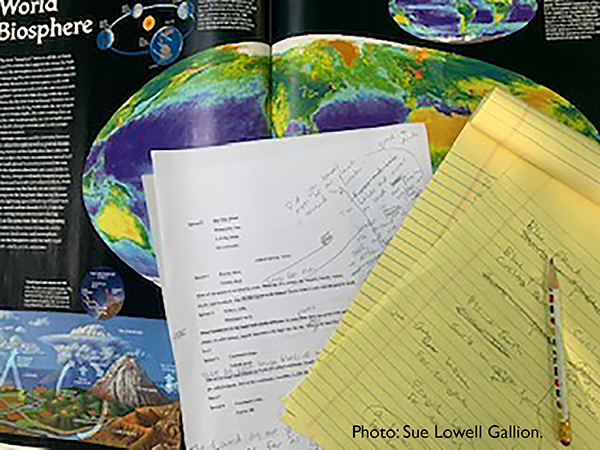 We heard back from Phaidon that their team was intrigued by the concept. About six months later, they requested a revision. After a few more months, they asked for additional revisions, including adding a layer of secondary nonfiction text. I signed the contract and Lisk Feng came on as the illustrator in May 2019, with Maya Gartner as editor and Meagan Bennett as art director. From then on, things went really fast with loads more research and revision. Making this book was a hugely collaborative process, which I loved.
Here's what stayed the same from the original manuscript: the globe-shaped format, the title, the rhyme scheme, and 12 words.
Q for Lisk: How did you become the illustrator for this book?
From Lisk: I started doing Non-Fiction Children`s books since 2016. I really wantto draw nature-related books, so my first book was about Everest. I always love drawing mountains, rivers, fishes, birds, and plants on top of busy editorial pieces for magazines. After focusing on more lifestyle based projects, Phaidon came to me with this brilliant idea book. It was full of animals and nature! I said yes immediately after I read the script. I want to introduce great global nature world to young kids.
Q. for Lisk: Was illustrating a board book different from illustrating a regular picture book? If so, how?
From Lisk: Yes, very different! First of all, the format is very different. It was a round size for all pages, so the composition is interesting and difficult especially when we need panels. For regular non-fiction, we can group things and make it like a map or infographic, for the round book, it is less space, and sometimes I used lens like techniques, such as fisheye view. It is challenging but still very excited. Another big difference is board book is less work because of less pages! So I got more time to polish each page without feeling stressful.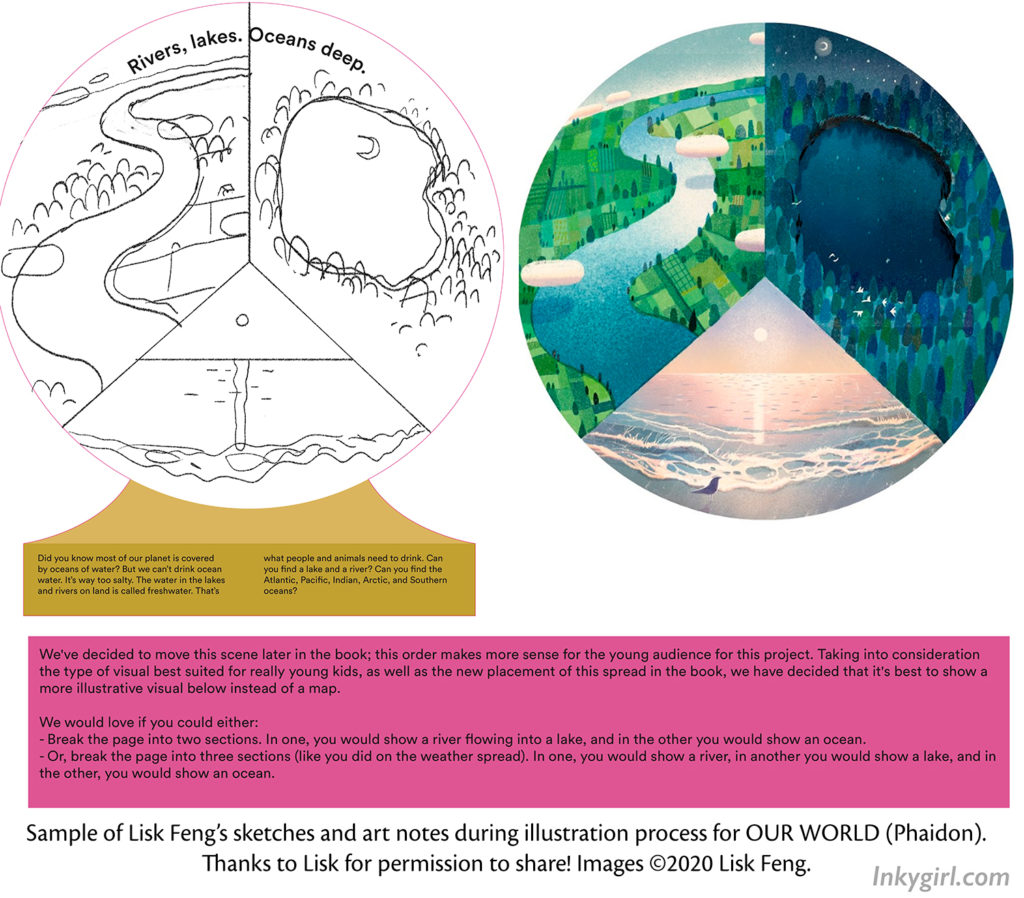 Q for Sue: What advice do you have for those thinking about writing board books?
From Sue: Board book sales in the U.S. have increased every year over the past six years. There's so much flexibility in this format. Board book production doesn't have the same 8-page signature requirement as picture books. It can have any number of spreads — OUR WORLD is 13 spreads.
Also, there's such an array of novelty elements possible now – touch and feel options, moveable parts, glow in the dark ink, die cuts, and more. These can add so much to the physical object and experience of a board book. A board book does need some sort of a spine, however so it can sit on a store shelf.
Certainly, many board books are created by author-illustrators. Some are produced entirely in-house. But I think there's opportunity here for authors as well, and it's a great way to stretch your creativity with a different format.
I suggest you research and study as many recently published (as well as bestselling) original board books as possible. Consider how novelty elements enhance the text and illustrations. What houses published your favorites? Study board books (not just board book versions of already-published picture books) in publishers' online catalogs as well. When you come up with ideas, search for comparable titles and formats. This is really important — make sure your concept hasn't already been done in a similar way.
Can you layer the concept or content so that it appeals to several different audiences? Know your audience and study the developmental milestones of young children. Is your book for an infant or for a preschooler? How can you combine a popular topic with a developmental milestone in a way that's never been done? If you have an idea that could be expanded into a series, all the better.
Q for Sue: What advice do you have for young writers?
From Sue: I collect pencils from all different places. Sometimes just the act of picking out a pencil from the container on my desk gives me a tidbit of an idea or jogs my memory. There's nothing like a freshly sharpened pencil to make you feel like a writer (even if you're writing on a computer!)
Write what is meaningful to you whenever you can. Your heart will show through the words. When a piece of writing isn't working, put it aside and do something else. Your mind is always at work, whether you realize it or not.
Q. for Lisk: What advice do you have for young illustrators?
From Lisk: I think it is always more important to focus on what you draw, instead of how to draw~ introduce your own favorite things to the audience, you will grow your technique along the way.
---
For more insights from book creators, see my Inkygirl Interview Archives and Advice For Young Writers And Illustrators From Book Creators.