Reading Lord Of The Rings…The Final Attempt

Back in 2001, my friend Allison Durno convinced me to try reading the Lord Of The Rings trilogy again. I had tried back in high school, but found it way too dull. With the (then) upcoming LOTR movies, though, I figured I may as well give it another shot.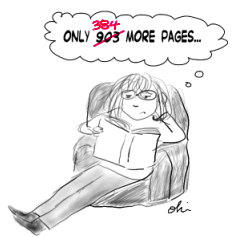 Not surprisingly, I decided to blog about it(because that's what I do, after all). TheOneRing.net told their readers about it, and suddenly I had a huge number of Tolkien fans looking over my shoulder.
I was still a bit doubtful in the beginning, but then a bunch of them told me to SKIP THE PROLOGUE, which was the bit I couldn't get through on my first attempt back in high school. So I did…and found it much easier to get into the story.
And I ended up loving the books. 🙂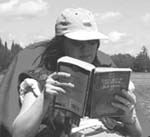 Anyway, you can see all my original posts AND the comments, courtesy WaybackMachine:
http://web.archive.org/web/20020209101145/http://www.electricpenguin.com/blatherings/lotr/
I had SO much fun doing this. At one point, though, Allison had to step in and do some moderating because some commenters were getting so enthusiastic that they were letting some spoilers slip. I remember getting a phone call one morning from Allison, who warned me NOT to read the comments that day because of a major spoiler. I gave her admin privileges so she was able to delete the comment, and she kept an eye on spoiler comments for the rest of the time.
Anyway, I thought I had lost this blog when our server got hacked years ago, but then Magpie on TheOneRing.net found the posts again, yaaay!
It was the response to this blog that prompted me to do my Waiting For Frodowebcomic, by the way.
And now I'm doing Waiting For Bilbo webcomic with the help of Shane McEwan (formerly of Weta Digital — you can see his name in the credits for the Lord Of The Rings movies). It's about avid fans waiting in line for The Hobbit movies.
If you're on Facebook, please do "Like" our Waiting For Bilbo page! Thanks kindly. 🙂