Interview with debut author Ronni Diamondstein about JACKIE AND THE BOOKS SHE LOVED (Sky Pony Press, illustrated by Bats Langley)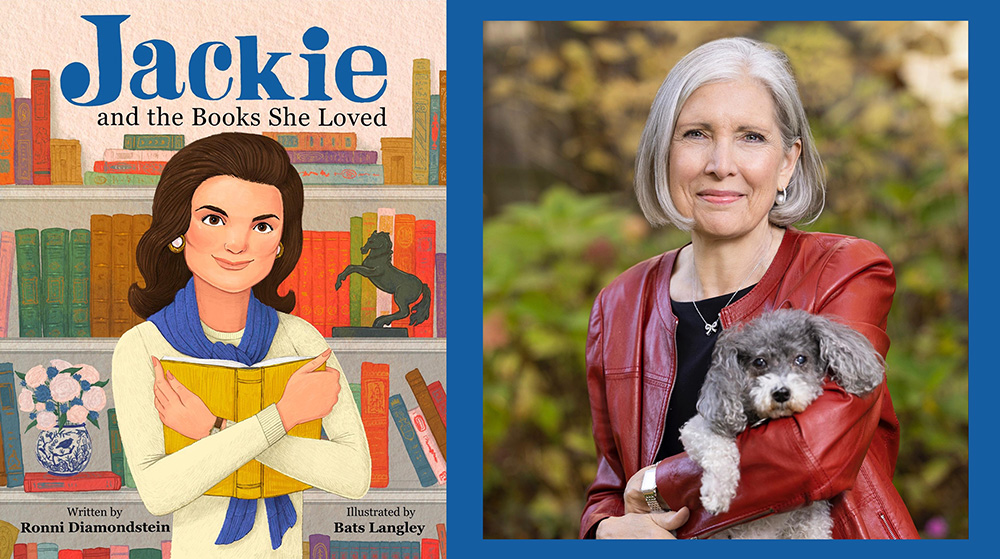 Author photo credit: Randi Childs.
Interview by Julie Damerell
Ronni Diamondstein spent her life surrounded by books and immersed in the world of children's literature. As a school library media specialist and teacher of gifted and talented students in the United States and abroad, Ronni nurtured her students' creativity by sharing her love of reading with them. Ronni is a graduate of Syracuse University. Ronni served on the Board of the Chappaqua Children's Book Festival and is a Past President of the Chappaqua Library Board of Trustees. Jackie and the Books She Loved is her debut picture book! Ronni lives in Chappaqua, New York with her toy poodle, Maggie Mae.
You can learn more about Ronni on her website, Instagram, Post, Thread, Bluesky, or the site formerly known as Twitter. Also see Inside Chappaqua Magazine, September 2023 New Children's Picture Book About Jackie O!, her Writers' Rumpus interview, Melissa Stoller's Three Question Interview, and this interview with Instagrammer @vintagejackie.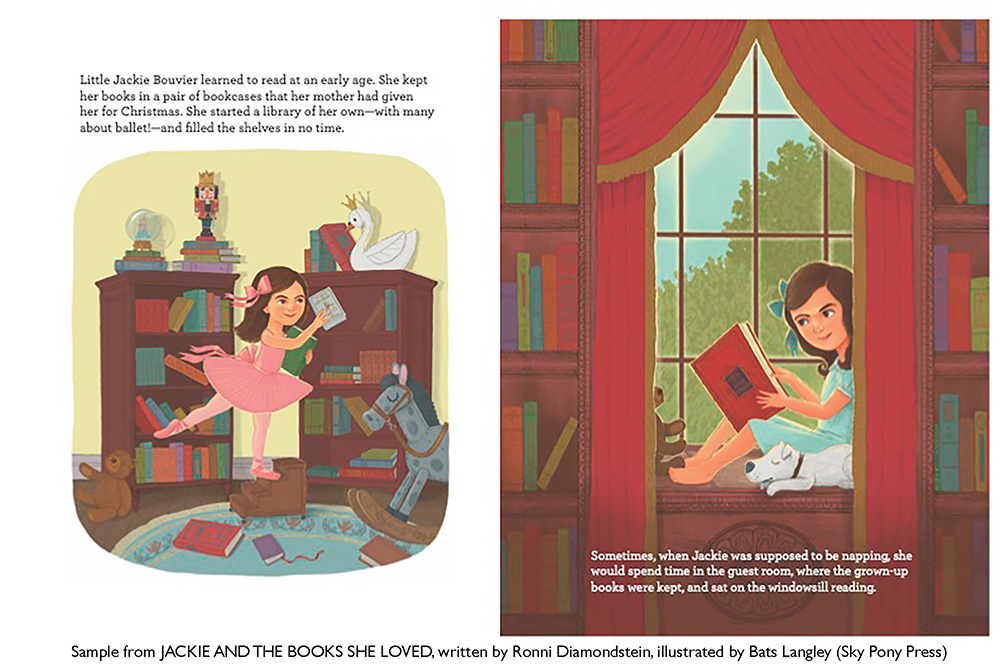 JACKIE AND THE BOOKS SHE LOVED
Written by Ronni Diamondstein
Illustrated by Bats Langley
Publisher: Sky Pony Press
Publication Date: November 7, 2023
For ages 4-8, preschool – gr. 2 | ISBN: 9781510776425
More info on JACKIE AND THE BOOKS SHE LOVED here
You can order the book wherever you buy books. Signed, personalized books can be preordered at Ronni's local independent bookstore, The Village Bookstore.
Synopsis:
A delightful new story about Jacqueline Kennedy Onassis. In this inspirational celebration of reading, readers are introduced to an independent and confident Jackie and the idea of how books guided her life. The insightful story paints the portrait of a child captivated by reading and a love of literature and writing—from five‑year‑old Jackie reading Chekhov stories to a seasoned and confident Jackie at her desk as an editor in the last two decades of her life. Jackie never wrote a memoir but revealed herself in the nearly 100 books she brought into print.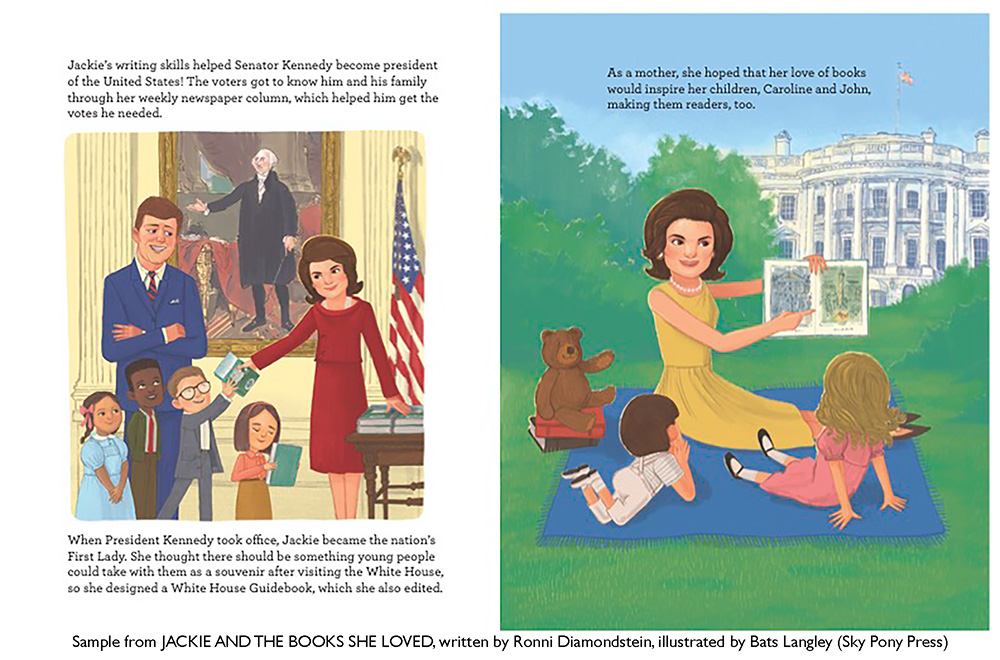 ---
Q. How was JACKIE AND THE BOOKS SHE LOVED created?
JACKIE AND THE BOOKS SHE LOVED was a labor of love. I had been researching Jacqueline Kennedy Onassis for nearly 30 years, plus having known who she was and admiring her since I was a child. When she passed away in 1994, at first I wanted to write a novel, then my friend Margot Datz, who illustrated Carly Simon's picture books and worked with Jackie as the editor, suggested I write for children.
It took years but I eventually came up with the right angle to tell Jackie's story. It was something that I had in common with Jackie: a love of literature. I saw a thread of how this love of the written word influenced Jackie's life and strung this together in the narrative. The original JACKIE AND THE BOOKS SHE LOVED manuscript was much longer and in collaboration with my editor Nicole Frail the extra material was incorporated into my author's note, back matter and I created a timeline.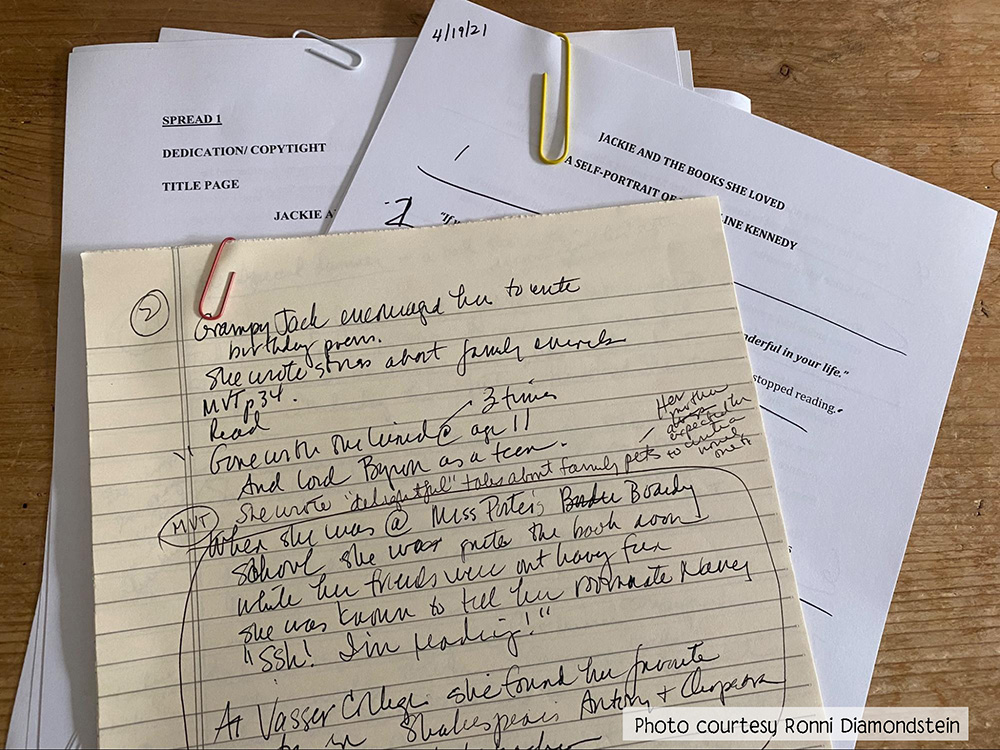 Q. Were you involved in the choice of the illustrator? What interaction with the illustrator did you have during the process, if any? What was your reaction when you first saw the illustrations?
I was very lucky to be involved in the illustration process from a say in the choice of the illustrator, Bats Langley, to collaborating with him on the art. I have quite an extensive collection of books about Jackie and the Kennedys with great photographs that I shared with him. For example, the horse statue on the cover is just like the statue she had on her piano in her New York apartment. It was a marvelous collaboration! One day he asked what Jackie's favorite birthday cake was. Of course, I had a book called COOKING WITH MADAM in my collection so I could send him pictures of Jackie's birthday cake that you'll find in our book! And I even had a say in the endpaper design! I love quotes and had many of Jackie's quotes about books that I wanted included in the book so I suggested we use them on the endpapers. And I also knew her personal Smythson stationery was powder blue, so that was the color we chose for the endpapers.
Q. What do you hope young readers will take away from your book?
I like that I am introducing a new generation to Jacqueline Kennedy Onassis, a remarkable person who was among other things a fascinating First Lady of the United States. The other piece to this is that it's about how important reading and books were to her and how they can shape someone's life. Even though it is written for ages 4-8, I believe older children and adults will appreciate the story. I hope it inspires young readers to write and want to read more. Jackie once said, "There are many ways to enlarge your child's world. Love of books is the best of all." It's something I spent my whole career doing as a school library media specialist.
Q. What advice do you have for young writers?
I spoke about this to Mary Boone recently. My answer is simply two words: read and write!
Read lots and lots of books! I was fortunate to have spent my life reading children's books, starting with my job in college in the children's room of a library to becoming a teacher and school librarian.
And write! Join writing groups, take writing workshops, find a writing community. Write every day, even it's your shopping list or in your journal.
Another suggestion I have is to read like a writer. Find mentor texts and analyze how they are constructed and why they are successful.
And read your writing aloud!
Q. What are you excited about now?
JACKIE AND THE BOOKS SHE LOVED is my debut book!
I'm very excited about the official launch of JACKIE AND THE BOOKS SHE LOVED on Thursday, November 9 at 7PM. It's a virtual event cosponsored by the Chappaqua Library, Friends of the Miller House and Skyhorse Press. I'll be reading my book, followed by a Q&A. Registrants are eligible for a raffle of a signed copy of the book and there's a craft activity packet they can pick up at the library. As a longtime resident of Chappaqua and former Library Board President, it is a perfect way to kick off the book!
And I was honored to be asked by the National First Ladies Library in Canton, Ohio to do the Legacy Lecture: Jackie and the Books She Loved, Penning a Jackie Kennedy Picture Book on Thursday, November 16 at noon. They currently have an exhibit about Jackie. I'll be reading Jackie and the Books She Loved and discuss how the book came to be and the remarkable literary life of Jacqueline Kennedy Onassis, the First Lady of Literature. Free tickets are available now.
On Saturday, November 25 from noon to 2PM I will have a book signing celebration in Chappaqua, NY at Susan Lawrence Gourmet Foods. It will be great fun. I hope to see a lot of people there. We'll have some nice surprises!  More details will be on my website. 
_________________________________________________________________________________
Also see other Interviews with Book Creators and Advice For Young Writers And Illustrators.