Interview with Kaz Windness, BITSY BAT SCHOOL STAR (Simon & Schuster, June 6/2023)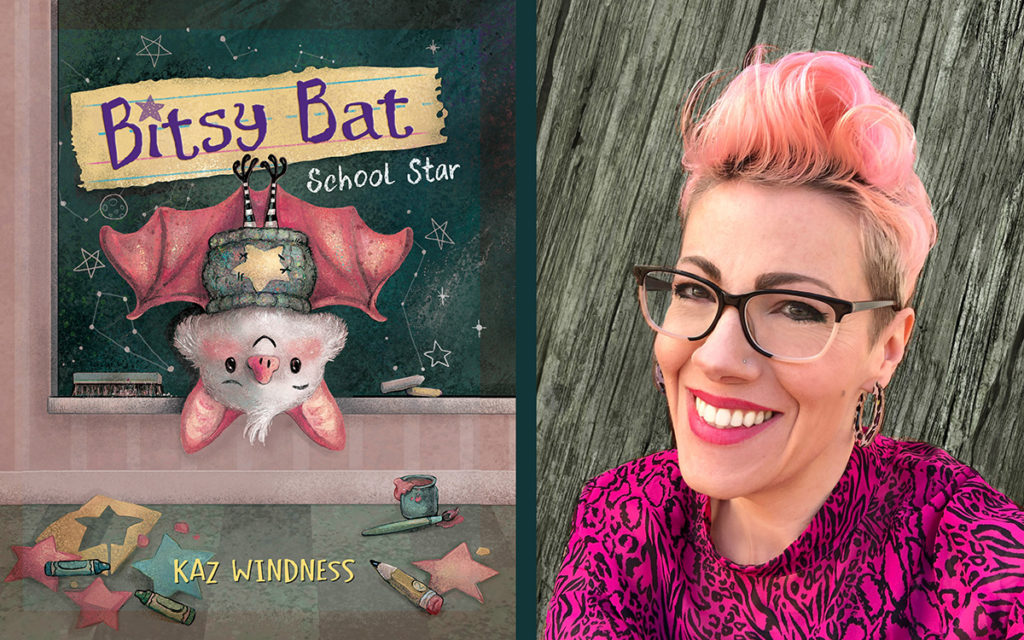 Kaz Windness loves to make her readers laugh. Kaz is an award-winning, genre-crossing illustrator and author of heart-warming books for young readers. Proudly autistic, Kaz specializes in character-driven books celebrating inclusivity, grit, and kindness. Her fifteen books include "Swim, Jim!" (Paula Wiseman Books/Simon & Schuster, May 2022), "Worm and Caterpillar are Friends" (Simon Spotlight, January 2023), and "Bitsy Bat, School Star" (Paula Wiseman Books/Simon & Schuster, June 2023). You can find more info about Kaz at Kaz's website, Twitter, Instagram, YouTube, Post, and TikTok. See Kaz's Linktree for updated links!
BITSY BAT, SCHOOL STAR
Author and illustrator: Kaz Windness
Publisher: Simon & Schuster, Paula Wiseman Books
Publication date: June 6, 2023
Audience: Ages 4 to 8; Grades P to 3
Synopsis: "A little bat struggles to fit in only to learn to celebrate differences in this heartfelt picture book from an autistic perspective about starting school, making friends, and seeing what makes each person special."
See publisher book page (includes pre-order links).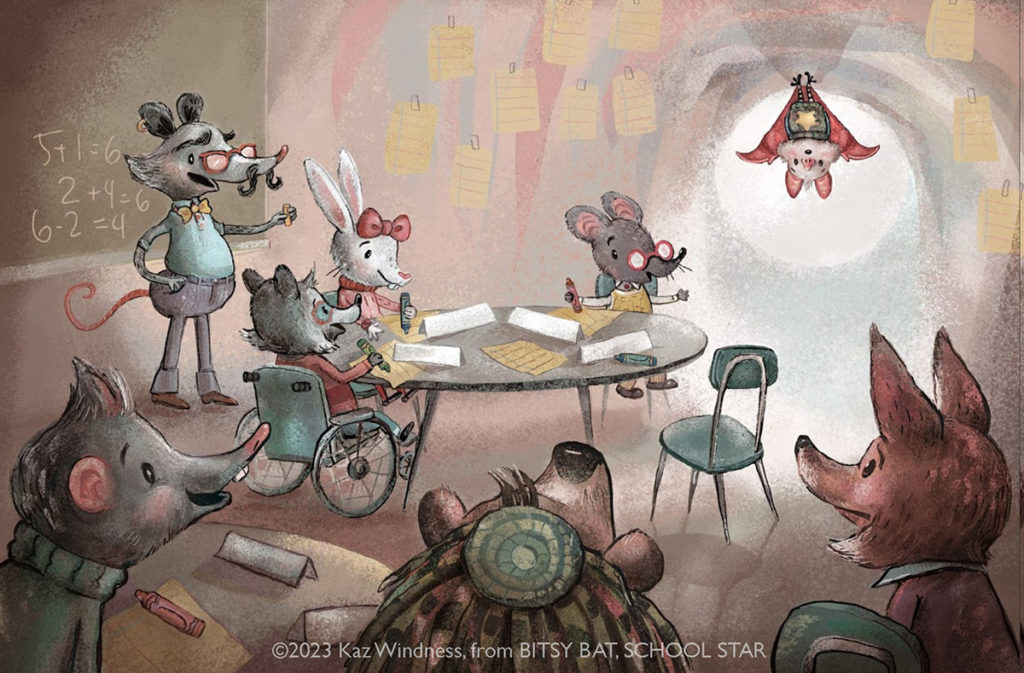 Q. How was BITSY BAT, SCHOOL STAR created?
Kaz: Bats are my favorite animal to draw. In Fall 2019, I challenged myself to draw bats every day (#100DaysofBats) and struck up a conversation with an illustration student who is autistic like me, comparing growing up neurodivergent to being like a bat in a school for mice. Everything felt upside down, and when I tried to act like everyone else, it made me feel confused, upset, and more prone to meltdown. I realized there was a story there and began writing and drawing Bitsy Bat.
Q. What do you hope young readers will take away from your book?
I hope readers gain a better understanding and sympathy for what it's like to be autistic. I hope the book inspires more compassion and inclusivity. I also want all children to know that they are special and loved exactly as they are. The school star activity that goes along with the book is something I'm very proud of and excited for educators and students to implement in the classroom. (BitsyBat.com)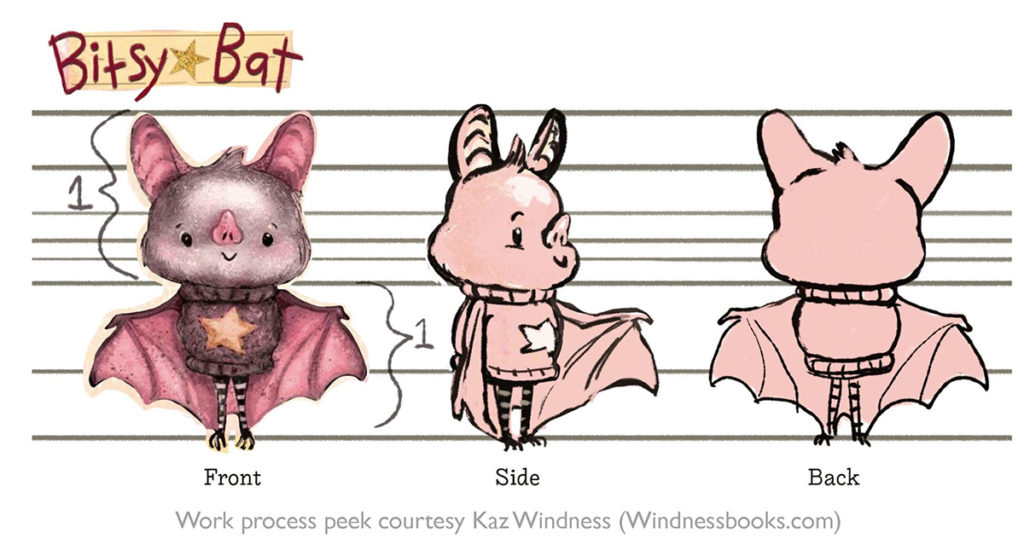 Q. What advice do you have for young writers?
Don't shy away from talking about your unique identity or struggles. Everytime I've faced my fears and exposed a vulnerable part of myself, rather than being shamed or ridiculed, I've helped people who are like me in some way, just waiting for someone break the silence so they knew they weren't alone. Writing your truth will always resonate with readers. It helps heal others and yourself, too.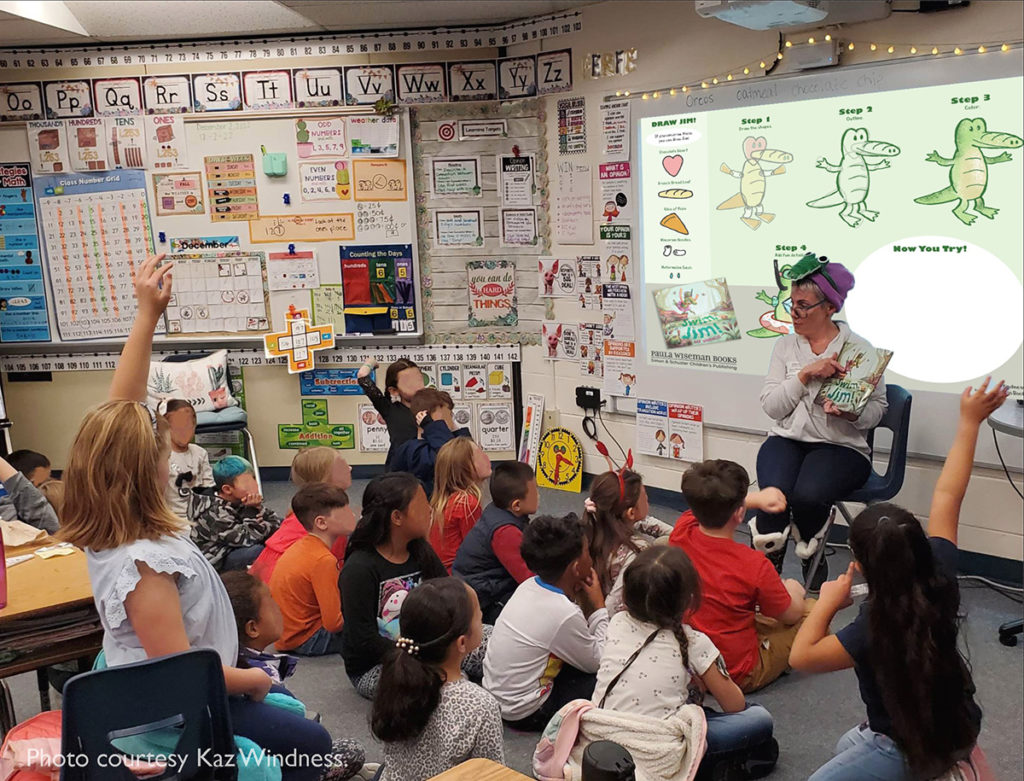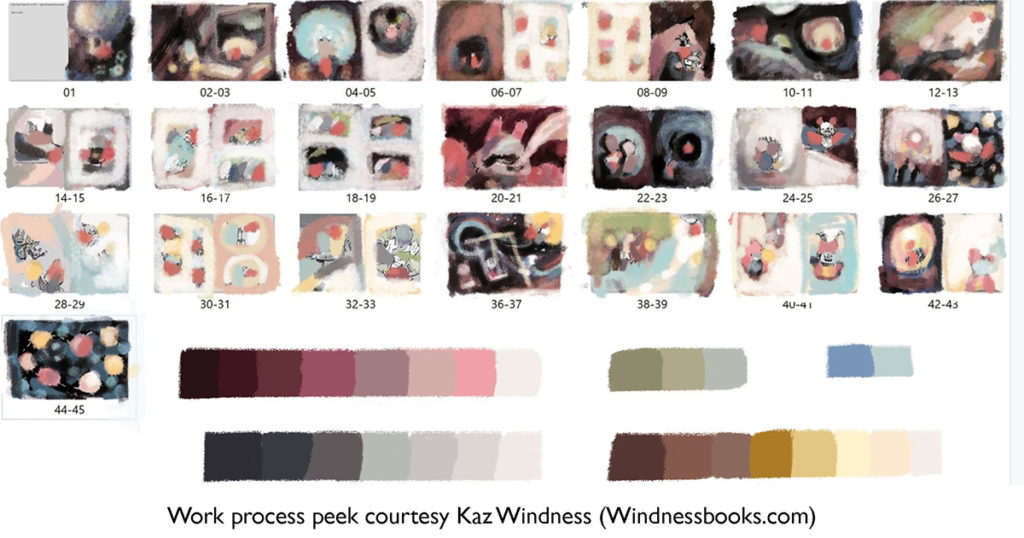 Q. How was the book art created?
I think better when I'm doodling on paper, so all my art starts as a pencil sketch. Once I like the sketch, I take a photo with my phone, email it to myself, and edit and paint the illustrations in Adobe Photoshop. Picture books go through a lot of steps and changes, so using digital media has made the editing process easy. There are two or three digital brushes I use all the time because they look like real paint and pastels. One page of final artwork usually takes two days to paint, after all the sketches and revisions are done. The whole book took around six months to illustrate total.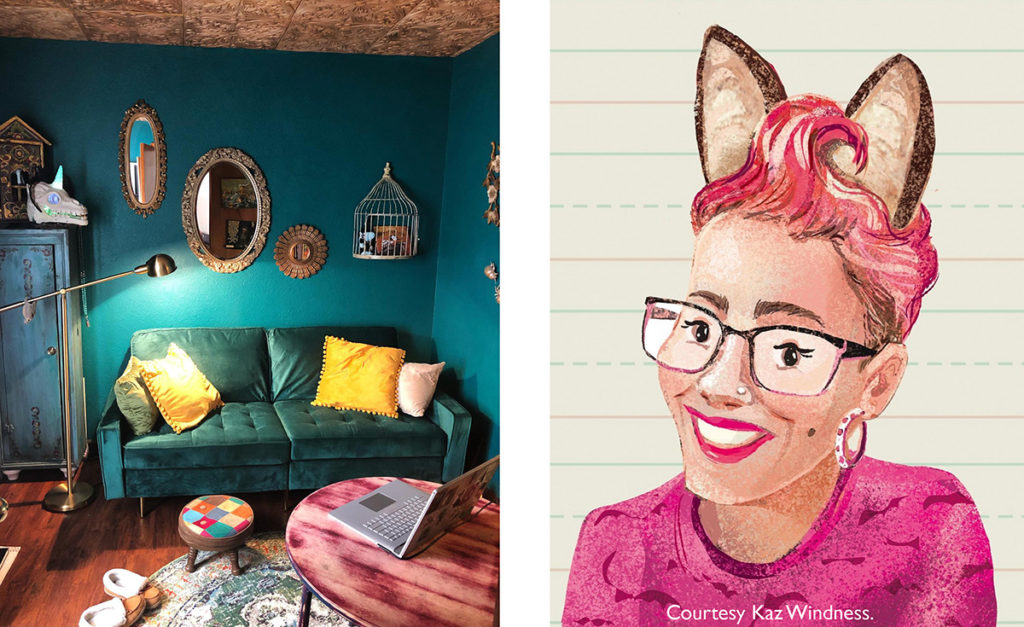 Q. What was the hardest part of creating this book?
It was important to me and my editor, Catherine Laudone, that Bitsy's story reflect an authentic autistic experience, offer compassion and sensitivity to all children, and tell a fun and engaging back-to-school story as well. It's uncommon for an autism book to be written by an actually autistic person, and there are a lot of misunderstandings about autism. We worked very hard to get every word right. The book grew into 48-pages to cover everything we needed and wanted to say, so the art took more time as well. BITSY BAT, SCHOOL STAR was a labor of love, and I'm so proud of what we created together.
Q. What are you excited about now?
CAT vs. VAC, my second Simon Spotlight leveled reader comes out later this year. It's full of zany humor and I got to draw underpants on animals– a dream come true. I have three more books coming out in 2024 and lots more to come. Stay tuned!
Also see other Interviews with Book Creators and Advice For Young Writers And Illustrators.