Interview with debut picture book author & illustrator Adriana Bergstrom about ABUELITA AND I MAKE FLAN
Adriana Hernández Bergstrom is a Cuban-American artist and children's literature author-illustrator. She enjoys learning languages and lives in Florida. Abuelita and I Make Flan is her debut picture book, and comes out from Charlesbridge on Aug. 9th! I was lucky enough to see an early version of Adriana's picture book at a Highlights Foundation event. The final book comes with a glossary of Spanish terms and a traditional recipe for flan (ooooh, I must try making this). What a delicious celebration of food, culture, and family.

You can find out more about Adriana and her work at Adriprints.com, Twitter, Facebook, Instagram, and TikTok.
Synopsis: ABUELITA AND I MAKE FLAN is about a girl who accidentally drops a family heirloom while baking with her abuela and must find a way to make things right.
Q. Could you describe your journey to publication?
It was a long and winding road! I had a lot of familial expectations and pressure that made it seem like an unrealistic or unattainable dream to be an author or illustrator as a career. After high school, my idea was to study illustration and be a children's book illustrator, but nothing went according to plan. I finally came back to that dream around 2015. I joined SCBWI in 2017. The following year, I won a We Need Diverse Books grant to keep learning about the industry of publishing. That helped me pay for several online and in-person courses including a long-form hybrid course with Highlights Foundation with you, Debbie and co-teacher Heidi Stemple! Through a mentorship program with WNDB, I met Joyce Wan.
Through Storyteller Academy, I learned from Vanessa Brantley-Newton, Melissa Manlove, Ariel Richardson, Arree Chung, Ken Lamug, and Jim Averbeck. Each learning experience helped me refine that initial concept into a story that flowed better and better both in text and art. In 2019, I sent a refined version of ABUELITA AND I MAKE FLAN to my agent, and the manuscript dummy started getting interest from publishers. It was acquired by my editor Monica Perez in 2020, but a few weeks before final art was due, Monica left Charlesbridge for Kwame Alexander's Versify imprint. This kind of editor shuffle happens occasionally, as I found out from other authors, since the industry is ever-evolving.
Monica and Jon Simeon were wonderful supporters throughout the editing and art direction process, and Yolanda Scott helped push the book the last few meters toward the finish line! The whole editing and art directing team at Charlesbridge were critical in helping me expand the final text and tighten the look of ABUELITA AND I MAKE FLAN. It finally hits U.S. shelves on August 9, 2022!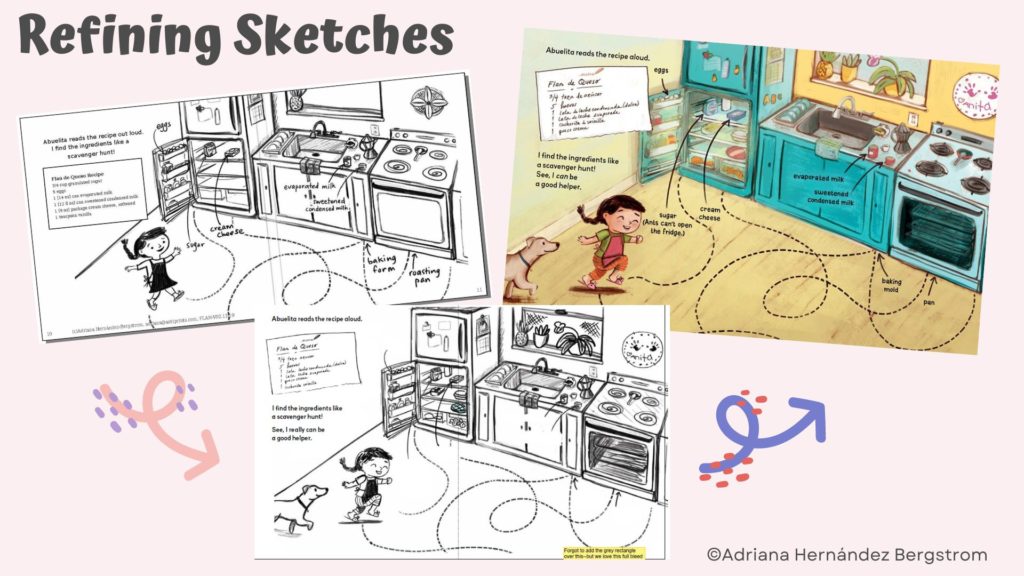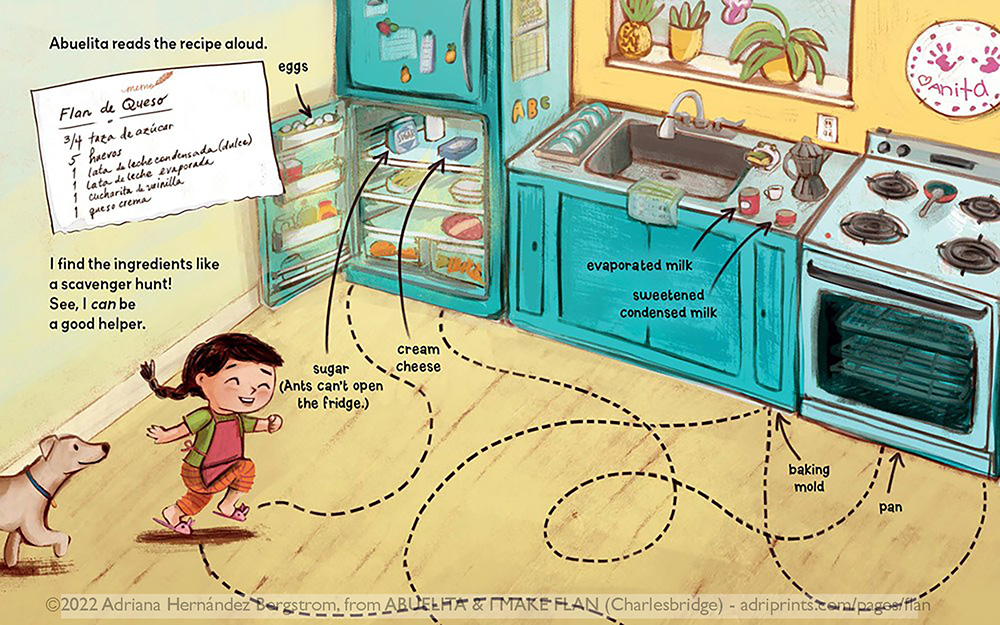 Q. What was your writing and illustration process?
For ABUELITA AND I MAKE FLAN, I started with a list of ingredients (literally) and a recipe. I had a loose vision in my head for a story about a grandchild and grandparent making flan together. The story changed shape many times between 2017 and 2022.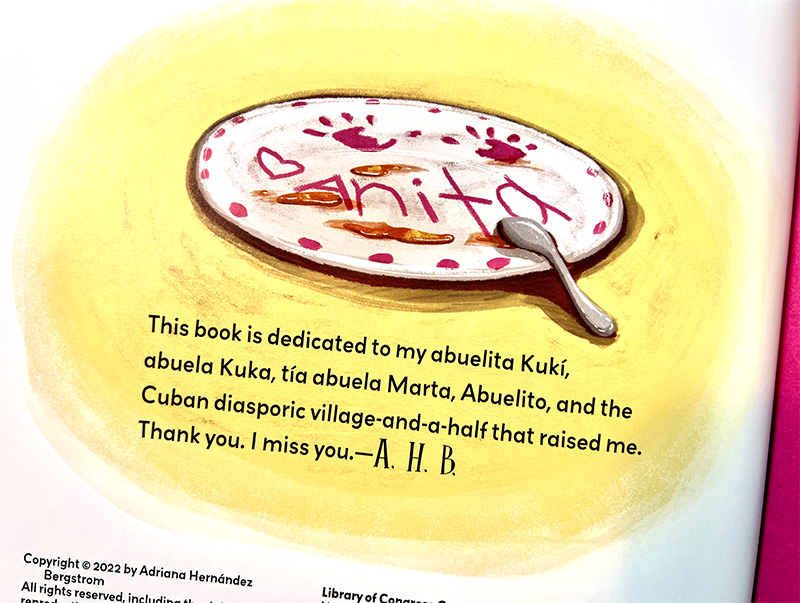 In between, I realized the story was missing 'the heart'. So I combined a memory of baking with my own Abuelita with that feeling where you think everything's going wrong, but you're still safe and loved and accepted as an imperfect child deserving of love. This was a big step in learning to write for kids. There needs to be some kind of heart or hook or something for kids to relate to.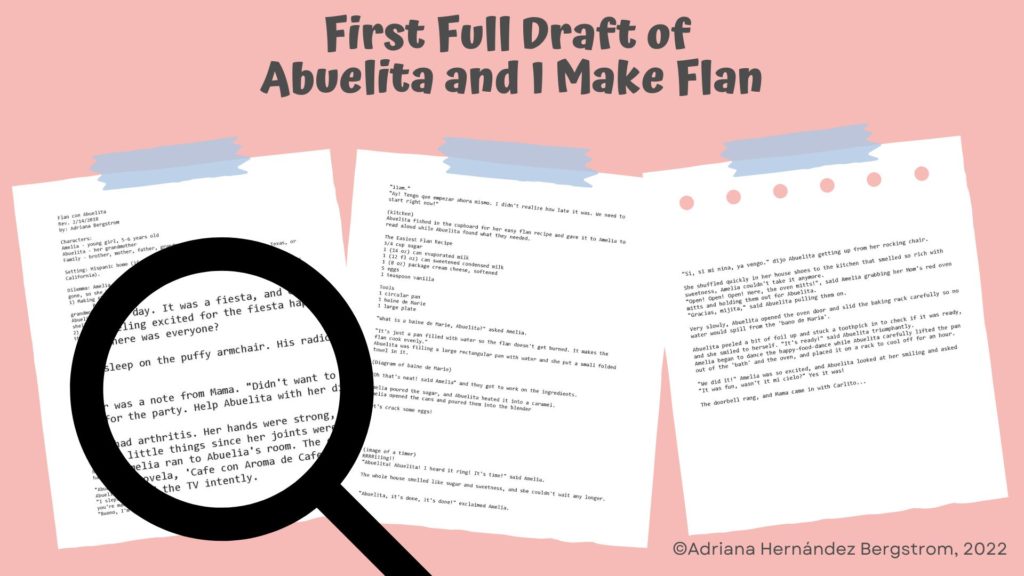 Then came the editing and revision to add more tension! Here are some of the people who saw it and offered editing thoughts: critique partners, mentors, teachers from various courses and organizations, professional/industry critiquers, peers, and my mother.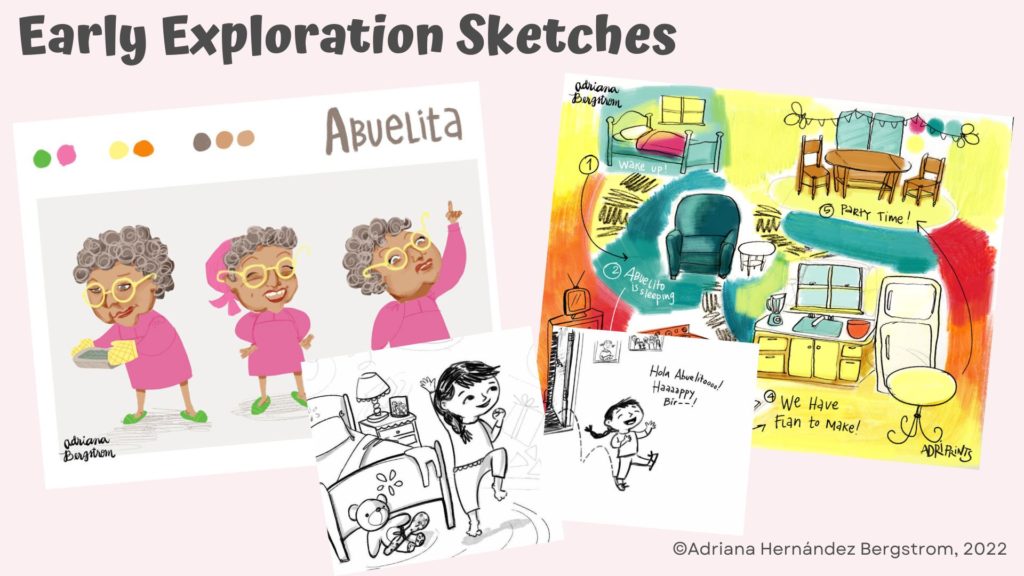 A word about this: for my second and third books, I did not have to take it so far and wide for editing. It took a lot for me to grow confident in my abilities and get the hang of writing for children's books! So, my process for writing is more like a yes/no flowchart: outline or list, test a draft in prose (does it work? yes/no), if no, try a draft in lyrical language, exchange with a critique group (love/hate/boring?)… rinse repeat until it's feeling ready-ish.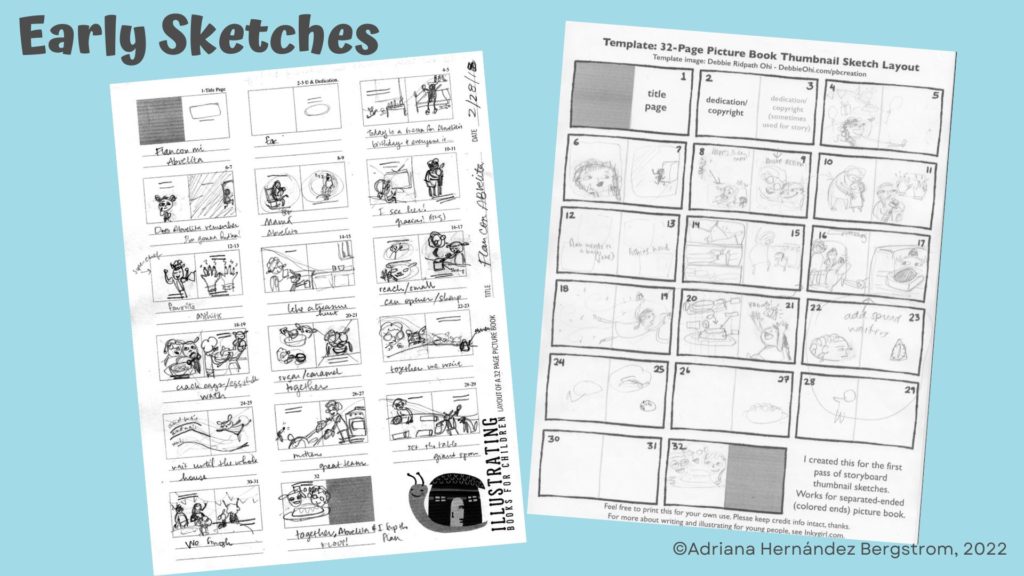 Then I do a sketch dummy similar to the one you share on your site! I made a few blank dummy thumbnail pages with square, horizontal, or portrait shaped boxes. I play in that size until things are making sense and flowing okay. Then I enlarge to half or full size dummy, and refine the illos a bit. Next, I'll share with my critique groups or my agent depending on how confident I'm feeling and we sub it! If it's crickets, I revise. If there's interest with revisions, I revise. If it sells… well, there's still revision too!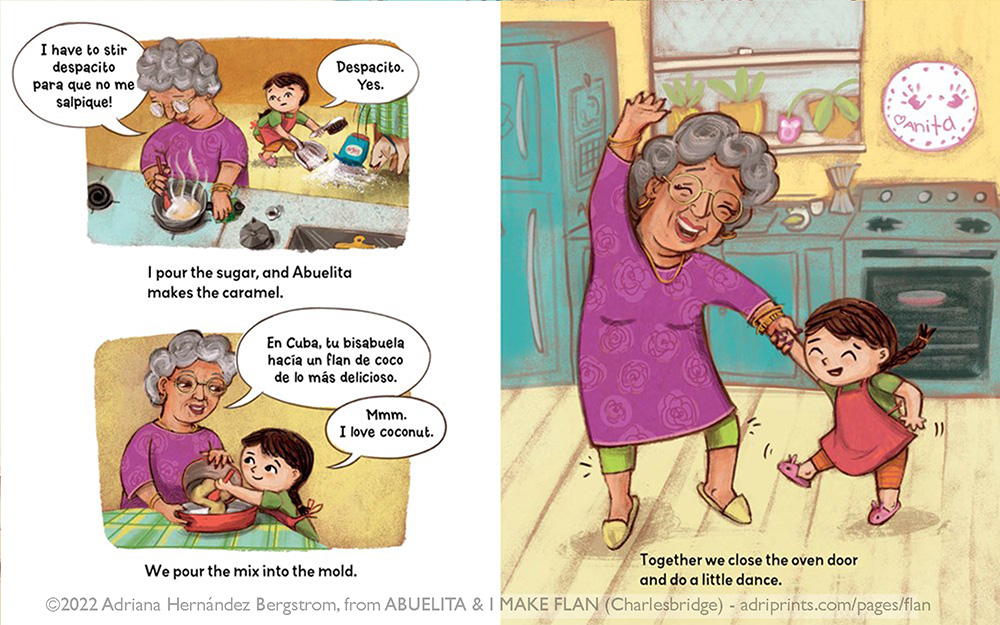 Q. What advice do you have for young writers and illustrators?
The path can be long and winding. There are very few 'overnight success' stories! I've heard so many other writers and illustrators say it's a marathon not a sprint, and I agree. I also advise not quitting whatever source of regular, stable income you have until you've gathered enough royalty sources to cover your bills. This may take a while. There are extended periods of time between the milestones of publishing. From getting interest in a manuscript to selling, it could be months if not years. And once a book sells, depending on the publisher and the details of your contract, it could be a while between selling and publishing and receiving any kind of advance!
For illustrators, I'll add the advice to take care of your physical health as much as you can. Pay attention to any pain you're feeling when you work. If you're gripping too tight and your hands hurt, or have a pinch in your shoulder, listen to your body! Take steps to recover and stretch. Find the root cause if you can. If it's in your setup, adjust your monitor height or drawing angle… it's worth the time to take a break vs. burning out and ending up with a frozen shoulder or pinched nerve!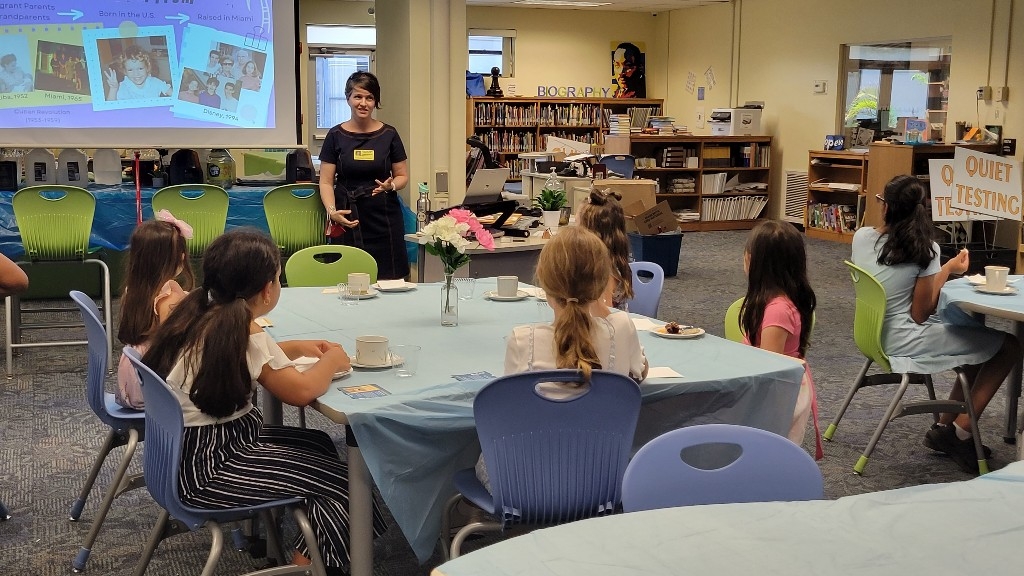 Q. What are you excited about?
I am excited about so many things, Debbie! What I am most excited about is sharing ABUELITA AND I MAKE FLAN with young audiences from my own Cuban American community and the world beyond. I'm so excited to be honoring my grandma and my family, and showing an everyday kind of life to people outside my community. I really wanted to share Latinx-style family joy in a picture book. I am excited for people to try making flan with their kids and grandkids and have a great time doing it! I'm also super excited to be illustrating stories. It's such a privilege!!
---
Also see my other Interviews With Book Creators as well as Advice For Young Writers and Illustrators.