Immigration, Family and Finding Home: Interview with debut picture book author/illustrator Zahra Marwan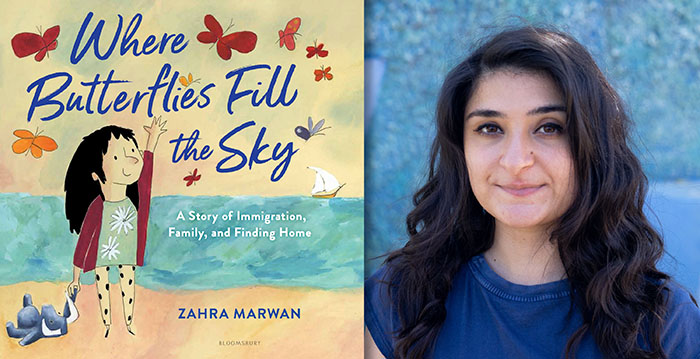 Many thanks to Zahra Marwan for answering a few questions about her debut picture book, WHERE BUTTERFLIES FILL THE SKY: A Story Of Immigration, Family and Finding Home, which launches Tue. Mar. 29th, 2022!
Zahra Marwan grew up in two deserts which vary drastically and have many similarities in culture. One close to the sea, the other close to the mountains. She studied the visual arts in France, and continues various pursuits to further educate herself. She currently lives in the Barelas neighborhood of Albuquerque, New Mexico, and works in her studio at the Harwood Art Center, where she incorporates Kuwaiti tendencies into her daily life. You can find out more about Zahra at ZahraMarwan.com, Twitter and Instagram.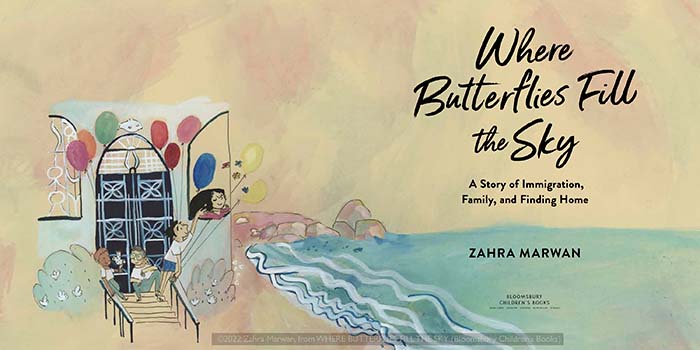 WHERE BUTTERFLIES FILL THE SKY: A Story Of Immigration, Family, and Finding Home
Author and illustrator: Zahra Marwan
Publisher: Bloomsbury
ISBN: 978-1-5476-0651-1
Synopsis:
Zahra lives in a beautiful place where the desert reaches all the way to the sea and one hundred butterflies always fill the sky. When Baba and Mama tell her that their family is no longer welcome here and they must leave, Zahra wonders if she will ever feel at home again–and what about the people she will leave behind? But when she and her family arrive in a new desert, she's surprised to find magic all around her. Home might not be as far away as she thought it would be. With spare, moving text and vivid artwork, Zahra Marwan tells the true story of her and her family's immigration from Kuwait, where they were considered stateless, to New Mexico, where together they made a new home.
Medium used: traditionally created ink and watercolour illustrations.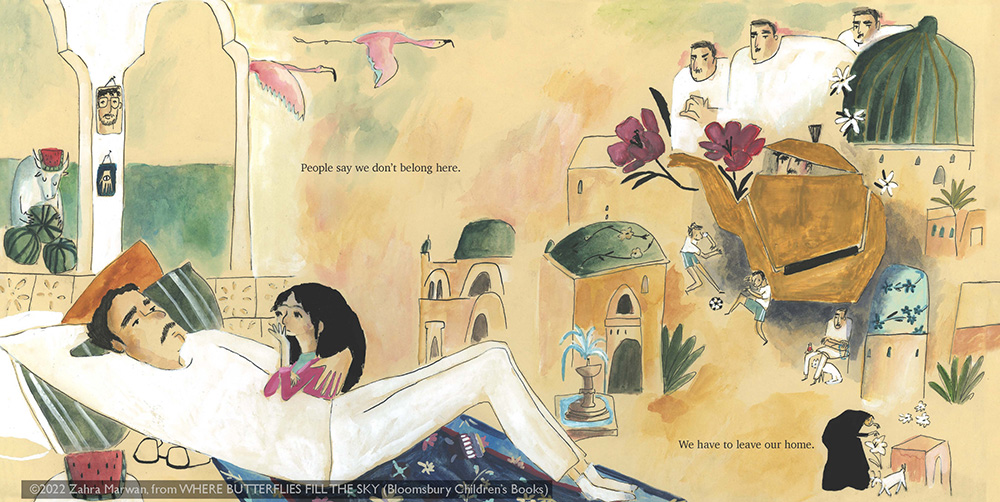 Q. What was your journey to publication?
I went through many variations of this story. I created a series of illustrations about Kuwait and how I feel about my home and my relationship to it when I had to make an emergency trip home in 2019 to help my mom out of the hospital that ended up being the foundation for many of the spreads. I tried to abstract the stories in many ways to make it fiction, but what seemed to work best was when my story became clear to how I really felt about my experience with statelessness and displacement.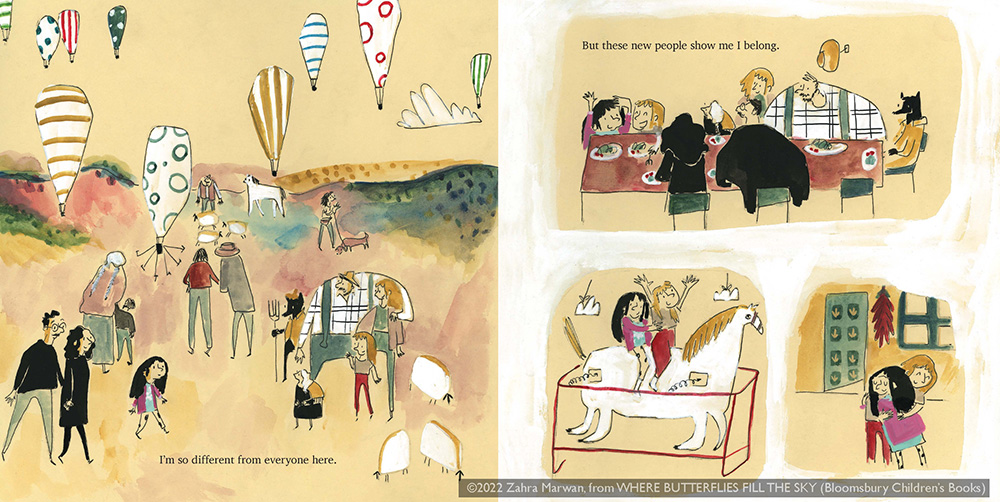 My editor Susan Dobinick acquired my picture book dummy when the art was in a rough state, and she was really instrumental in helping me compose the imagery and helping the story flow. I'm more and more grateful to her for trusting me and putting in so much time to bring out my story! My art director Donna Mark along with Susan really listened to the cultural details particular to Kuwait and helped me apply them in beautiful and effective ways. A big thank you to the Bloomsbury team for helping me compose this with so much patience and enthusiasm.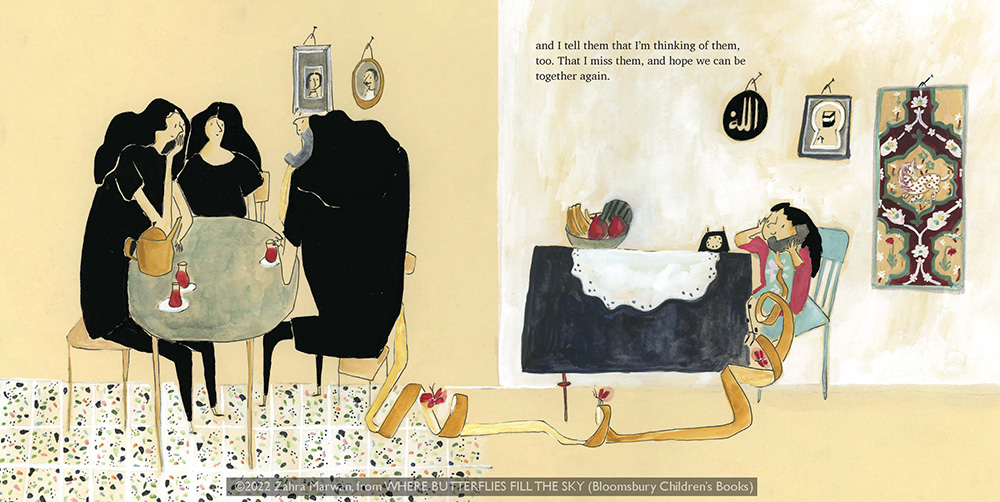 I'm also lucky to have worked with editors Allison Moore and currently Megan Abbate. Three editors for a debut, dream! I've had a lot of trouble finding and trusting a literary agent over the years. Christy Ewers from the CAT Agency had given me tips to make it stronger, and other agents' interest that never flourished gave me confidence, yet I otherwise made my way through the process of creating this book without the help of an agent. I've had to navigate a lot of things in my life in the most non-standard of ways.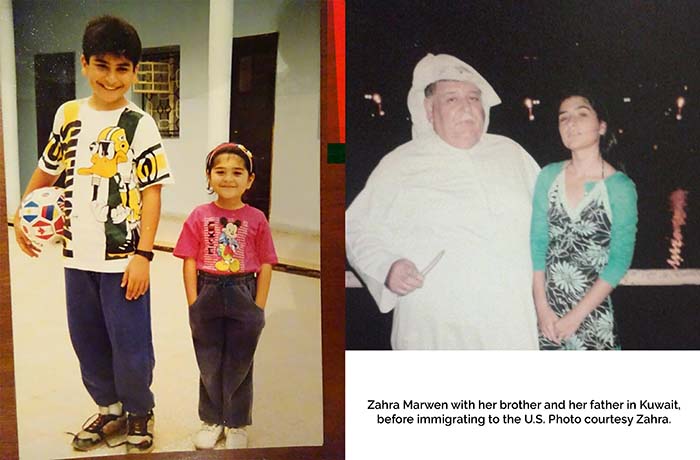 Q. What do you hope young readers will take away from your book?
I hope that young readers will feel that young immigrants around them come from places that they love and belong, and to be embraced even when language is lacking makes for a loving experience if not a stronger community between them. If not that, I hope they will like the art!
Q. What advice do you have for young writers and illustrators?
Be sincere with yourself in your writing and art.
---
Also see other interviews with book creators as well as a compilation of advice for young writers and illustrators from interviewees.