THANK YOU, school librarians!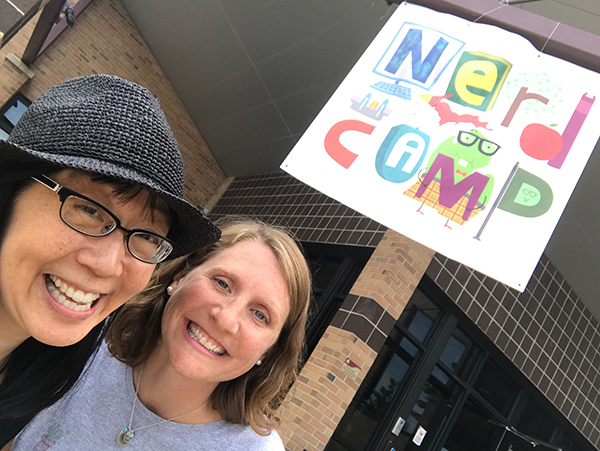 Photo: With Carrie Davies at Nerd Camp.
I continue to be grateful to school librarians for sharing my books and works by fellow creators with young readers. I was lucky enough to meet teacher librarian Carrie Davies (see photo above) in person at Nerd Camp Michigan years ago.
I've also had fun doing virtual visits with her students in the past:
Anyway, LOOK what she just posted on Twitter:
For those reading on small screens, here's what the 3rd-grader's letter said:
"Dear Miss Wilcox. I read the story I'M BORED. I chose this Book becus my liberry techer read a Book of this. And I like it so I Bot this book. The other rezon is I like Books that are fiction books."
Anyone who doubts the importance of educators and librarians to the publishing industry, take note. This 3rd grader first found out about I'M BORED because of Carrie Davies. And subsequently, they ended up buying a copy of the book.
Don't get me wrong … I would still be grateful even if there were no book purchases involved in the end. I know that not everyone can afford to buy books, especially these days. So I am EXTRA grateful in this case! Not only does a librarian sharing a book help young readers, but they are also helping me, the author, the publisher, and booksellers.
School librarians are on the front lines, when it comes to kidlit gatekeepers. THANK YOU, SCHOOL LIBRARIANS!
Monday was Canadian School Librarian Day and April 3-9, 2022 will be National Library Week in the U.S. but really, EVERY day should be School Librarian Day. ❤️