I'M… book Reader Photo challenge (PRIZES!)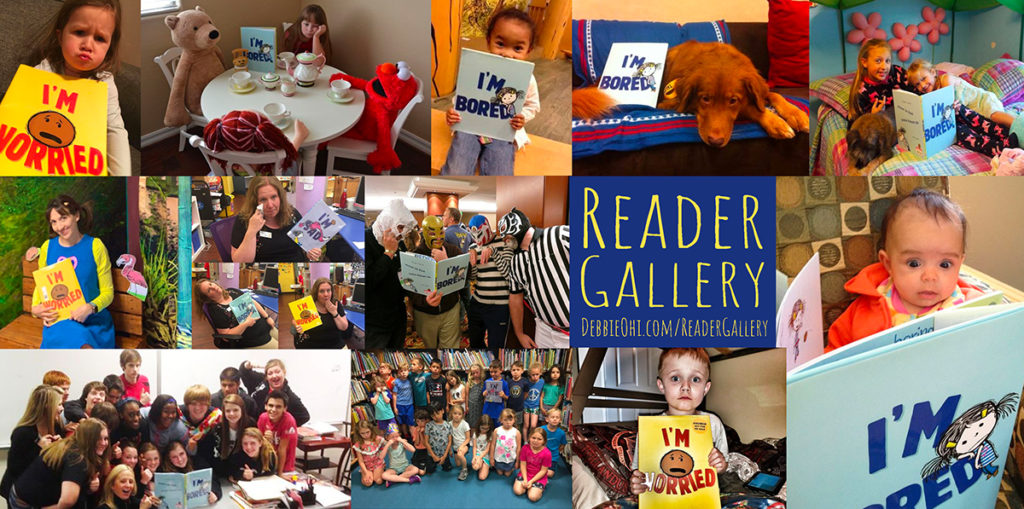 To help celebrate the Sept. 7th launch of I'M SORRY, the newest in the kids' emotions picture book series by Michael Ian Black and me (Simon & Schuster), I'm inviting readers of all ages to submit photos for my I'M… Picture Books Reader Gallery. There will be PRIZES; Michael will help me pick winners. Deadline for photo submission: October 1st, 2021.
Do you have a fun photo of a person or animal reading either I'm Bored, I'm Sad, I'm Worried or I'm Sorry? I'd love to see it. If you post on social media, be sure to use the #ImBooksReaderGallery hashtag and tag me (I'm @inkyelbows on Twitter, @inkygirl on Instagram, @DebbieOhi on Facebook) and @SimonKids. If I don't respond, it means I may have missed it – so please fill out this form to let me know, thanks.
What I AM looking for: fun photos that include at least one person or animal with one or more of the books.
What I am NOT looking for: photos with just the book cover and/or inanimate objects, photos that are not family-friendly, photos that have been heavily modified, photos that might offend. I reserve the right to NOT include any photos in the gallery.
EVERY accepted gallery photo that includes at least one young reader will win a special doodled letter from me (the illustrator), plus Michael and I will choose Grand Prize winners for special bonus goodies.
Submission form (deadline: Oct. 1st, 2021)