Graphic novels, RPGs and Advice For Young Writers: Interview with Brian McLachlan (COMPLETE THE QUEST: THE POISONOUS LIBRARY)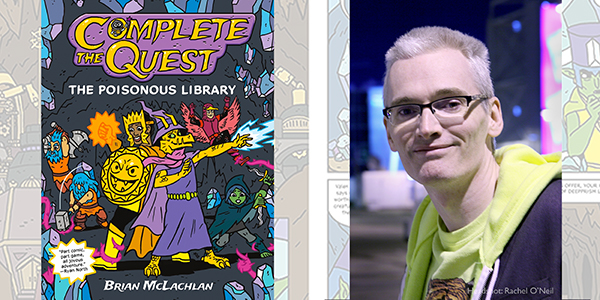 Brian McLachlan is a cartoonist who's worked for Nickelodeon, The Nib and the New Yorker. He writes the monthly comic Spruce Street Squad for Owl Magazine. His book, Draw Out The Story: 10 Secrets to Creating Your Own Comics is an ILA-nonfiction award winner. Each Tuesday he hosts a group of artists in a PG-13 game of Dungeons & Dragons where they live draw what happens in game on Twitch, called Magical Marker ( MM ). You can find Brian at his website, on Twitter, and Instagram.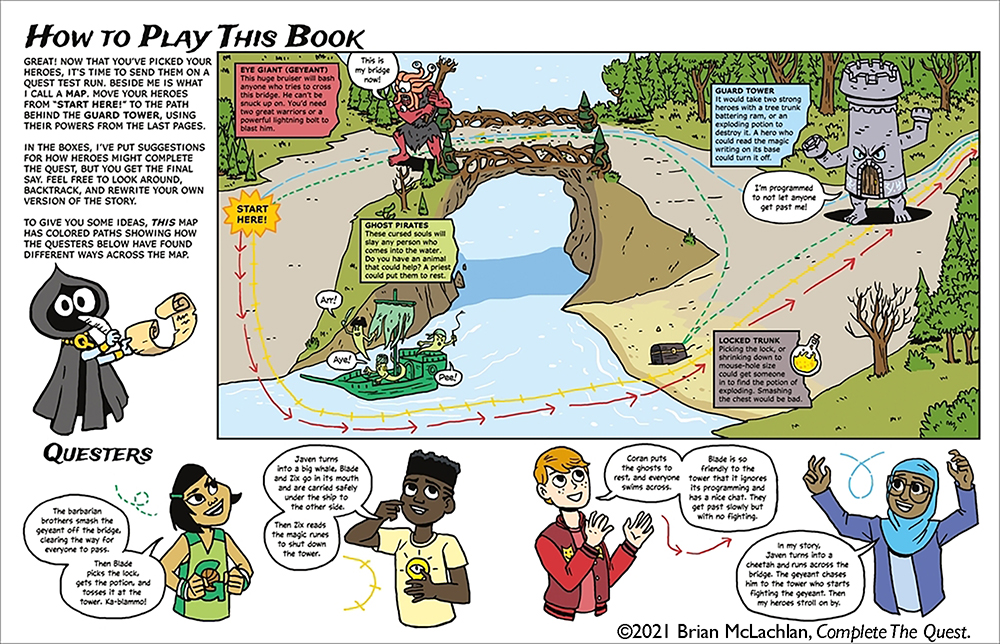 Synopsis of COMPLETE THE QUEST: THE POISONOUS LIBRARY (Imprint/Macmillan):
Save your kingdom in this interactive role-playing adventure, which reads like a graphic novel but also plays like a game! It's perfect for fans of all ages who are interested in the exciting world of fantasy gaming.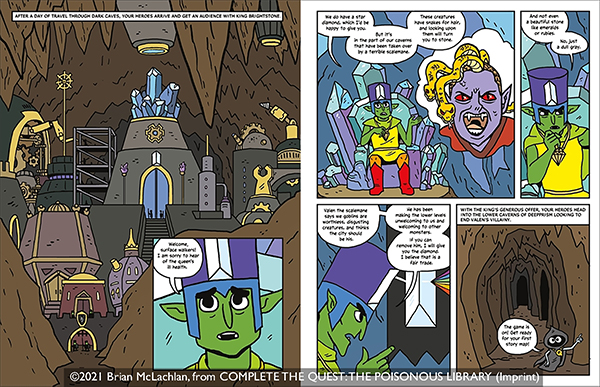 Q. How did you come up with the idea for Complete The Quest?
Complete the Quest in a brand new mix of role playing game (RPG) and comic. It started as an experiment to see what would happen if I took a Dungeons & Dragons or Chose Your Own Adventure multi-path story and made it into a comic. How would the gameplay change by putting it into a visual space? For me, it was a literal game changer, turning the CYOA anxiety of multiple choices, into a laid-out, laid-back invitation to check all paths for your favourite way forward. It also encourages people to come up with their own, better solution if they want. While I always give the reader a clear path forward, I invite them to forge their own. It's a great introduction to co-operative storytelling.
Q. What was your writing/illustration process?
I draw a scene much faster than I can write about it. A picture's worth a thousand words and all that. So I draw my scripts in rough, laying out out the word balloons, figuring out how much space I need, how the page turns feel, etc. This was especially important for this comic gamebook which also filled with maps for the reader to navigate. We needed to see if the pathing was clear. Creating the tutorial was the most time intensive part, trying to make the most elegant, clear way to ease the reader into how the game part functions. I think we nailed it. I hear from parents who don't play RPGs that they were worried about the reading a gamebook, but they quickly "got it".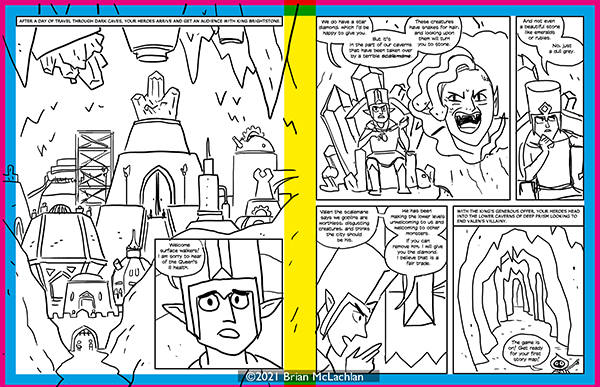 Q. What advice do you have for young writers and illustrators?
Advice is hard to give because everyone's different. Some people need to hear "finish what you start" and some need to hear "stop working on that thing, it's good enough". So my advice is to train your inner advice-giver and follow it. What is it about the way you work that you've been putting off improving, but could do right now? Because you know what type of story or art you're making, and if you're trying to make an apple, the best advice in making a banana isn't going to help. And the best advice in making an apple right-handed isn't going to help you if you're left-handed. Not all advice is for you, it's a skill to figure out what part is for you to take right now, later, or never.
---
For more insights from book creators, see my Inkygirl Interview Archives and Advice For Young Writers And Illustrators From Book Creators.