Nosy Pencil Sharpeners, Making Time To Write and More: Three Questions With Erin Dealey (DEAR EARTH…FROM YOUR FRIENDS IN ROOM 5)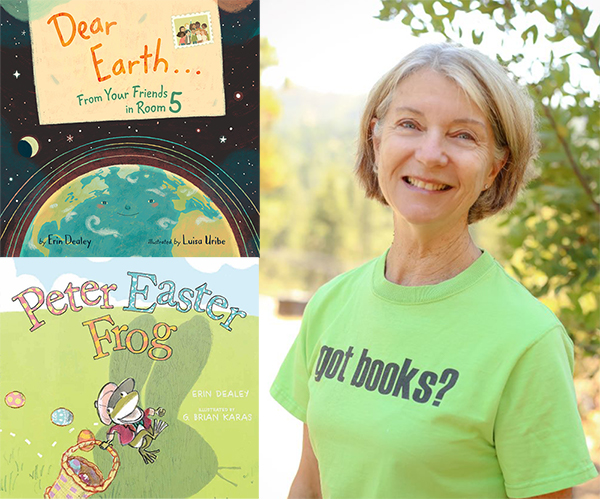 Erin Dealey grew up in Oakland, California, where she often did her homework on the roof of her garage. She has written over a dozen children's books and dearly hopes her Dear Earth…From Your Friends in Room 5 will find its way to Earth Heroes everywhere. You can find her online at www.erindealey.com and on Twitter at @ErinDealey. I love her positive energy online! And I also love how supportive she is of her fellow kidlit book creators.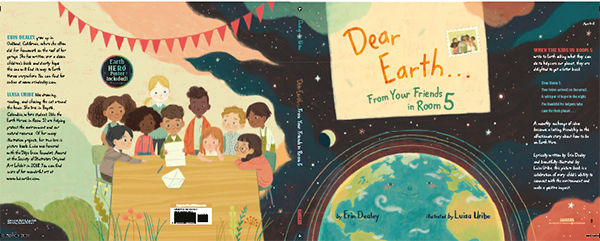 Launching December 1st, 2020 from HarperCollins:
DEAR EARTH….From Your Friends In Room Five, written by Erin Dealey and illustrated by Luisa Uribe (HarperCollins, Dec. 1st, 2020). Synopsis: "When the kids in Room 5 write to Earth asking what they can do to help save our planet, they are delighted to get a letter back. This beautiful picture book is a celebration of every child's ability to connect with the environment and make a positive impact."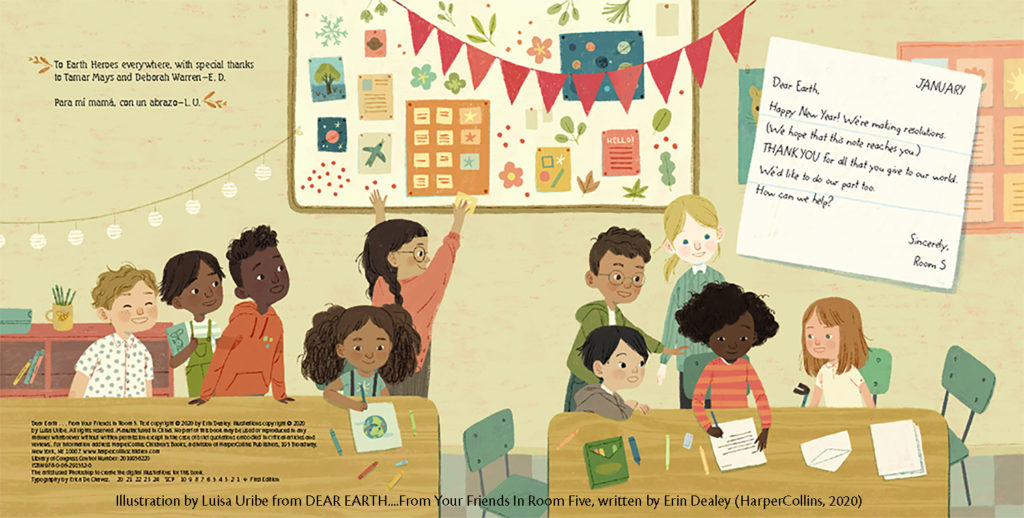 Launching Jan 2021 from Simon & Schuster Children's:
PETER EASTER FROG, written by Erin Dealey and illustrated by G. Brian Karas (Caitlyn Dlouhy Books/Simon & Schuster Children's). Peter Easter Frog loves, loves, LOVES Easter, and sharing is caring, AND he's just as good a hopper as any ol' rabbit, so he decides to pass out some of his own Easter eggs. Why should Bunny have all the fun, anyway? Turtle, Cow, Dog, and Chipmunk all agree. But what happens when the Easter Bunny finds out?
Q. Could you please take a photo of something in your office and tell us the story behind it?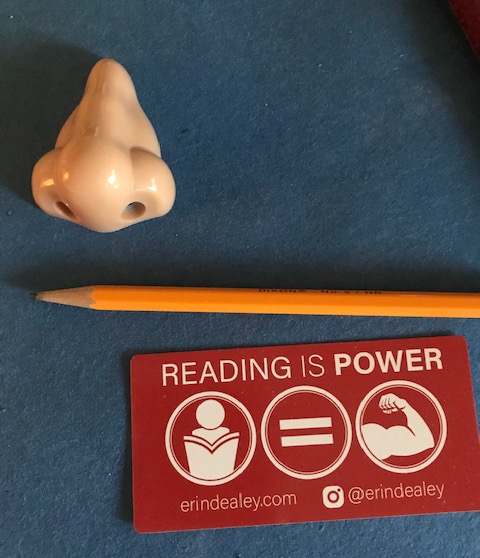 Here's a pic of my favorite pencil sharpener. Yes, it's a nose. Yes, you put the pencil in the nostril. I gave them to my teacher pals at the fine arts camp where I head the Theater Dept. each summer. Of course I kept one because everyone needs a reminder to smile, right? It's also a reminder that teaching isn't just about content. Teaching is creativity and hope and communication. Kudos to every single educator who steps up to provide meaningful experiences to their students–no matter what school looks like. And YAY for the students who are learning how to be open to new experiences, & organized and focused. The big take away from virtual camp last summer was that the ARTS help us through tough times. So does school.
The READING IS POWER sticker slid into the picture with the nose… Sneaky, huh? Think of it as a subliminal message. Thank you dear TEACHERS and LIBRARIANS for all you do. STUDENTS–give yourselves a huge pat on the back. Cheers to reading and writing and art!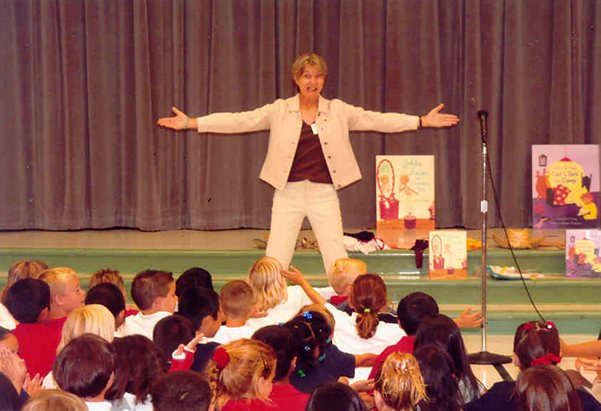 Q. What advice do you have for young writers?
No one expected me to write books someday–especially not my teachers or me–and I have the journal to prove it. My 6th grade journal is full of entries like, "It's the same thing today and I don't know what to write. The end." Honestly, that was because I thought writing had to be perfect. My friends were the writers. I liked recess and math (because I knew how to get the right answers.). But I also loved jokes and puns and song lyrics and WORDS. In my senior year of high school, we had to take an English elective so I took Theater while my friends took Creative Writing. It turns out theater is like writing picture books or chapters for a novel. And words can make people laugh or cry or think about the world. Writing is not like Math. There are skills to learn, yes, but Writing is NOT right or wrong. It doesn't need correcting. It needs polishing so that your stories shine, and others can enjoy them too.
PS to Educators: When teachers tell me at school visits, "I'd like to write a book someday," my answer is always the same: Don't wait for that cabin in the woods and endless, uninterrupted writing time. It will never happen! Teacher friends–we tell our Ss & our own children to follow their dreams. Every. Day. It's time to take your own advice. Walk the walk. Think of yourself as their role model. This mindset will help you make writing a priority in your already busy life. Someday is NOW. (Plus, it's FUN!)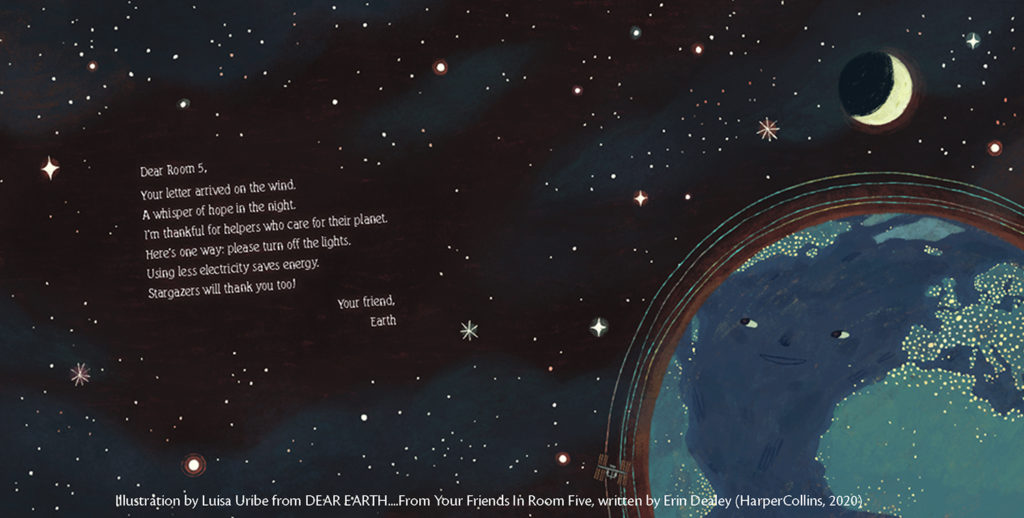 Q. What are you excited about right now?
I'm excited to be on this wonderful blog. (Thanks, Debbie!) I'm excited about DEAR EARTH…From Your Friends in Room 5, illustrated by the fabulous Luisa Uribe (Harper Collins/ Dec. 2020). I'm excited that the book jacket reverses to become a poster about How to Be an Earth Hero all year long. It's so cool! I'm excited that the book is told in letters between Earth and Room 5.
I'm also excited about PETER EASTER FROG (Caitlyn Dlouhy Books/ Illus. G.Brian Karas / Jan. 2021) and you guys–I might be close to submitting my middle grade novel. WHAT?????
---
For more insights from book creators, see my Inkygirl Interview Archives and Advice For Young Writers And Illustrators From Book Creators.