Writing Productivity Tips & Advice For Young Writers From Marcie Colleen (THE BEAR'S GARDEN)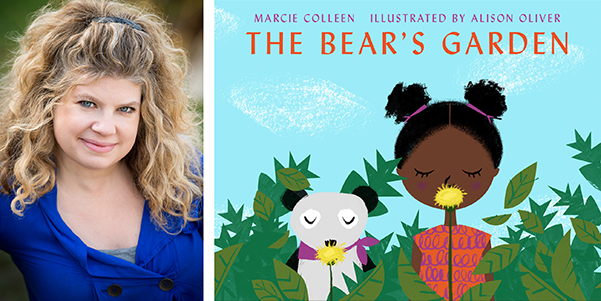 Happy launch day to Marcie Colleen, whose THE BEAR'S GARDEN with Alison Oliver launches from Imprint/Macmillan today!
Marcie Colleen is the award-winning picture book author of Penguinaut! (illustrated by Emma Yarlett) and Love, Triangle (illustrated by Bob Shea), as well as the Super Happy Party Bears chapter book series. She teaches Writing Children's Picture Books for the University of California at San Diego both online and on campus, and runs her own Study Hall conducting a month-long online critique group dedicated to the crafting picture books. Find out more about how you can study with Marcie at thisismarciecolleen.com and on Twitter at @MarcieColleen1.
*UPDATE: Marcie has also launched her SUPER HAPPY Book Club on her YouTube channel, especially for families at home during school closures!

Launching March 24, 2020, THE BEAR'S GARDEN is written by Marcie Colleen and illustrated by Alison Oliver. You can read reviews of the book on Kirkus (starred review!) and Bookroo.
Author: Marcie Colleen
Illustrator: Alison Oliver
Publisher: Imprint/Macmillan Children's
SYNOPSIS: Inspired by the true story of a community garden in Brooklyn, New York, picture book The Bear's Garden is a testament to how imagination and dedication can transform communities and create beauty for everyone in unexpected places.
A little girl sees an empty lot in a city and imagines what it can be:
a place to grow,
a place to play,
and a place to love.
With the help of her stuffed bear, the girl brings her community together to create a beautiful garden.

Q. What inspired you to write this book?
The Bear's Garden was inspired by the real-life Pacific Street Brooklyn Bear's Community Garden in my former neighborhood in New York City. The name always puzzled me—I mean, we didn't have bears wandering around Brooklyn last I checked!
Come to find out, the garden was named for a teddy bear that was found in the weeds when the workers began to create a garden in the abandoned lot. Of course, immediately I started thinking of that little bear. How did he get there? Did he belong to anyone? Was he placed there on purpose?
The Bear's Garden is my imaginative story about how the teddy bear came to be in those weeds. It's also a love letter to my former neighborhood and the power of community that I felt while living there. I am the girl who finds love and beauty in every inch of that urban paradise.

Q. As an experienced author, how do you manage your time in terms of balancing your creative work time with the business side (promotion, admin, school visits etc), yet still have a life outside work?
While everything I do, such as teaching and creating Teacher's Guides, falls under the umbrella of being a full-time children's author, I have struggled in the past to find time for my own creative writing. It seems my days get quickly overrun.
However, about a year ago I paired up with a fellow author friend, Kirsten Larson, to prioritize our writing projects. We get up at 5:20 every morning to write for an hour. The alarm goes off, we text each other a quick "Good Morning" and share our project goals for that session, grab our coffee, and set to write until 6:30 without distraction. At 6:30 we check in again with our progress. It's been a game-changer. I think I have written more in the last year because of it. And it's a fantastic way to feel accomplished no matter what the rest of the day brings.
Q. What advice do you have for young writers?
I have always loved reading and writing stories.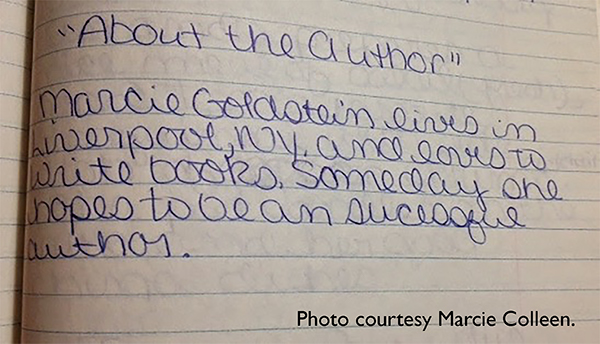 A few years back I found a book I had written in elementary school. It's called Rainbow Hunt. And in the back of the book I found an Author's Note I had written. It said,
"Marcie Goldstein lives in Liverpool, NY and loves to write books. Someday she hopes to be a successful author."
So, my advice to young writers everywhere would be, know that your dreams can come true. Even if people say it's a long-shot. I'm living proof. So keep reading, keep writing, and never stop dreaming.
Q. Anything else you'd like to mention? What are you excited about these days?
Despite the recent global health crisis that has left us all indoors, I am excited to see how we will learn to build more community within our lives—even virtually. The creativity and innovation that has developed in the last few weeks has been extraordinarily inspiring. Like flowers between the pavement cracks, we will find ways. And a lot of beauty is going to grow from this.
---
For more insights from book creators, see my Inkygirl Interview Archives and Advice For Young Writers And Illustrators From Book Creators.