Book Giveaway, Advice For Young Writers from Karla Valenti (MARIE CURIE & THE POWER OF PERSISTENCE)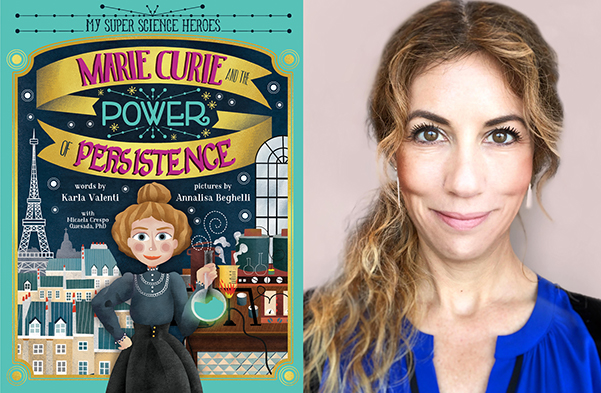 GIVEAWAY (U.S. only): Karla is giving away a copy of Marie Curie And The Power Of Persistence, written by Karla Valenti and illustrated by Annalisa Beghelli! [EDIT: Giveaway is now over.]
Karla Arenas Valenti was born and raised in Mexico. Since then she has put down roots in a number of countries she now calls home: Japan, France, Germany, and the U.S. where she lives in the Chicagoland area with her husband and three kids. She writes picture books and middle grade novels. You can find out more about Karla at www.karlavalenti.com or connect with her on Facebook or Twitter @KV_writes.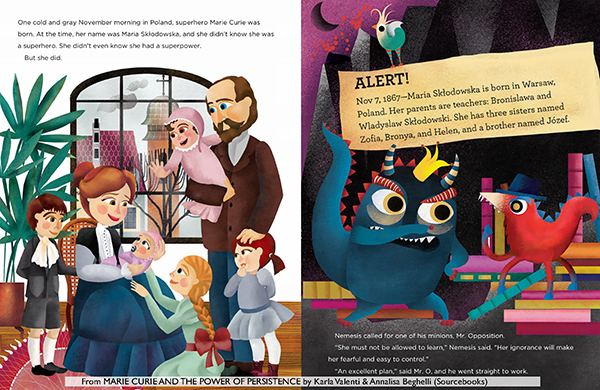 I asked Karla to describe Marie Curie And The Power Of Persistence, and here's what she replied:
My Super Science Heroes is a picture book series for children ages 4-8. The series focuses on key scientists, but rather than defining those scientists by what they did (their achievements), we are choosing to highlight who they were (the traits that made those achievements possible).
This distinction is important as it allows readers (young and old) to re-frame what it means to "succeed" – in other words, you do not need to be a genius or Nobel-prize winner in order to be a hero in your own life. Arguably, what makes someone a hero is how they make use of their own "super powers" in pursuit of their dreams.
And what are these super powers?
The first one we chose to highlight is persistence.
Throughout her personal and professional life, Marie Curie encountered many societal and institutional limitations that threatened to block her progress. Rather than telling our young readers about these challenges, however, we chose to show them. Enter Mr. Opposition, a character designed to embody these counterforces and give Marie a chance to prove her persistence to all her fans and readers.
In this way, Marie's ultimate success and notable achievements are not presented as the inevitable result of a gifted mind. Rather, we are honoring the tremendous effort she exhibited in never giving up on her dreams, a super power indeed.
Our next book focuses on the power of curiosity, exemplified by Alan Turing and his minion, Miss Enigma (due out Jan 2021).
My Super Science Heroes is unlike any other children's book series focusing on historical figures, and we hope it will inspire countless of young scientists (and non-scientists) as they develop their own super powers.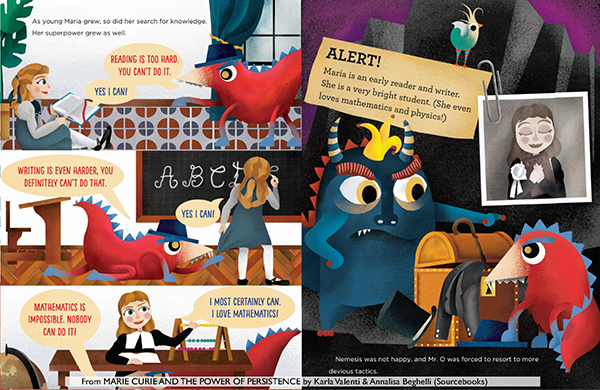 Q: How did MARIE CURIE AND THE POWER OF PERSISTENCE get published?
This is a story about the unexpected surprises that come our way when we are open to any (and sometimes unconventional) opportunities.
I was living in Europe at the time, and a friend forwarded an open call for story submissions run by a non-profit science association. The Marie Curie Alumni Association (MCAA) was looking for a creative way to raise funds to support their science initiatives, so they launched a contest for picture book submissions. The topic was a story about Marie Curie, but told in a way that would excite young readers about science
As a fiction writer, I was hesitant at first to submit a story on a non-fiction topic. However, I also viewed this as an opportunity to flex my creative wings, so I took the challenge and wrote a story about Marie Curie… the super hero.
As I researched her life, it became clear that, while she certainly accomplished a great deal as a scientist, her most notable achievement was her unwavering persistence in facing a number of challenges throughout her life. Persistence! A skill highly valued in the scientific community (and one present in all of us).
What if the book was about Marie Curie using her power of persistence to achieve great things in the scientific world?
What if she had an evil nemesis who lived in a craggy cave deep underground, and whose sole purpose was preventing the spread of knowledge?
What if he sent his minion, Mr. Opposition, to stop Marie in her heroic journey?
Thus was born the My Super Science Heroes series.
It was an unconventional premise, but I decided to submit the story. To my tremendous surprise, I won!
Working with Micaela Crespo Quesada (a super scientist herself) and the MCAA association, we identified the perfect illustrator for the project, Annalisa Beghelli. Her artwork brilliantly captured the super hero themes we wanted to explore. In a true collaboration, the three of us worked to bring this project to life.
Initially, the project was going to be funded exclusively through a global crowdsourcing campaign. Not only did we exceed our goal by 20%, but a couple weeks into the campaign, we received an offer by Kelly Barrales-Saylor at Sourcebooks for world rights.
Fast forward to today as we celebrate the world publication on April 7th of Marie Curie and the Power of Persistence.
Q. What advice do you have for young writers?
In a perhaps not-so-ironic twist, the most valuable piece of advice I can offer is to believe in the power of persistence. And I hesitate to say this is only relevant to young writers (since I myself only learned this as a writer after many years).
The journey I have taken to get to this point has not been a short (or always-joyful) one. Indeed, it has been more agonizing than not, more heart-breaking than uplifting, and certainly taken a lot longer than I expected.
There have been plenty of opportunities for me to give up and walk away (and if I'm honest, there have been moments in my life where I've had to do that). However, I am fiercely proud of this story because it feels like a real badge of honor; a testament to the courage it takes to pick up your "pen" and keep putting words to paper, despite everything standing in your way.
The truth is, we all have our own version of Mr. Opposition, and we all must do battle with the nemesis that intends to bring us down. But word by word, line by line, we can persist. That is no small thing.
---
For more insights from book creators, see my Inkygirl Interview Archives and Advice For Young Writers And Illustrators From Book Creators.