Advice For Young Writers: Three Questions for Nancy Tupper Ling and Andrea Offermann (THE YIN-YANG SISTERS & THE DRAGON FRIGHTFUL)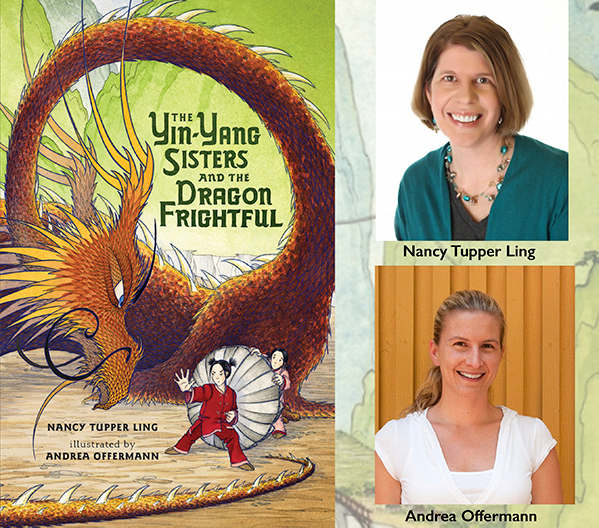 Thanks to Nancy Tupper Ling and Andrea Offermann for answering Three Questions for me today! Their picture book, The Yin-Yang Sisters And The Dragon Frightful, comes out on Sept. 18th from G.P. Putnam's Sons Books for Young Readers. Curious about how the cover got created? Read Andrea's behind-the-scenes peek (with sketches and photos) on an earlier post about the making of this gorgeous picture book cover.
Synopsis: "When a fearsome dragon takes over their village bridge, twin sisters Mei and Wei have opposing views of how to fix the problem. Wei wants nothing more than to confront that stinky old dragon head on, but Mei favors a more thoughtful approach… an empowering sibling story about celebrating differences."
Nancy Tupper Ling is the winner of the prestigious Writer's Digest Grand Prize and the Pat Parnell Poetry Award. She draws her inspiration from the multicultural background of her family and the interwoven fabric of familial culture which is, on the surface, seemingly every day. She is the author of several children's books and anthologies. You can find out more about Nancy Tupper Ling at her website, Facebook, Twitter, Instagram and Pinterest.
Andrea Offermann is the illustrator of J.A.White's The Thickety series, Kate Milford's The Boneshaker books, and M.T. Anderson's graphic novel Yvain. She was born and raised in Cologne, Germany, and graduated from Art Center College of Design in Pasadena, California with a bachelor's degree in illustration. You can visit her at her website, Facebook and Twitter.
A. Could you please take a photo of something in your office and tell us the story behind it?
From Nancy Tupper Ling: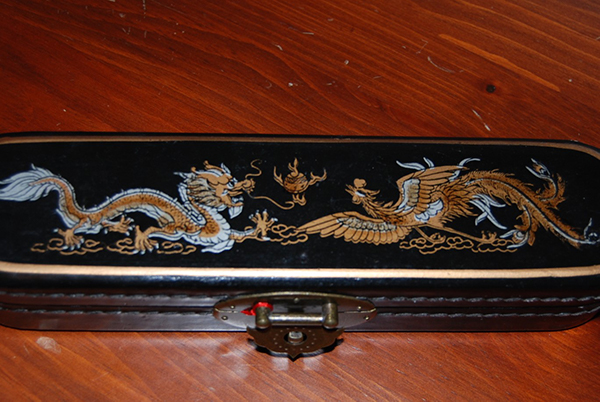 "The journey from manuscript to book publication can be a long one, so I like to keep what I call my "Dream Buddies" in my office. These are items I collect along that way that relate to my stories and that fill me with hope while I wait for a book to be accepted. One of these objects was the Double Happiness Box that I discovered in an antique shop in Ipswich MA long before my book, Double Happiness, became a reality. The box cost $25 dollars but, low and behold, the phoenix and dragon—Chinese symbols for double happiness— were etched on the cover of this pencil case. The inside is lined with Chinese characters. I couldn't resist buying it. Years later it still reminds me that dreams come true." – Nancy
From Andrea Offermann: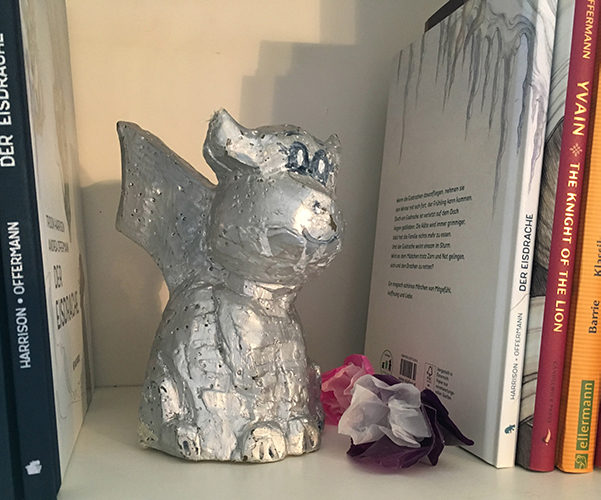 "A few years ago I illustrated a picture book (Frost Flyer by Troon Harrison) for an Austrian publisher. The book was nominated for the Austrian children's book award, and I traveled to Austria to attend the ceremony. It was such a lovely surprise when the book received the children's choice award there ( I shared a little bit about the journey and the award here. The kids from the jury had not only prepared a beautiful presentation, telling the journey they took towards choosing the book they liked best that year. One of them, Laura, had also created a dragon sculpture from wax for me as an award. I was overwhelmed by their love for the book. To receive their award and to see the care they had put into every detail, taking the pictures for the presentation, creating paper flowers to throw into the air when they announced their winner, and the beautiful dragon sculpture that was shipped to me later with super extra care (wax is very tricky and breaks easily) made me really feel that the story had touched their hearts and meant a lot to them. Whenever I look at this sculpture (and the 2 paper flowers I stole after the presentation) I am reminded why I love this job and who I am doing it for." – Andrea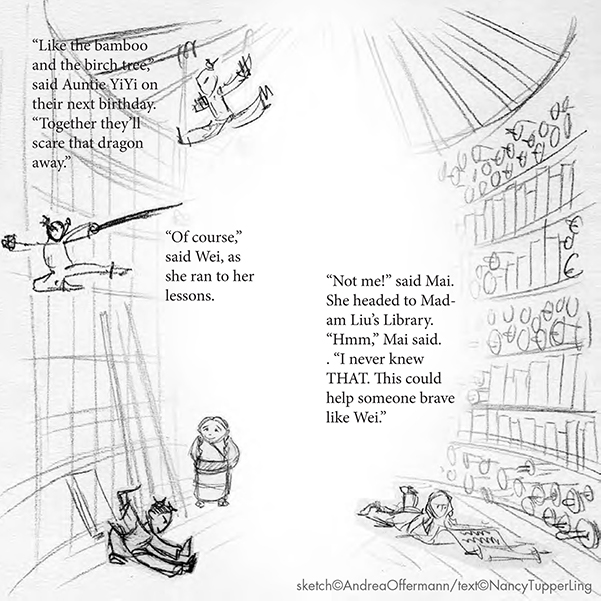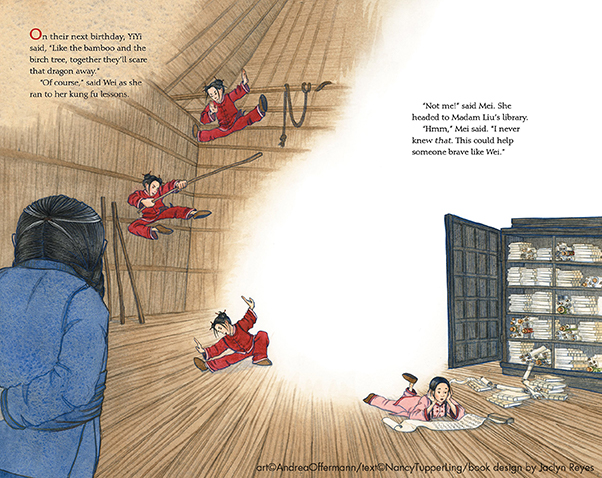 Q. What advice do you have for young writers and illustrations?
Advice for young writers from Nancy Tupper Ling:
Three pieces of advice:
1. Ask Away . . . Many authors, like myself, are on the introverted side, so asking a question doesn't come easily. Still, I've discovered that one question can make all the difference. Because of one question, I became a coauthor of the book Toasts: The Perfect Words to Celebrate Every Occasion with my mentor, June Cotner. How? Several years ago I'd learned that June's assistant had moved away, and so I asked one simple question: "Is there anything I can help you with?" Her answer shocked me: "Well Nancy, how would you like to coauthor a book with me?" If I'd never asked, I wouldn't have had the privilege of creating anthologies with June. Our next book, Family Celebrations, will be coming out this fall with Andrews McMeel Publishing.
2. Listen Up . . . You probably don't have all the answers. Over the years a lot of people have asked me how to go about getting a book published, but very few have actually A) written their manuscript and B) taken the suggestions they've received about editing and revising to heart. Why? It's easier to think a draft is perfect and ready for print. It's hard for people to realize they need to be in it for the long haul and their first draft may need a bit more elbow grease. A good listener will go far.
3. Write anything and everything . . . submit all kinds of writing to all types of publishers. Sure, it's good to hone your craft, but don't limit yourself to one genre and style. I won the Writer's Digest Grand Prize for a poem. In turn, that prize allowed me to bring my picture book stories to several agents and editors in New York City. A short story might lead to an idea for a novel. Never limit yourself.
Advice for young illustrators from Andrea Offermann: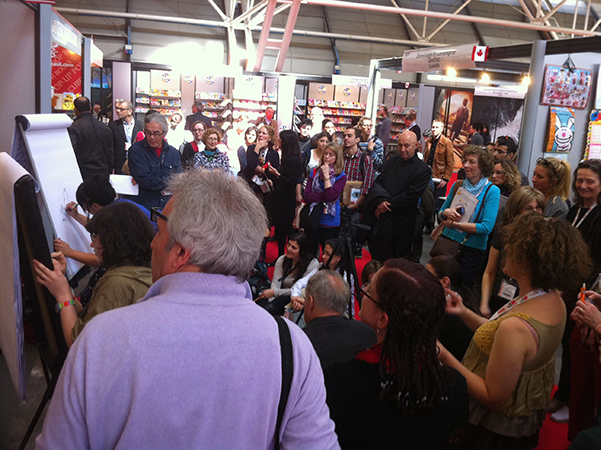 To me, personal connection is invaluable. Both when starting out in the business and now that I have been working for a while.
I live in Germany, but I try to visit publishers in person in regular intervals. It makes such a difference to have met the person you are working with, and helps with communication and creative process once you are working on a project together. When you are starting out I feel it is even more important to try and meet art directors and editors in person and establish a relationship. So I would put more of my time and budget into writing to a select group of publishers you are interested in and possibly planning a trip to visit in person than sending out bulk postcards or emails to a large list of people.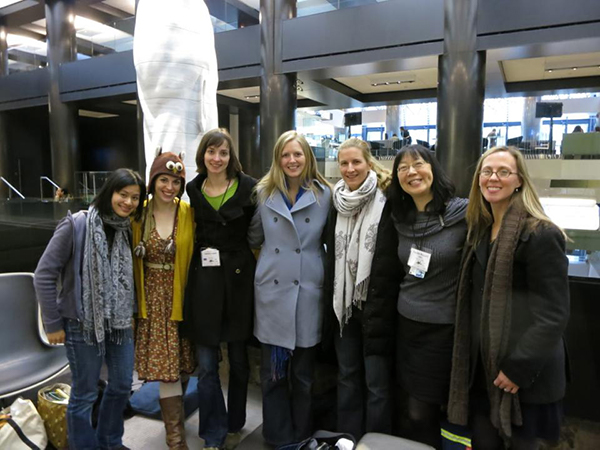 The same goes for connections to other artists and illustrators! It's difficult to keep in touch via email, so it's such a joy to me whenever I get to go to an SCBWI conference or to Bologna Children's Book Fair, not only for all the input, but also to meet old friends, make new friends, be inspired by all the wonderful work, share business advice, and most importantly the love for what we do!
Q. What are you excited about right now?
From Nancy Tupper Ling:
I'm getting closer to holding The Yin-Yang Sisters and the Dragon Frightful in my hands. This manuscript was accepted in 2013 and I remember being ecstatic but also a bit sad because I realized my oldest daughter would be heading off to college by the time the book was out in the world. Well, guess what? It's now 2018, and it's true. I'm pumped about the birthday of my book, but I'll be dropping my "baby"' off at her college dorm very soon. I believe this is the definition of bittersweet.
I'm also excited that I can buy my favorite chocolate eclair from the Dollar Tree and I don't have to wait for the ice cream truck to roll past my street. It's the little things.
From Andrea Offermann:
A short while ago I had the opportunity to draw with tilt brush in virtual reality for the first time. A friend of mine works at a company that creates virtual and augmented reality and invited me to try it out.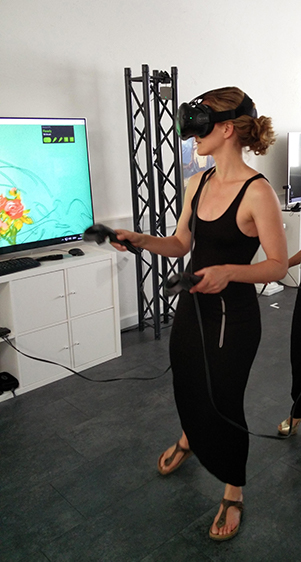 It took some getting used to, but the sensation of standing in a blank space and creating your world around you with a brush was incredible. And then, walking through your drawing and seeing it from every angle, it was so much fun. There is a short video of legendary Glen Keane using the tool here, if you're interested. Recently there was also a virtual reality conference in Hamburg where I got to see some pieces artists had created in virtual reality. They were beautiful, and it was quite a new experience, I walked away exhausted and full of incredible impressions.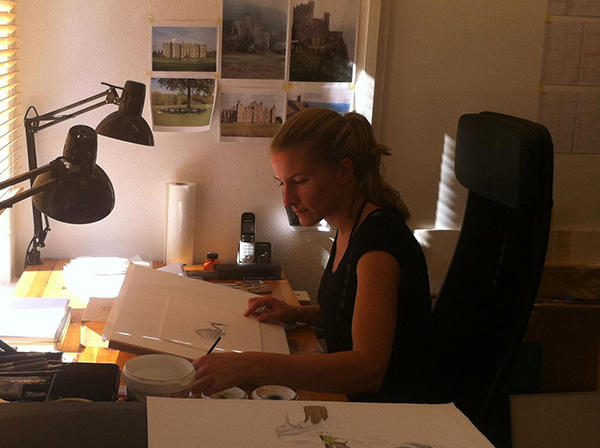 I am also very excited about the unfinished Bauhaus fonts that Adobe is working on finishing and releasing right now. I am not a graphic designer but I love the art of font design, and it's so interesting to get a glimpse of the process of recovery and completion here.
Then, I just finally read Mawil's "Kinderland", a graphic novel about a kid growing up in eastern Germany around the time the wall came down. I grew up in West Germany, but Mawil's drawings and storytelling immediately transported me back to elementary school. I could see it, smell it and feel it, and remembered the new kid that suddenly showed up in our classroom, and the rumors that his family had escaped from East Germany. Mawil does such a good job in showing that world through the kid's eyes, the things that are important to him (the table tennis tournament), the things that he sees, cannot grasp, but has an uneasy gut feeling about… I was spellbound.
---
For more insights from book creators, see my Inkygirl Interview Archives and Advice For Young Writers And Illustrators From Book Creators.