SCBWI Success Story, Creative Process and Jen Betton's upcoming debut solo picture book, HEDGEHOG NEEDS A HUG (June 19, 2018)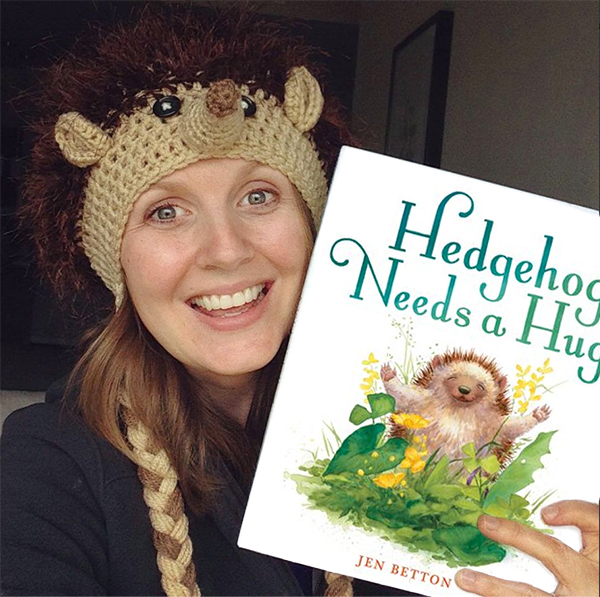 I first met Jen Betton at the 2012 SCBWI Summer Conference in Los Angeles when she came up to introduce herself. She said my blog post about getting an Illustration Mentorship Award at the Portfolio Showcase inspired her to attend (!). Up to that point, she'd always thought of the SCBWI primarily for writers but my post made her realize that there was so much for illustrators. Here's a photo taken at her first conference, where we first met: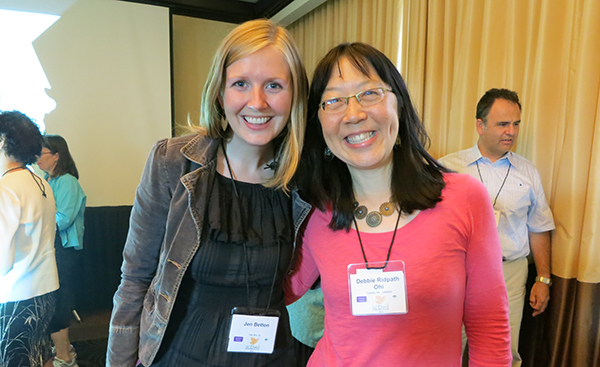 I was THRILLED when I found out Jen had won a Mentorship Award (see the lion in the lower left corner?):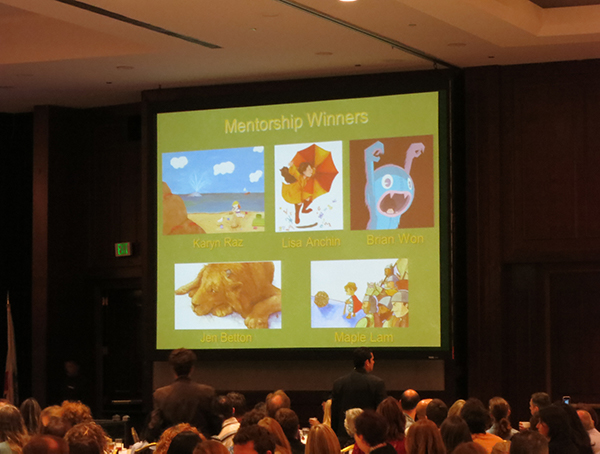 Fast forward to this year, when Jen has two books coming out. The first was TWILIGHT CHANT, written by Holly Thompson and illustrated by Jen, published by Clarion: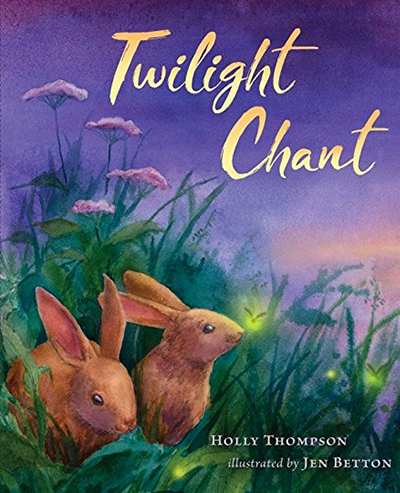 The next is HEDGEHOG NEEDS A HUG, which will be Jen's DEBUT as a picture book author/illustrator! Hedgehog comes out from G.P. Putnam's Sons Books For Young Readers on June 19, 2018. You can find out more about Jen and her books at JenBetton.com plus follow her on Twitter, Facebook, Pinterest and Instagram. Jen and I also both participate in the KidLitArtists blog.
Jen was kind enough to answer a few questions about her debut picture book.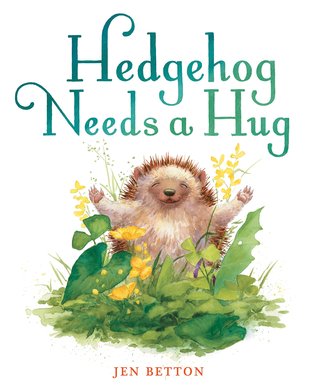 SYNOPSIS of HEDGEHOG NEEDS A HUG (for 4-8 year olds):
"Everyone needs hugs, even if they're prickly. When Hedgehog wakes up feeling down in the snout and droopy in the prickles, he knows a hug will make him feel much better. But none of his animal friends are eager to wrap their arms around Hedgehog's prickles, and he's too smart to fall for Fox's sly offer. Then Hedgehog gets a surprise: Another animal in the forest is feeling exactly the same way. Luckily, both are kind and brave enough for the perfect hug."
Q. HEDGEHOG NEEDS A HUG is your first solo picture book. How was the experience writing and illustrating your own story different from illustrating someone else's story?
Well, it takes me a LOT longer to both write and illustrate a book!! When I get a manuscript someone else has written so much work is already done – the story structure is all there, and the images start to flow in my head like a film. I still have to figure out the pacing, page breaks, composition, etc but because the story is already figured out, and I have a delicious manuscript to inspire me, it takes me a lot less time than when I'm doing it from scratch. I'm also a very slow writer! (Although I'm getting faster.) There are just more moving parts when you're doing both the writing and illustrating – which is exciting, but also takes time.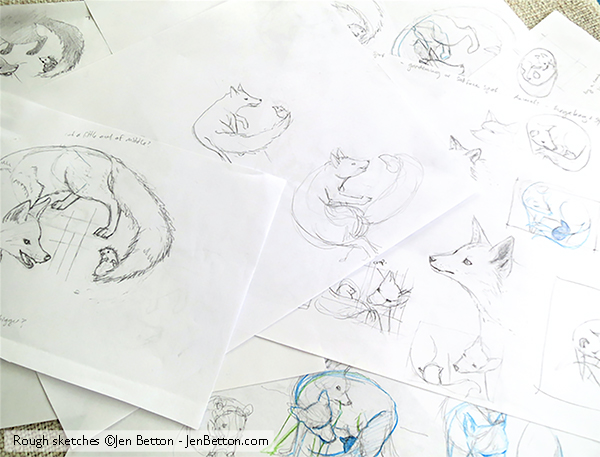 Q. What was your creative process?
So it all started with an idea – what if a hedgehog wanted a hug? I love books that have the character's desire creating the conflict, and when I got this idea I knew it was a story I wanted to write! From there I gradually hammered out a story outline, exploring different endings for my story. It really helped to think about what was the underlying nature of my character and what was the heart, or core theme of HEDGEHOG NEEDS A HUG? It's about wanting a hug, but it's also about being rejected (for something you can't change about yourself) and wanting a friend. Once I focused on that core theme of rejection and empathy it was much easier to write the ending.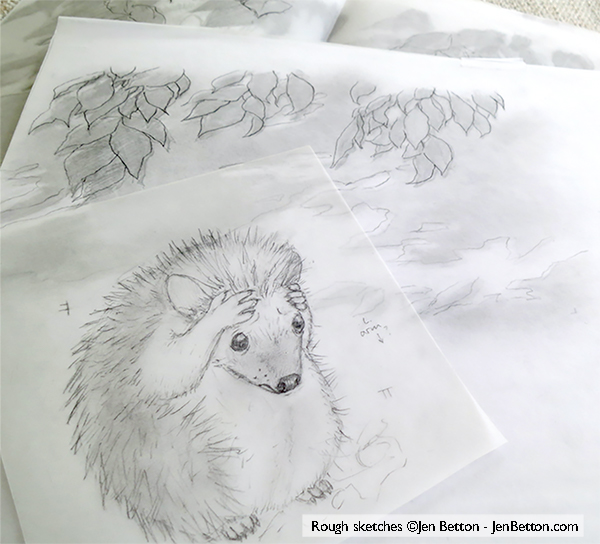 Initially, I'd thought of having Hedgehog share a hug with an animal who couldn't be hurt by him – like a turtle, another hedgehog, or a small bug, but once I dug into what was underneath, the story became about empathy and skunk immediately popped into focus. I felt like that ending resonated more for me – Hedgehog has to overcome his own reluctance to share a hug with someone who he might rather keep his distance from. Figuring out the underlying themes of rejection and kindness was really helpful later, too, when I had some critique suggestions that didn't feel right. Thinking about the heart of the story helped keep me on track.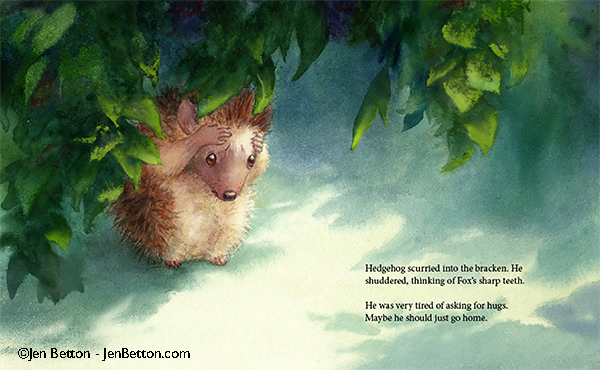 Once I had that outline of the story I plopped it into a storyboard, and even just in outline form I could tell it was too long! This was tremendously helpful to do early on because I could just cut a scene without ever having to really write it. From here I started going back and forth between pictures and words, trying to polish both at the same time.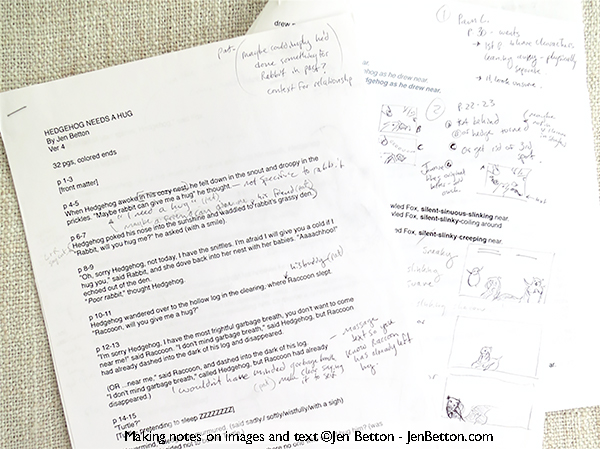 My awesome agent, Jen Rofé, gave me some really great feedback about the manuscript, and how it needed more emotive language. I rustled up some great mentor texts and I tinkered with my text for a long time, trying to incorporate what I'd learned from those books.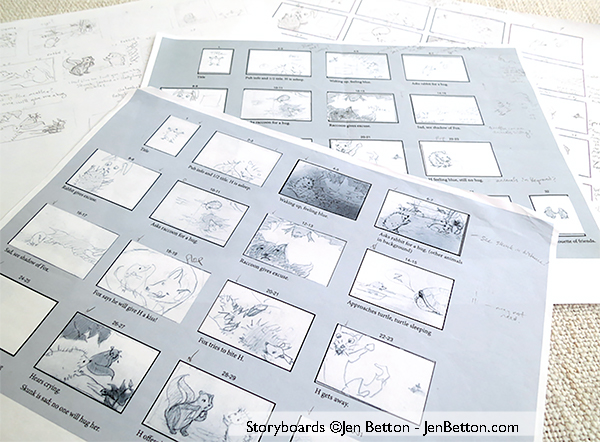 At the same time I was finishing up the storyboard. The storyboard is really the heart of the picture book – it may be tiny and rough, but all my key decisions happen there! Page count, page turns, composition, how the story arc rises and falls, it's a puzzle where every part that changes affects the rest! Once the storyboard is done – even though a LOT of work is yet to come – I feel like the book is mostly there.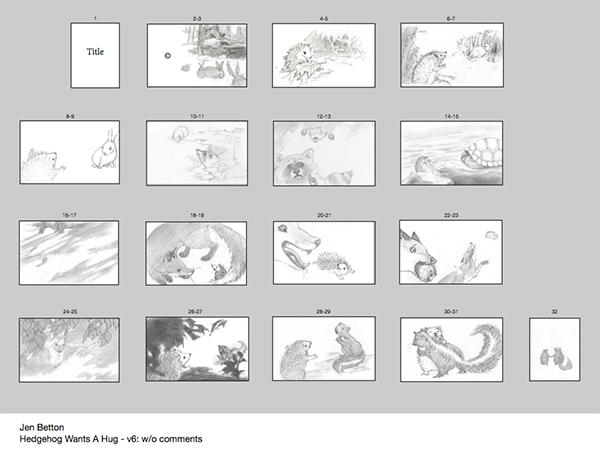 Next I turned the storyboard into a dummy book, which is a rough mock-up of the finished picture book. For this stage, I cleaned up my thumbnail drawings, and worked on things like character expressions.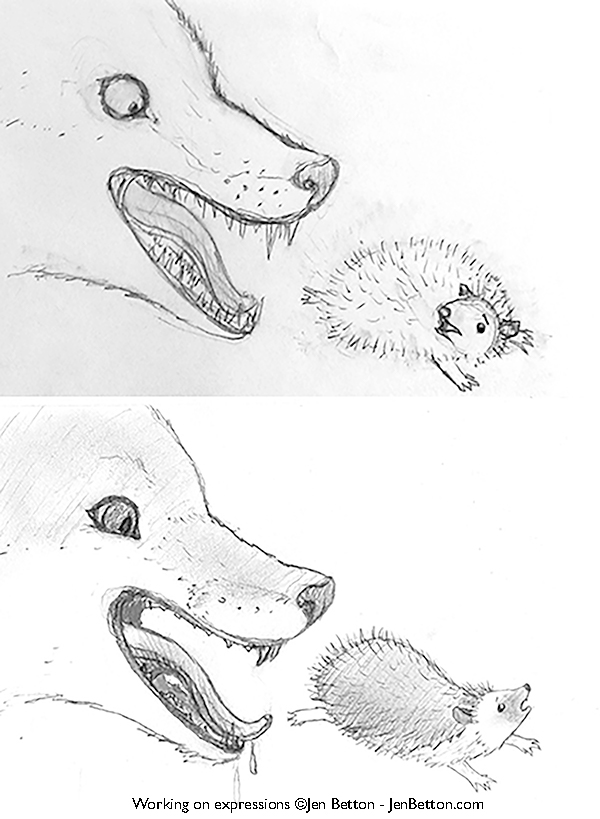 I also did a couple sample images. At this point I sent it off to publishers and waited. After a while I got the incredible news that Penguin decided to purchase HEDGEHOG NEEDS A HUG. After that I worked with a fantastically talented and wise editor and art director to make some changes, and then progressed to finished drawings, color studies, and finally the paintings.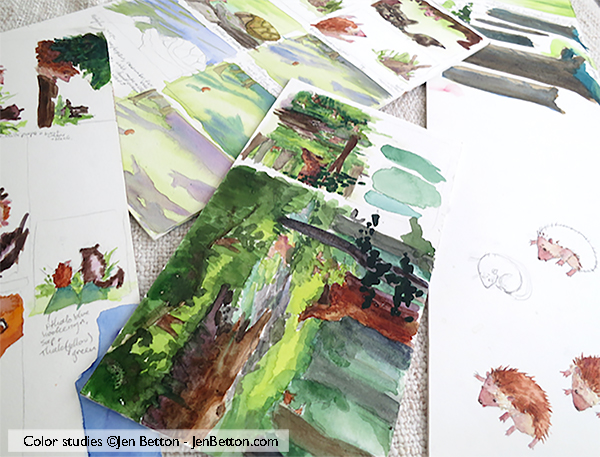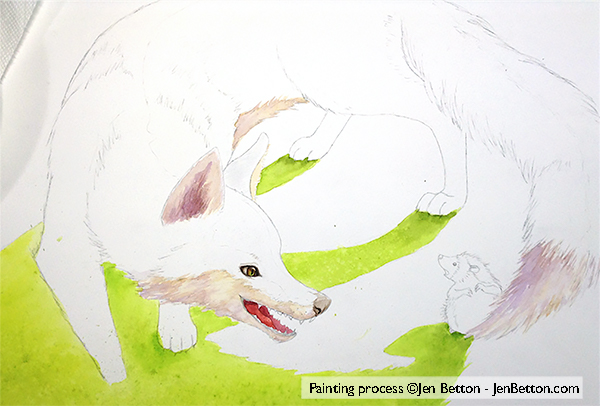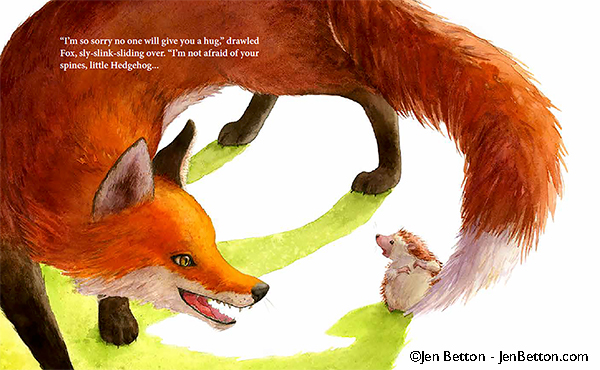 After the paintings were done HEDGEHOG left my hands and went to the designers and production team to be transformed from art and words into a finished book!
Q. What advice do you have for young writers and illustrators?
Read good books! Read good books that are like the kind of books you want to make. Then draw or write as much as you can. It all comes down to absorbing good stories, good art, and then practicing your own writing and drawing. If you are at a point where you want to take some classes, try to seek out instructors whose work you admire, and ideally who are doing what you hope to do someday. SCBWI can be a really great resource for finding and meeting folks in the KidLit community.
---
For more insights from book creators, see my Inkygirl Interview Archives and Advice For Young Writers And Illustrators From Book Creators.