Advice for young writers, debut picture book SUN DOG, deals with the universe: Deborah Kerbel answers three questions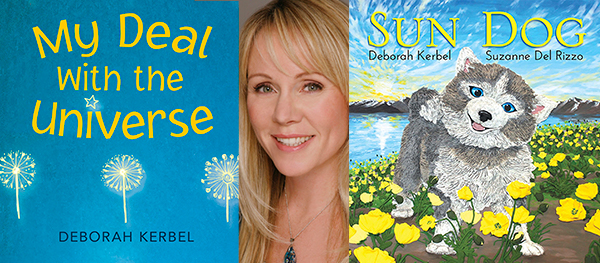 I met Deborah Kerbel through our local Torkidlit group. Deborah is the author of eight books for young readers. She was born in a police station, smack-dab in the centre of London, England but moved to Canada before she was old enough to cultivate a love of marmalade. She's the proud mom of two book-loving teens and a rescue schnoodle named Fred. You can find Deborah at DeborahKerbel.com, on Twitter and on Facebook.
I was super-excited to hear that Deborah not only has a new middle grade, but also her first picture book! SUN DOG is written by Deborah and illustrated by Suzanne Del Rizzo (see Suzanne's amazing plasticine creation process in her Inkygirl interview from 2013).
PUBLIC LAUNCH EVENTS: For those in Ontario, there are two different launch events. One is on Sat. June 2nd, 2-4 pm at Indigo in the Yorkdale Shopping Centre (FB event page) and the other is on Sat. June 23, 2-4 pm at A Different Drummer Books, 513 Locust Street in Burlington, Ontario (FB event page).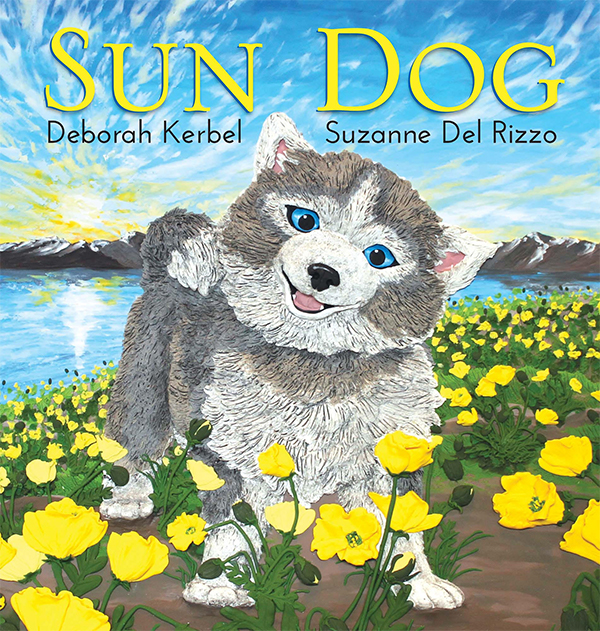 Synopsis of SUN DOG (picture book written by Deborah Kerbel, gorgeously illustrated by Suzanne Del Rizzo, published by Pajama Press, for ages 4-7):
Juno is an arctic sled-dog pup who loves to play. How can she be expected to fall asleep with the Midnight Sun shining through her window? One night, she slips outside to find a playmate but discovers danger instead. Can young Juno summon her courage in time to save her beloved boy?
Excerpt from the review on Kirkus: "Kerbel weaves facts about the Arctic Circle within a tender story of the devotion between a boy and his dog. Del Rizzo's vibrant, colorful polymer clay and acrylics capture the beauty of their home….Juno may be a puppy in the Arctic Circle, but children everywhere will relate to her."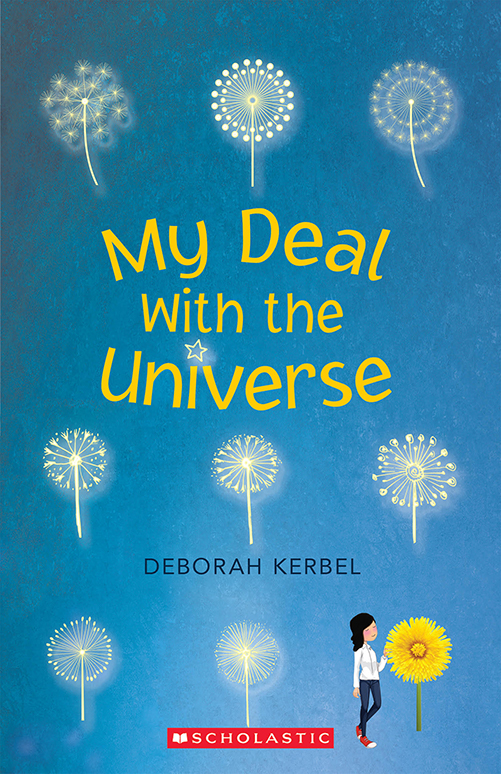 Synopsis of MY DEAL WITH THE UNIVERSE (middle grade novel written by Deborah Kerbel, published by Scholastic Canada, launching May 29, 2018 in Canada, for ages 8-12):
When your house is a 'Jungle' overrun with vines and weeds, it's hard to fit in. If 12 year-old Daisy could make a friend, cultivate some courage, and figure out how to save her brother, she's convinced life will finally be normal. Except…what if "normal" isn't all it's cracked up to be?
Q. Could you please take a photo of something in your office and tell us the story behind it?
Of the many bookcases in my house, this is the one closest to where I write. (Does that count as one thing?) I love the sentimental clutter of shelves filled with beloved books, children's artwork, and treasured photos. The portrait my daughter drew of me (when she was six) is one of my most favourite things.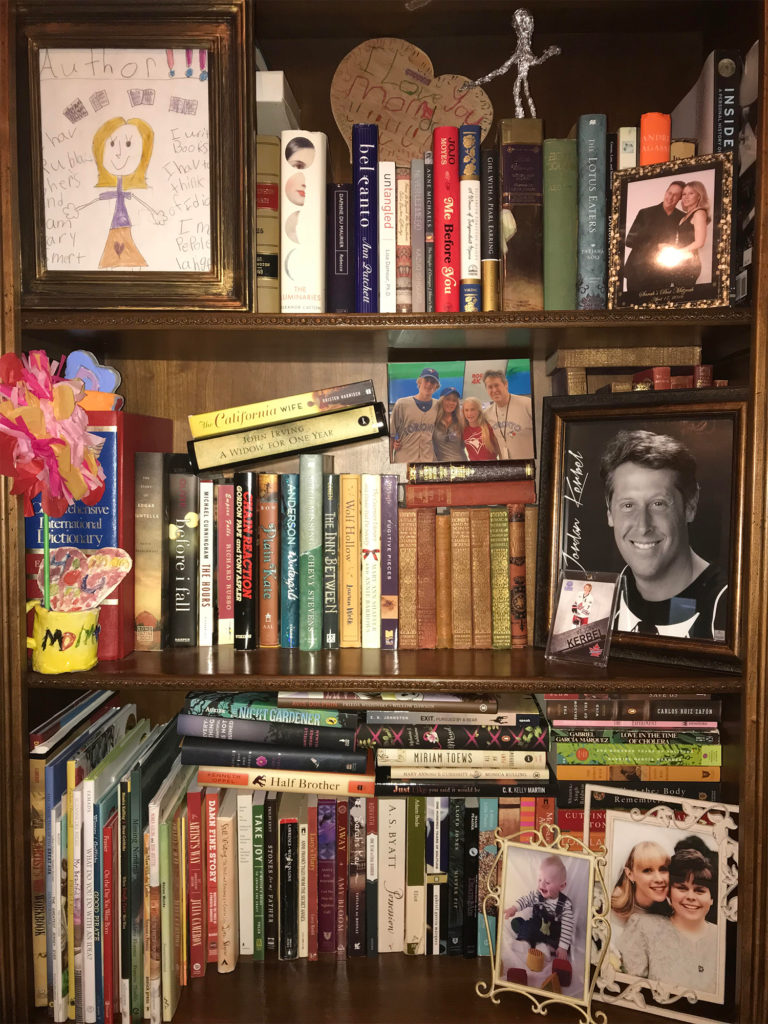 Q. What advice do you have for young writers?
I know it's a cliché but I'm going to say it again because it's THAT important and really can't be repeated enough: read, read, read! Anything and everything that interests you. Feed your muse a steady diet of gloriously delicious words and you'll be inspired (and bursting) to get writing your own. And then, when you've finally got a finished draft of your own gloriously delicious words, ask for feedback…and listen to it. Writers can never experience their stories the way readers do, which means fresh eyes are a writer's BFF! Being part of a good critique group is one of the most invaluable resources out there.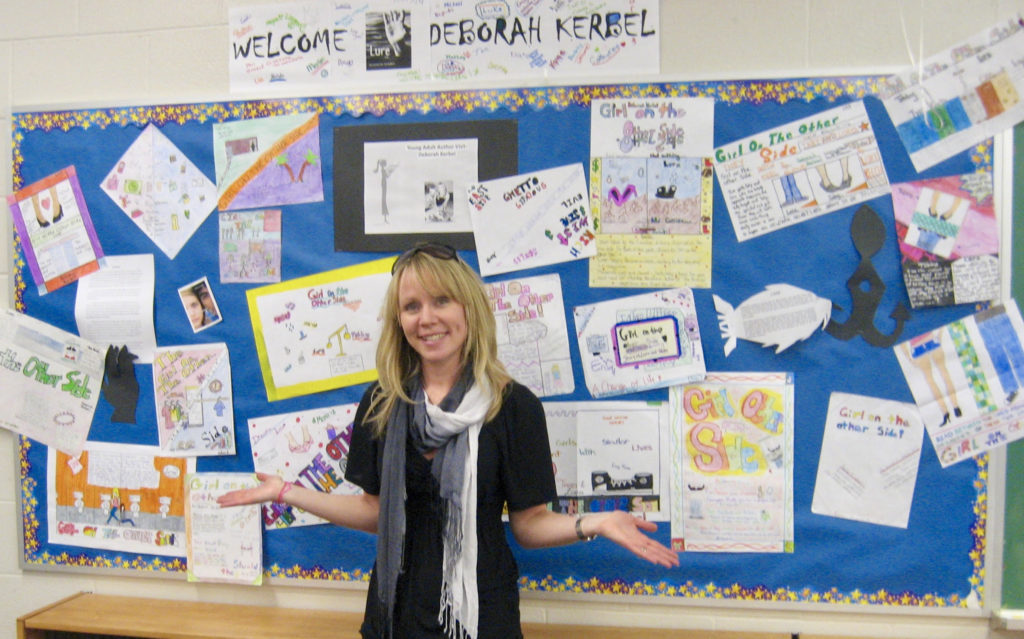 Q. What are you excited about right now?
It probably goes without saying that I'm ridiculously excited about the publication of my debut picture book, Sun Dog. It's something I've been dreaming of and working towards for years and I'm so lucky to have had the brilliantly talented Suzanne Del Rizzo bring my words to life with such vivid, eye-popping illustrations. And if that wasn't thrilling enough, my new picture book has a sibling…my third MG novel which is scheduled for release just a few days later. Twin book babies! Double book launches! Cue the chocolate and champagne!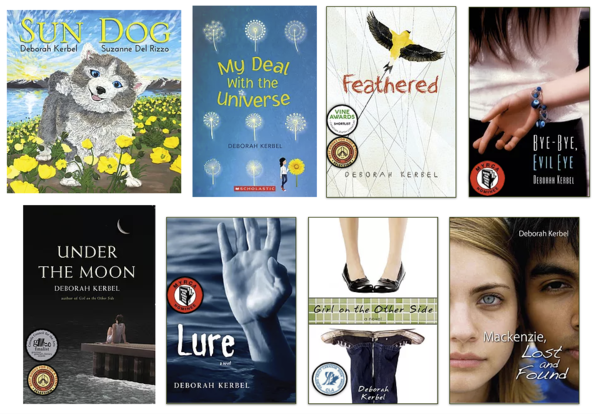 ---
For more insights from book creators, see my Inkygirl Interview Archives and Advice For Young Writers And Illustrators From Book Creators.