Already given up on doing NaNoWriMo but look for an achievable daily writing challenge?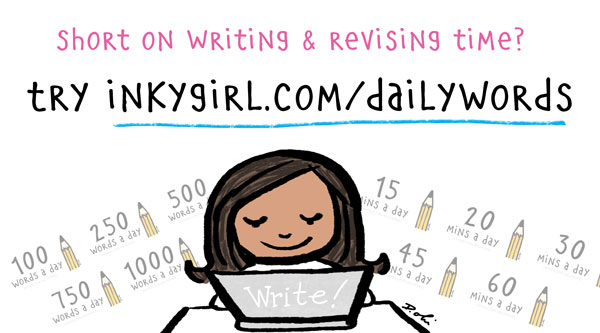 Every year, I think about doing NaNoWriMo (National Novel Writing Month). I've participated in the challenge a few years in the past and completed a first draft of a middle grade novel. Doing NaNoWriMo is always fun and I did end up submitting the novel after many revisions. I got some encouraging rejection letters but in the end, I had to shelve the mss.
One of my challenges in recent years has been that November has always been a very busy time for me in terms of travel and/or work. This year, I have three out-of-town trips during the month.
So….no NaNoWriMo.
But I'm going to be doing daily writing anyway. I've also added badges if you want to use pockets of time for revising instead of writing. You can find the details on this web page and feel free to browse my Inkygirl Daily Writing Challenge on Facebook for inspiration as well.
I hope you'll join me!