Jane Yolen wrote a poem about one of my Broken Crayon drawings!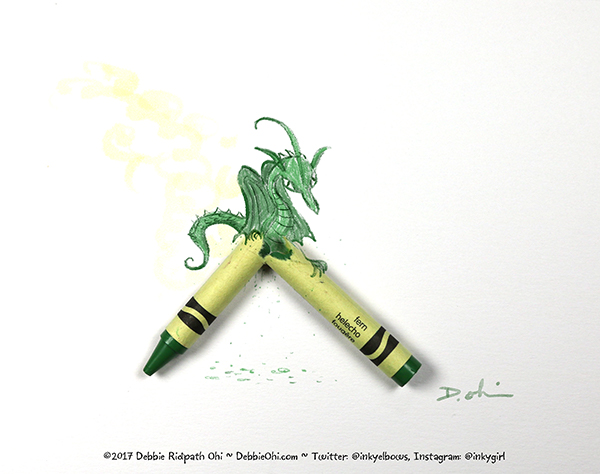 Thanks so much to Elizabeth Dulema for interviewing me about creative process on her blog recently. She included lots of photos and art samples, including my Broken Crayon dragon. After seeing the later, Jane Yolen (yes THE Jane Yolen!!!!) emailed me a poem she had written after seeing the image.
Jane has kindly given me permission to post her poem here:
—–
THE CRAYON DRAGON
by Jane Yolen
The dragon crayon was born one day
between the broken parts of Shamrock green.
He poked a hole with his snout,
then lifted himself up into life.
The only one who saw him emerge
was a five-year-old artist named Sophie.

Shamrock sniffed the air.
Blew a tentative puff of green smoke.
Melted part of the crayon.
Then flew onto the desk top.

He tipped his head to one side,
eying Sophie. Blew a message:
MAKE ART!

She picked up the pieces of green
and began:

a blade of grass
a lawn,
a shaft of daffodil
rising into dawn,
grasshopper in a leap
over a leaf,
old pond
young frog,
and shawled by moss
a single log.

Shamrock watched it all.
Then he entered the page

where he became the story, the poem.
The art.
©2017 Jane Yolen. All rights reserved.
——
I am a longtime fan of Jane Yolen's and am totally thrilled. If you're interested in getting a new poem a day from Jane, you can sign up here. All she asks is that at the end of each month, you either borrow one of her books from the library, or buy one.
An aside for those who have been asking: Yes, I have been working on a broken crayon picture book idea. I have a very rough draft but my picture book writing process involves a lot of "let it sit for a while and see if I'm still excited about it" simmering periods, and my broken crayon book is in one of those mulling periods. 🙂 Thanks again for your continuing support and encouragement for my work!
You can see my other Broken Crayon drawings here, on Instagram with the #DebbieOhiBrokenCrayon hashtag and my Padlet gallery of Broken Crayon art.