My advice for writers & illustrators: Don't just focus on getting published. Enjoy the journey & make time to PLAY.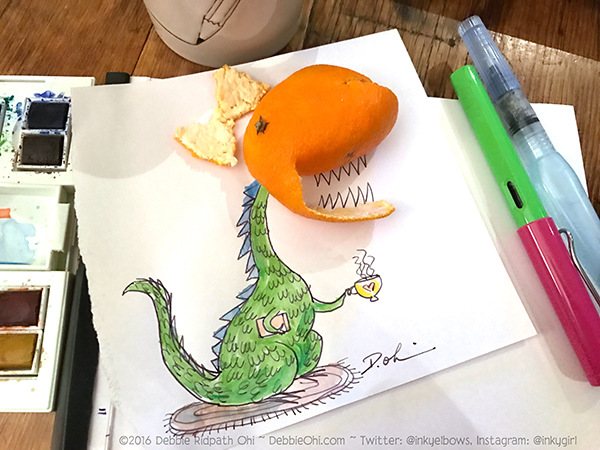 I've become obsessed with fountain pens. I used to dismiss them, having had some bad experiences with fountain pens leaking all over my hands with permanent black ink.
My friend Michelle Leung, however, has gotten me hooked. This drove Jeff (my husband) a bit crazy, since he's been a huge fountain pen fan for ages but gave up years ago on trying to get me to use them. Michelle told us about Scriptus, a pen show in Toronto, and Jeff bought me a Lamy Safari.
LOVED IT! So smooth, easy to write. I bought several more. Michelle gave me others to try, like a Platinum Preppy and a Pilot Petit1. I went to WonderPens and bought a Kaweco Sport which I also really like. But now I'm finding some of the paper I've been using in the past isn't really good enough, makes the ink bleed too much, so I've bought some Rhodia notepads. And INKS! Oooooh, so many pretty inks to choose from.
And meanwhile, I'm using these fountain pens to doodle and write just for the fun of it. I've also started a sketch journal — HOW I WISH I HAD STARTED THIS EARLIER. I'll post more about this later.
Meanwhie, though, I encourage you all to go out and make time to PLAY, no matter how busy you are. I find it essential in my own life. Making time to play helps fill the well, keeps me energized.