Quarks, Aerospace Engineering & Advice For Young Writers: Three Questions with children's book author Ruth Spiro

Ruth Spiro is the author of the Baby Loves Science series, published by Charlesbridge. Her debut picture book, Lester Fizz, Bubble-Gum Artist won awards from Writer's Digest and Willamette Writers, and was a Bank Street College of Education Best Book of the Year. Ruth's articles and stories have appeared in FamilyFun, CHILD, and The Writer, and also in popular anthologies, notably The Right Words at the Right Time (Vol. II), edited by Marlo Thomas, and several Chicken Soup for the Soul titles. She lives in suburban Chicago. You can find Ruth at RuthSpiro.com, on Twitter at @ruthspiro, on Instagram at @ruthspiro and on Facebook.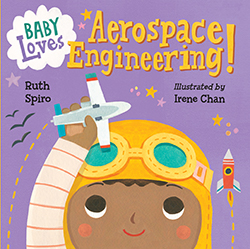 BABY LOVES AEROSPACE ENGINEERING!
Author: Ruth Spiro
Illustrator by Irene Chan
Charlesbridge Publishing (October 2016)
Baby Loves Aerospace Engineering! explores the basics of flight – from birds, to planes and rockets – and ties it all to baby's world. Beautiful, visually stimulating illustrations complement age-appropriate language to encourage baby's sense of wonder.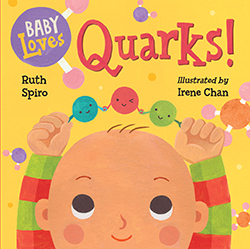 BABY LOVES QUARKS!
Author: Ruth Spiro
Illustrator: Irene Chan
Charlesbridge Publishing (October 2016)
Baby Loves Quarks! explores the basics of particle physics and chemistry – quarks, protons, neutrons, atoms and molecules – and ties it all to baby's world. Accurate enough to satisfy an expert, yet simple enough for baby.
From Debbie: I was lucky enough to meet Ruth Spiro at Nerd Camp earlier this year. I love her enthusiasm and love for sharing books with young readers. Ruth kindly agreed to answer Three Questions for me:
Q. Could you please take a photo of something in your office and tell us the story behind it?
When I first began writing for children, my two daughters were young and I was immersed in a world of picture books, sand toys, ballet lessons, and new "best friends" every day. Ideas and inspiration swirled around me like fireflies on a summer night. But as time went on, my girls grew out of this stage and I no longer had that personal window into the world I was writing about.
Of course, having kids in your home isn't a prerequisite for writing children's books! With or without kids, most writers are very good at accessing memories from their own childhoods as inspiration. But sometimes I need something more tangible to help shake loose the cobwebs.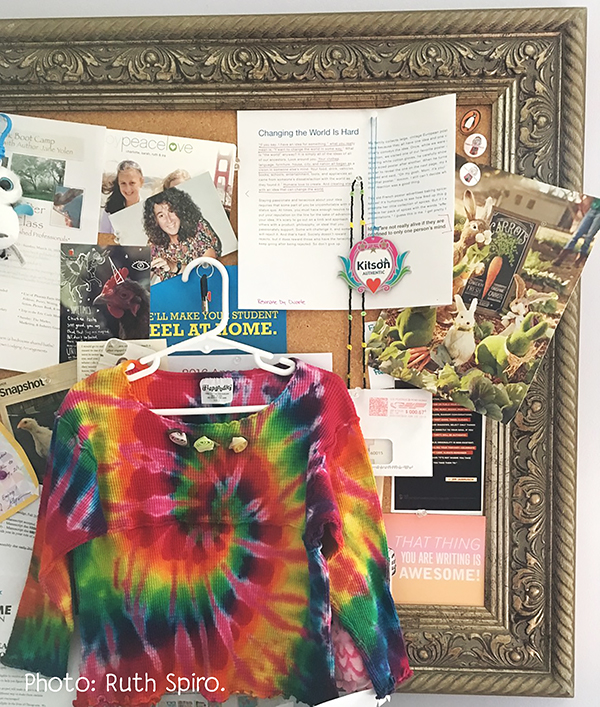 The minute I saw this t-shirt at a rummage sale I was immediately transported back to that child's world. Something about the colors and the design made me happy, and even though it wouldn't fit anyone in my house, I bought it. Now it's hanging in my office so I'm always reminded of who I'm writing for – a child who still believes in the tooth fairy, needs a hand to hold when she crosses the street, and looks forward to bubble baths and bedtime stories. When it comes to fashion there are no rules, and her favorite color is "All of them!"
Fashion may change, but the universal truths of childhood remain constant. Employ the tools that help YOU connect emotionally with those truths, and the result will be timeless stories that resonate with little readers.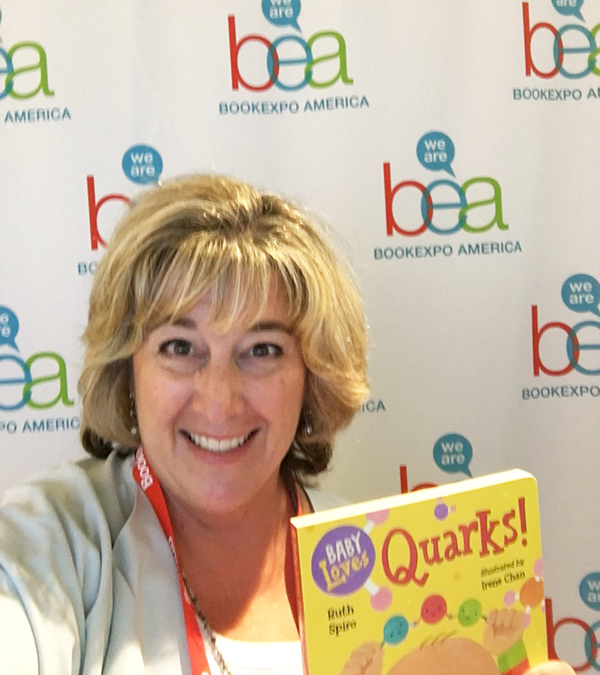 Q. What advice do you have for young writers?
When I speak at schools, I love to surprise students by telling them about the many careers that involve writing. They know that as an author I write books, but they may not be aware that the ability to write is important in other fields, too.
For example:
The back of your cereal box? A writer wrote that.
A song on the radio? That, too.
Your favorite TV show? Board game directions? Museum exhibits?
Writer, writer, writer.
We're everywhere!
So even if you don't think you want to be a writer, aim to write well. Writing is all about communicating – ideas, information, entertainment – and the more effectively we're able to make ourselves understood, the more successful we are in relating to other people.
If you do want to be a writer, challenge yourself by trying something new:
Are the instructions for a board game confusing?
Rewrite them in a way that makes sense.
Are you a member of a sports, dance, or robotics team?
Write an article about your team and send it to your local newspaper.
Do you have a favorite book?
Write a letter to the author and explain why it's so great!
Write that letter not because you have to do it for school, but because your thoughts and opinions are important and we want to hear them. When a reader tells us that our words meant something to them, that they understand themselves (or someone else) better because they read our story, we know our hard work has made a difference. That's what writing is all about.
Q. What are you excited about right now?
The Baby Loves Science series will be adding two new titles in 2017 – Baby Loves Thermodynamics! and Baby Loves Quantum Physics! I recently saw Irene Chan's sketches and they're adorable!
I'm also thrilled to share big news of another new picture book series forthcoming from Penguin/Dial, Made by Maxine. Inspired by her trusty companion and muse, a pet goldfish, Maxine is determined to make the world a better place, one crazy contraption at a time. The first of three books is scheduled for spring, 2018. Illustrator Holly Hatam has a bold, unique style that really makes Maxine jump off the page and I'm excited to share intrepid Maxine with young readers!
---
For more insights from book creators, see my Inkygirl Interview Archives and Advice For Young Writers And Illustrators From Book Creators.