Late Bloomer Profile: Andrea Zuill and her debut picture book, WOLF CAMP (Schwartz & Wade)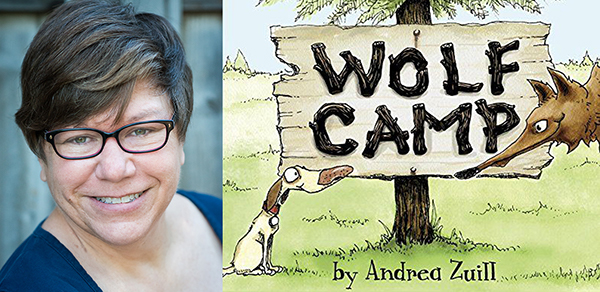 I met Andrea Zuill through the SCBWI Mentorship Program. Andrea was chosen for the program in 2011. She is SO much fun, with a wonderfully quirky sense of humor. I was VERY excited for Andrea when she got her first book contract! And with a prestigious publishing imprint like Schwartz & Wade!
Andrea was 53 when her first picture book WOLF CAMP debuted earlier this year. Drawing had always been a constant for her from an early age, and she started painting in oils when she got older. Andrea's work was carried in galleries in California, Texas and NY. Eventually she opened an Etsy store and sold prints of her cute, quirky characters. Andrea says that almost immediately, she got comments from people saying how her images looked like they were from children's books.
She was taking an art class from Lori Mitchell, and Lori encouraged her to give children's books a try. Andrea joined her local SCBWI and took a class from Joy Chu on how to create book dummies. She got her agent, Erzsi Deak of Hen & Ink Literary Agency, after winning a Mentorship Program Award at her first SCBWI conference. You can read more about Andrea's background in this Kidlit411.com interview.
Find out more about Andrea and her work at her website, on Twitter at @AndreaZuill.
Read about WOLF CAMP on the Penguin Random House website.
Q. Was WOLF CAMP the first book project you tried to get published? If not, how many others were there?
Wolf Camp wasn't my first story I tried to get published. I had one other story that was floating out there. Two years after Wolf Camp sold, that first story found a home.
I'm not sure how many rejections my stories have had. My agent, Erzsi Deak / Hen & Ink Literary Studio, submits for me. The feedback I get from her is a general idea of how my stories are received and what problems seemed to be universal with my dummy. I suspect I've had hundreds of rejections.
Q. How did WOLF CAMP get published?
I always though of myself as an illustrator but my agent, Erzsi Deak, asked me to give writing a try. I did have a blog that I wrote articles for but the writing was free formed, stream on consciousness, punctuation-be-damned kind of writing. Again my agent pointed out that I wrote quite a bit about my dog, Homer, and that maybe I should write a story featuring him.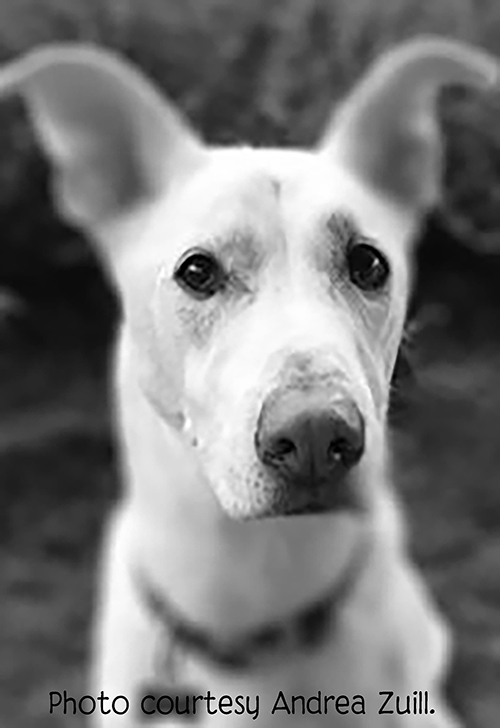 On my blog, I explored thoughts about Homer camping, Homer at Christmas and Homer stealing toys from small children. The article my agent liked most was one I wrote about Homer going to a camp run by wolves.
So I put together a rather loose dummy on that topic. When I mean loose I mean drawings, jokes and very little actual story. I couldn't believe it when she told me it sold.
Schwartz & Wade at that point took my hand and carefully help me make Wolf Camp become a real story. It took me a full two years to get Wolf Camp into shape. It still seems weird that I have a real life book published and out in the world!
Q. You said it took a full two years to get WOLF CAMP into shape. What was the process like? Was it what you expected?
Creating Wolf Camp and working with Schwartz & Wade taught me how to write a picture book. I had taken classes but having to produce a real book forced me to put everything I learned into action. All I had with my original dummy for Wolf Camp was the idea and a bunch of jokes. There was no clear story. Schwartz & Wade helped me to connect all the jokes and form a cohesive tale.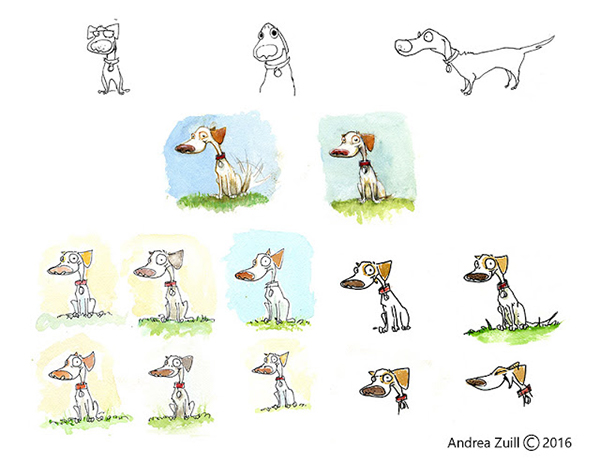 A lot of working on Wolf Camp was me reworking my dummy, sending it to my editors, them sending it back with notes. Their notes tended to say things like "This doesn't make sense." "This part of the story is too slow (or too fast)." "Need to be funnier." These comments might seem vague but your editor is not getting paid to write your story for you. After the dummy went back and forth many times we ended up with a real story.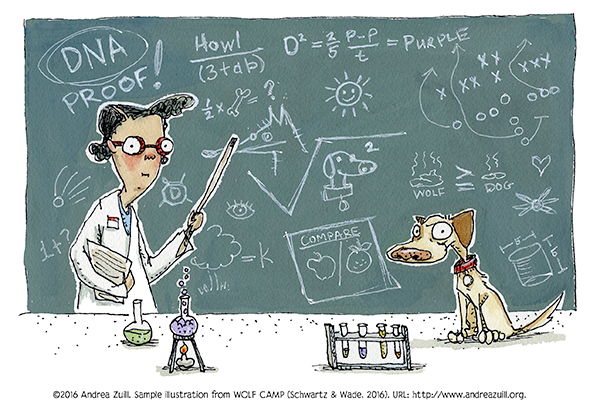 This was my first time working with editors. I learned how they help gently guide you without pushing their ideas on you. The last rewrite I did was on the second half of the book . My editor said that is was weak and not quite as funny. I approached it in a relaxed manner, took my time and when needed I'd set it aside to let the story digest in my mind. I slowed my pace down and stopped trying to force the story so much. I know that sometimes you don't have the luxury of time but I did with Wolf Camp so I learned to take advantage of it.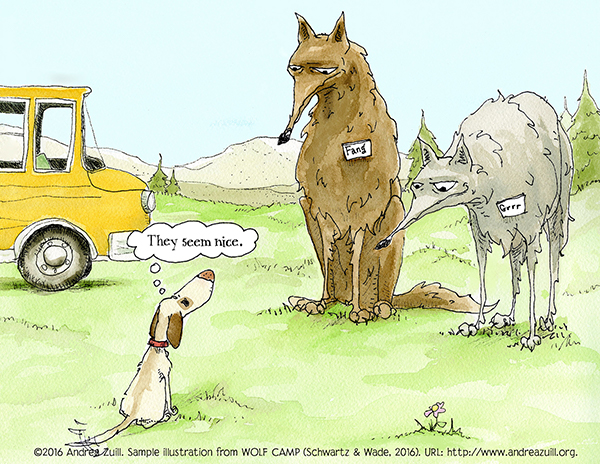 Since Wolf Camp I've created three more stories, two of which have sold. I'm much more secure in my story writing/art abilities and my dummies show it. Both of my latest books only needed minor changes to their original dummies before I could start on the final book. This doesn't mean I still don't struggle but I just have a much better idea of what I'm doing.
Q. What's next on your plate?
I have two books that will be published through Sterling Publishing. The first one I just finished. It's called Dance is for Everyone and is about a possibly dangerous alligator decides to join a dance class. The second book I just signed the contract on. The story is an emotional roller coaster ride featuring the relationship between two sister snails. This one is based on me and my little sister who had the audacity to be extremely cute when she was little.
Q. What advice do you have for children's book writers and illustrators who are trying to get published?
1. Don't start out trying to be totally unique and breaking all the rules. Sure, it might of work for someone else but it's a tough row to hoe just starting out. Give yourself a break and take it slow.
2. Try to improve your taste level in writing & artwork. If you think you're already a fantastic writer/artist, and there's no need improvement, then you're just not going to get anywhere. It might sound weird but the best writers/artists I know always feel a little dissatisfied with their work.
3. Get to know people in your field and show them the best of YOU.
4. Always lend a helping hand.
5. Leave your ego at the door.
6. Submit like crazy and take in all the critiques people give you. It's not all going to be helpful but it should be honored.
7. Keep learning by taking classes, getting critiques and talking to industry people.
8. Remember that with most people it takes years of trying to get their first story published. It took me two years to get anyone interested in any of my books but don't be surprised that it might take even longer than that.
---
Did you get your first children's book published (with a traditional print publisher) when you were 50 or older? If you're interested in being featured in my Late Bloomer series on Inkygirl: Please let me know!
---
For more insights from book creators, see my Inkygirl Interview Archives and Advice For Young Writers And Illustrators From Book Creators.