#BookADay: MY LIFE BEFORE ME by Norah McClintock (Orca)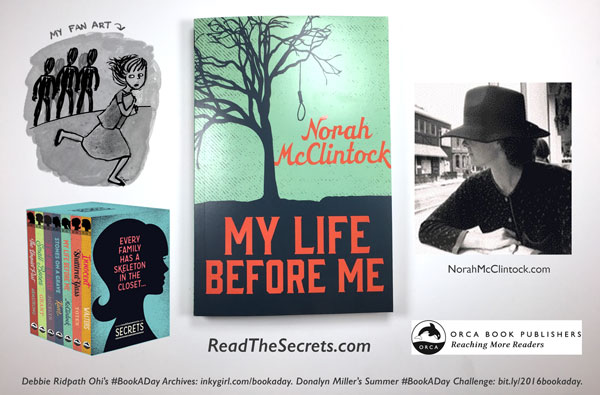 Just finished MY LIFE BEFORE ME by Norah McClintock (Orca Book Publishers, 2015). Inspired by a talk at CANSCAIP by Norah and some of the other SECRETS authors, I bought the whole set of SECRETS books last year. I was intrigued by the premise and also liked the fact that each of these YA books is standalone. I was also inspired to do a bit of fan art (see attached image).
Norah's book pulled me right in, and I actually missed a subway stop and got off at the wrong subway stop earlier this week because I was too engrossed in the story. Loved the main character, Cady: she's smart, resourceful and I liked the fact that she didn't have a romantic interest; I don't mind a good romance (I'm reading Martha Brockenbrough's THE GAME OF LOVE AND DEATH right now, and the romance is deliciously heartbreaking) but it's a refreshing change. The focus is on the mystery, and packed with twists and gripping suspense and a thoroughly satisfying ending.
Love the fact that Cady is a young aspiring reporter; Nellie Bly is one of her heroes. She has so many obstacles in her way, including sexism in the 1960s newspaper office, and people in a town who resist change (one issue that comes up: racism) and cover up truths. Don't want to give away spoilers so don't want to say more.
Highly recommended.
Norah McClintock is best known for her YA crime fiction, and after reading MY LIFE BEFORE ME, I definitely want to check out her other crime fiction for young people.
More about MY LIFE BEFORE ME on Orca's website
More about The Secrets: http://www.readthesecrets.com/ (and again — each is a standalone book, and you can read them in any order)
"In early June 1964, the Benevolent Home for Necessitous Girls burns to the ground, and its vulnerable residents are thrust out into the world. The orphans, who know no other home, find their lives changed in an instant. Arrangements are made for the youngest residents, but the seven oldest girls are sent on their way with little more than a clue or two to their heritage and the hope of learning about the families they have never known. On their own for the first time in their lives, they are about to experience the world in ways they never imagined…"
———————
More info: Donalyn Miller's Summer Book-A-Day Challenge | Archives of my #BookADay posts.