Advice For Young Writers, Fortune Cookies and THE FIRST LAST DAY: Three Questions with Dorian Cirrone
Congrats to my friend Dorian Cirrone on the launch of THE FIRST LAST DAY (Aladdin/Simon & Schuster) today! Can't wait to read this.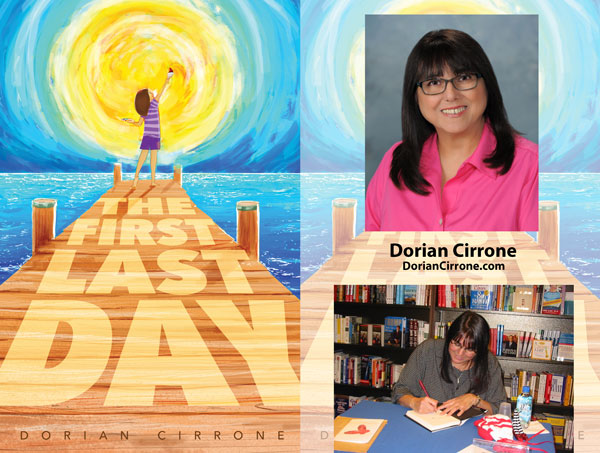 Dorian Cirrone was a dance teacher, a choreographer, an assistant city editor for a daily newspaper, and a college English instructor before becoming a writer. Her middle-grade novel THE FIRST LAST DAY will be her fifth published book. She has also published short stories and poetry.
I so enjoyed meeting Dorian at a SCBWI Florida Regional Conference (a fantastic event, strongly recommended) and had fun collaborating on a food doodle with her as well as talking kidlit/YA. You can see our collab at the bottom of this pic: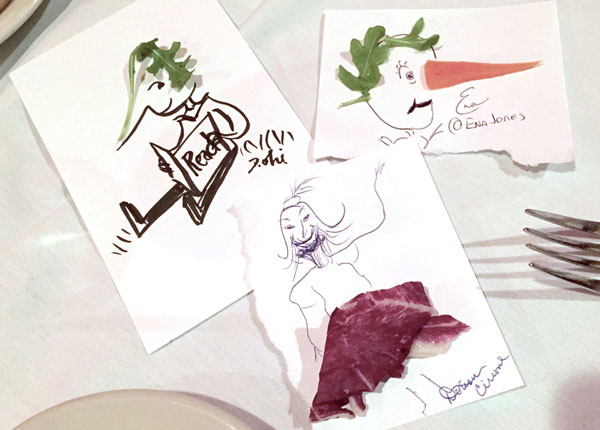 Dorian claims she's not an artist, but she sure has a way with radicchio! You can find out more about Dorian Cirrone and her work website, blog, FB and Twitter.
Synopsis of THE FIRST LAST DAY by Dorian Cirrone, which comes out from Simon & Schuster on June 7, 2016:
"After finding a mysterious paint set in her backpack, twelve-year-old Haleigh paints a picture of her last day at the New Jersey shore. The next morning, her wish for an endless summer has come true. But she soon learns that staying in one place—and time—comes with a price."
Q. Could you please send me a photo of a random object in your office and tell me about it?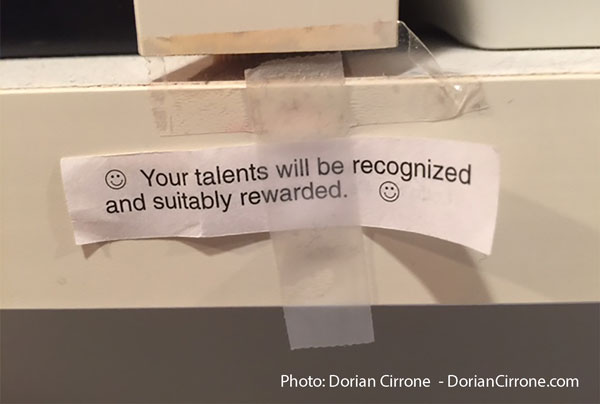 I've had this fortune taped above my computer for several years (as you can see by how yucky the tape is). When I published my first novel DANCING IN RED SHOES WILL KILL YOU in 2005, I was fortunate enough to publish three more books and a couple of short stories in the next three years. And then I hit a dry spell. Dark paranormal and fantasy became popular, and it wasn't something I was interested in writing.
I wrote three novels that no one seemed to want. So when I got this fortune, I needed to have a reminder from the universe that if I kept working I'd sell another novel. And I did. After extensively revising one of the three novels that I had written, it sold to Simon & Schuster last year.
I've kept the fortune taped to my bookcase because I know there will always be ups and downs. The words are a reminder to me that I have to power through those downs in order to reap the rewards of a long-term career.
Q. What advice do you have for young writers?
Don't worry about coming up with the most original idea in the world. Even if someone has a similar idea, if you write from your own experiences and from the heart, your story will be different enough.
Q. What are you excited about these days?
In addition to having a new book out and working on other fun projects, I'm also excited about my work as Assistant Regional Advisor for SCBWI-Florida. I've been a volunteer for a while, but I'm finding my expanded role very satisfying. It's been great getting to work with writers, agents, and editors in planning for our conferences, boot camps, contests, and workshops.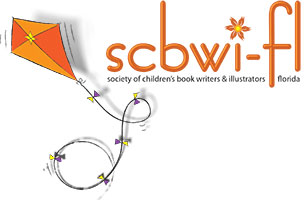 ---
For more insights from book creators, see my Inkygirl Interview Archives and Advice For Young Writers And Illustrators From Book Creators.