Advice For Writers, Taxidermied Piranhas and Family Memories:Three Questions with Sylvia Liu
Thanks to Sylvia Liu for letting me be part of her A MORNING WITH GRANDPA book tour!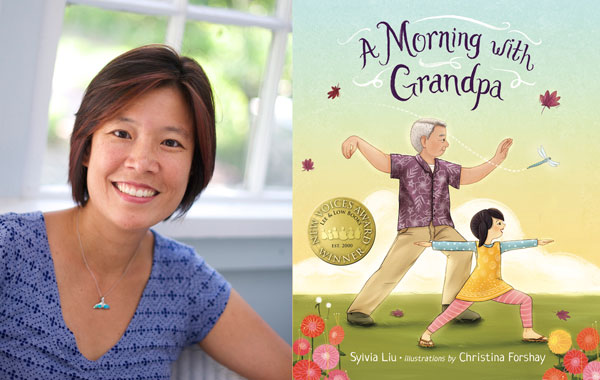 Sylvia Liu is an environmental lawyer turned children's author and illustrator, inspired by aliens, kraken, cephalopods, and the oceans. She lives in Virginia Beach with her husband, two daughter, Siberian kitten and guinea pig.
A MORNING WITH GRANDPA is Sylvia's debut picture book! The story won Sylvia the 2013 New Voices Award from Lee and Low. Such a sweet and inspiring story, gorgeously illustrated by my friend Christina Forshay, whom I met through the SCBWI Illustration Mentorship program. You can read more about how Christina came up with her illustrations for this book in this interview by Carter Higgins in Carter's great Design Of The Picture Book blog.
You can find out more about Sylvia and her work at EnjoyingPlanetEarth.com (portfolio), her blog, Kidlit411 (a resource for authors and illustrators), Twitter and Facebook). Plus don't forget to check out the rest of the A MORNING WITH GRANDPA blog tour!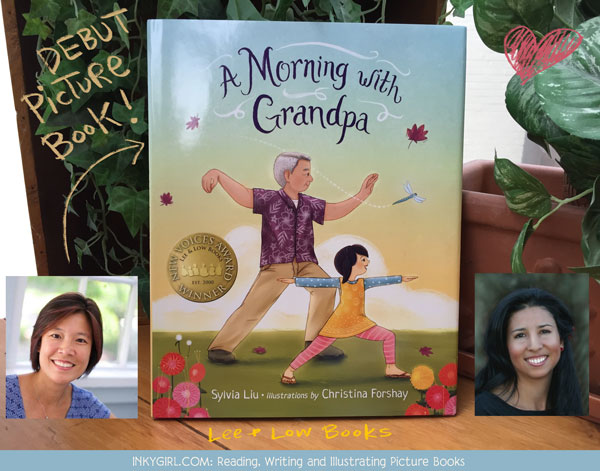 A MORNING WITH GRANDPA
Author: Sylvia Liu. Illustrator: Christina Forshay.
Published by Lee & Low Books
SYNOPSIS: "In A MORNING WITH GRANDPA, illustrated by Christina Forshay (published by Lee & Low Books, May 2016), Mei Mei eagerly learns tai chi from her Gong Gong and teaches him yoga. She's too hyper for tai chi, and he's not flexible enough for yoga, but they enjoy each other's company while learning new things together."
Q. Could you please take a photo of something in your office and tell us the story behind it?
My bookshelf holds all sorts of tchotchkes. These taxidermied piranhas are from Venezuela, where I grew up: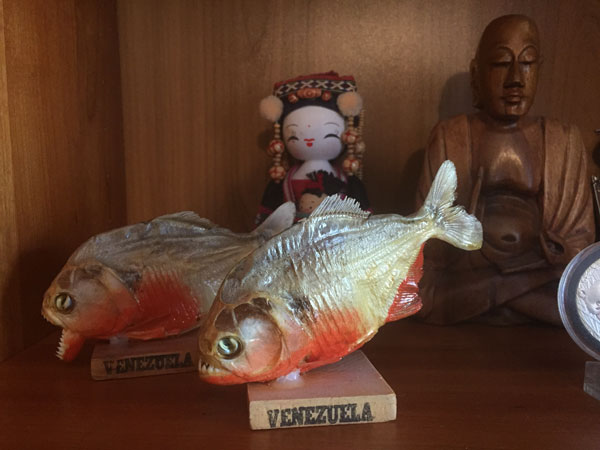 My dad was a civil engineer who designed dams in the interior of the country, and we would sometimes visit his job site, far from civilization. One time we were at the side of a stream and threw bread crumbs into the water. As they landed, the water roiled with dozens of piranhas snapping at the bread. We also saw a caiman (related to alligators and crocodiles) resting about 20 yards away by the side of the stream. We cast a hook from a fishing rod to try to hook it in the snout. Not too smart, in retrospect. But that caiman was remarkably comatose, because it never moved, even after we snagged its snout.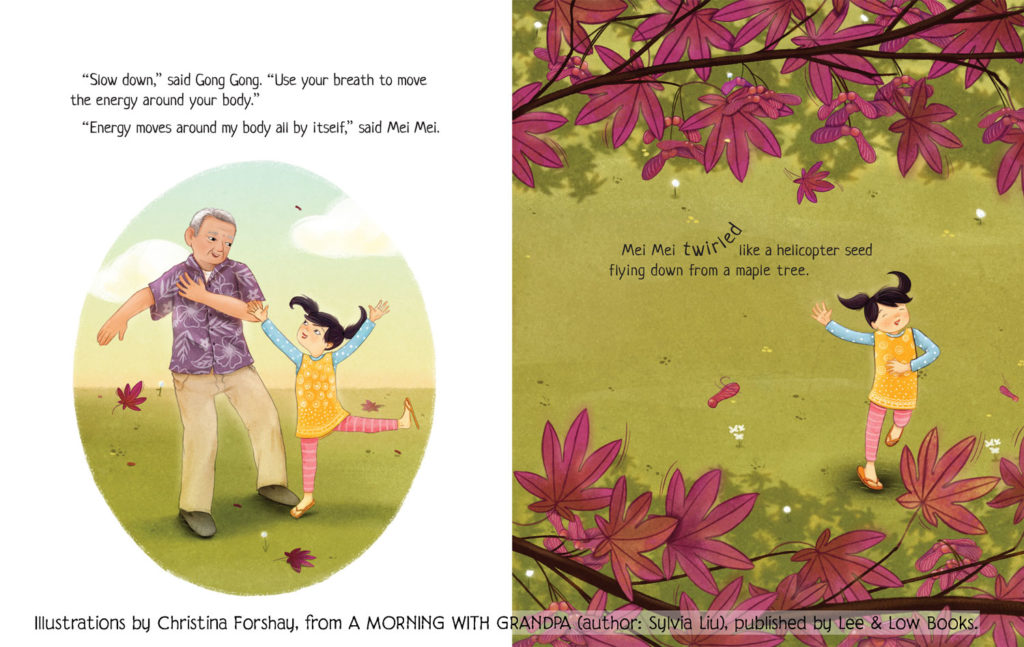 Q. What advice do you have for young writers and/or illustrators?
Enjoy the process. Sometimes writing and illustrating can feel like a long slog, an uphill trek (both ways), and a marathon. But instead of only focusing on getting published, enjoy creating new worlds that didn't exist before.
Play with words and paint. Tell that story or draw that illustration that only you can do, and share it with children in your life.
Find the joy in your daily activities, because that is what will sustain you over the long term.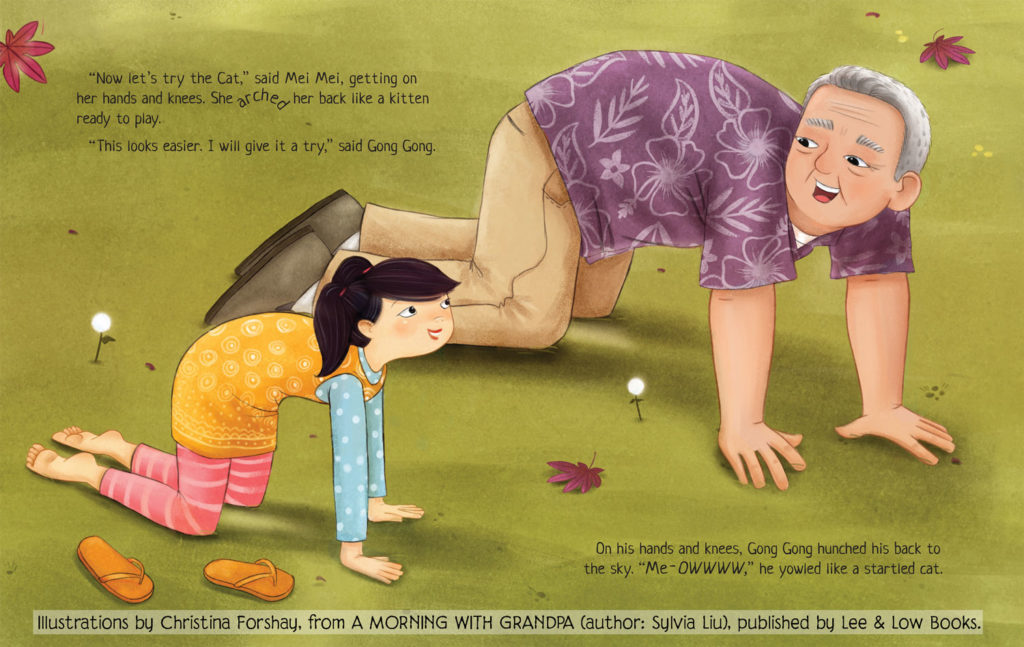 Q. What are you excited about right now?
I'm not the only author in my family! My father, Bernard Liu, at age 82, will have his debut published by a Chinese publisher—a memoir about growing up with a famous political prisoner, Manchurian warlord Zhang Xueliang (張學良).
My grandfather (my father's dad), Liu Yǐ Guāng (劉乙光), was a general in the spy service for the Chinese Nationalist (Kuomingtang) government. Zhang Xueliang was the instigator of the 1936 Xi-an incident, where he kidnapped Chinese leader Chiang Kai Shek to force a truce between the insurgent Communists and the ruling Nationalists to fight the Japanese invasion in China. After his release, Chiang Kai-Shek put Zhang under house arrest for the next 50 years, first in mainland China, and then in Taiwan, when the Nationalists fell from power in 1949.
My grandfather was in charge of Zhang for the first 25 years of the house arrest. During the China years, when my dad was 3 to 13, his father lived and shared meals with Zhang, his mistress, bodyguard, servants, and armed guards. About 150 people including special agents and members of the military were assigned to the detail and lived nearby. They were constantly on the move, pursued by the Japanese. My father, his siblings, and his mother lived in nearby towns and my dad sometimes lived with his father. When they moved to Taiwan in 1949, his family shared a compound with Zhang deep in the mountains for over a year, until my dad moved with his mother and siblings to Taipei.
Zhang is considered a national hero in China today because he saved the Communist party from defeat when it was at its weakest. Zhang's life during the years of house arrest were effectively lost to history—known largely only to my father and his family. My dad grew up eating meals with him, learned how to play poker from him, and even got a nickname from him, "xiao pang-tzi" (little fat one).
His memoir is awaiting approval by the Chinese government (because it may contain politically delicate information), but I am excited for its publication. I also plan to help translate it for English-speaking audiences.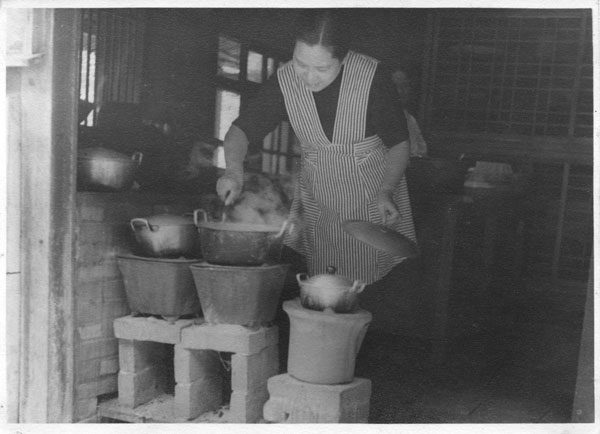 Do check out the rest of A MORNING WITH GRANDPA blog tour! The entries so far:
The kick-off at Kidlit411.com, which includes links to all the participating blogs.
Interview at Design of the Picture Book by Carter Higgins: Learn more about how Sylvia came up with the idea for the book and how it evolved, how Sylvia felt to see her words gain another life with pictures, who some of her story heroes are. Learn how Christina's dynamic compositions in her illustrations, what her initial ideas were for the art after reading the text, how much they evolved, who some of her story heroes are.
Author interview with Sylvia Liu about her debut PB, A MORNING WITH GRANDPA by Joanna Marple (Miss Marple's Musings): Learn about whether Sylvia consciously chose imagery that embraced Chinese and Western cultures, autobiographical elemen ts, what she hopes a young Chinese-American or any child might take away, thoughts about diversity in kidlit.
Perfect Picture Book Friday – A Morning With Grandpa plus giveaway by Susanna Leonard Hill: Learn about the benefits of tai chi and yoga for young people in the excellent resource section of this post.
12×12 Featured Author features Sylvia Liu, by Julie Hedlund. Read Sylvia's great guest post about how to write a true story with heart.
---
For more insights from book creators, see my Inkygirl Interview Archives and Advice For Young Writers And Illustrators From Book Creators.