TELL ME A TATTOO STORY by Alison McGhee and Eliza Wheeler (Chronicle Books)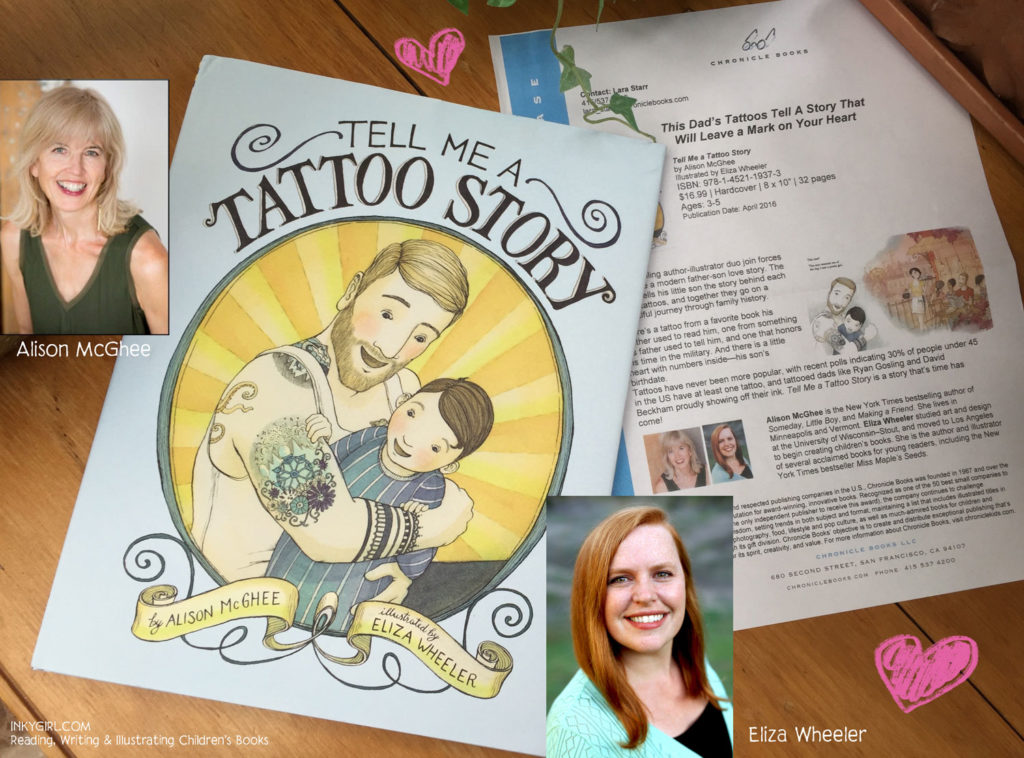 I was excited to receive a copy of TELL ME A TATTOO STORY, a new picture book written by Alison McGhee and illustrated by my friend Eliza Wheeler (Chronicle Books, April/2016). What a deeply moving, tender story, and soooo much for young and not-so-young picture book readers to appreciate. I teared up over many of the (beautifully illustrated) spreads as the father told his young son the story behind each of his tattoos. *snif*
Do check out Julie Danielson's Seven Impossible Things post where she shares some of the wonderful art from the book as well as sketches from Eliza. Also see Julie's post about the book on Kirkus Reviews.
You can find out more info about Eliza Wheeler at Wheelerstudio.com and more about Alison McGhee at AlisonMcGhee.com.
Synopsis of the book from the Chronicle Books website:
"A bestselling author-illustrator duo join forces to create a modern father-son love story. The father tells his little son the story behind each of his tattoos, and together they go on a beautiful journey through family history. There's a tattoo from a favorite book his mother used to read him, one from something his father used to tell him, and one from the longest trip he ever took. And there is a little heart with numbers inside—which might be the best tattoo of them all. Tender pictures by New York Times bestselling illustrator Eliza Wheeler complement this lovely ode to all that's indelible—ink and love."
Also see Debbie's Reading Journal as well as Debbie's Bookstagram.