FIFTEEN LANES by S.J. Laidlaw (Tundra Books, launching April/2016)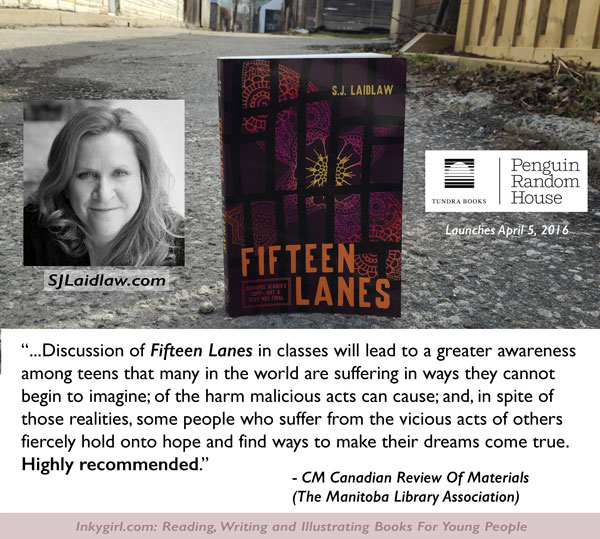 Just finished FIFTEEN LANES by S.J. Laidlaw (a.k.a. Susan Laidlaw), which comes out from Tundra Books/Penguin Random House on April 5th, 2016.
An intense and compelling read, FIFTEEN LANES follows the lives of two teenage girls from very different backgrounds. I found parts of the book difficult to get through because I felt so sad for the characters involved (one of the girls is the daughter of a sex worker in Mumbai, growing up in a brothel) but am so glad I kept reading. FIFTEEN addresses tough issues with honesty and hope.
It's no wonder the details and background are well-researched; the author herself works at an NGO facility in India, volunteering with sex workers' daughters in Kamathipura, the largest red-light district in Asia.
You can find out more about Susan and her work at SJLaidlaw.com, on Twitter at @SusanLaidlaw1 and on Facebook. I interviewed Susan about one of her other YA books, An Infidel In Paradise; you can read about her writing process and advice for young writers here.
Synopsis of FIFTEEN LANES from Tundra Books: "Noor has lived all of her fourteen years in the fifteen lanes of Mumbai's red light district. Born into a brothel, she is destined for the same fate as her mother: a desperate life trapped in the city's sex trade. She must act soon to have any chance of escaping this grim future. Across the sprawling city, fifteen-year-old Grace enjoys a life of privilege. Her father, the CEO of one of India's largest international banks, has brought his family to Mumbai where they live in unparalleled luxury. But Grace's seemingly perfect life is shattered when she becomes a victim of a cruel online attack. When their paths intersect, Noor and Grace will be changed forever. Can two girls living in vastly different worlds find a common path?
"Award-winning author S.J. Laidlaw masterfully weaves together their stories in a way that resonates across class and culture. Fifteen Lanes boldly explores the ties that bind us to places and people, and shows us that the strongest of bonds can be forged when hope is all but lost."