Zebo Ludvicek's KITE picture book dummy missing after SCBWI-Florida Regional Conference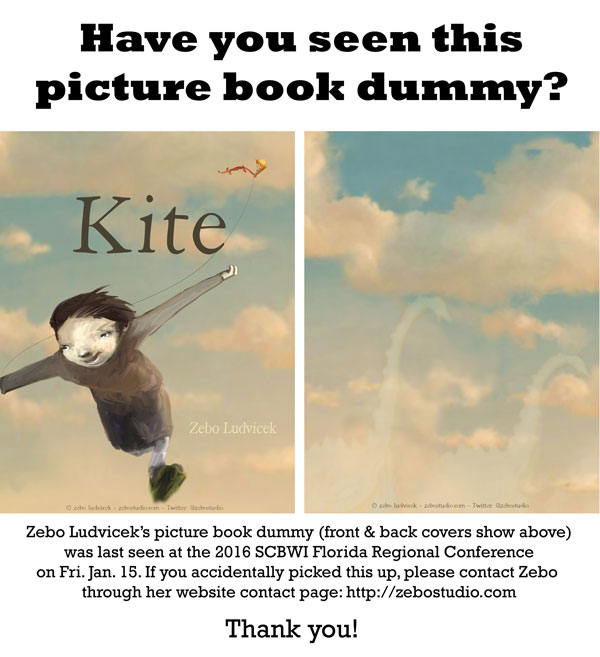 I had a fantastic time at the SCBWI-Florida Regional Conference this past week; you can see my photos on Facebook and Flickr. I co-ran the Illustrator Comprehensive with Pat Cummings, and one of the attendees was the mega-talented Zebo Ludvicek. Side note: Zebo's debut picture book, MOUSE, will be published by Jennifer Besser at Putnam!

Anyway, Zebo brought a gorgeous wordless picture book dummy to the session….and it somehow disappeared. Here's one of the interior illustrations: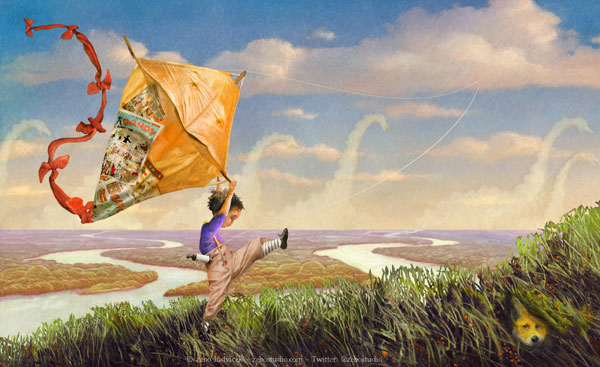 Announcements were made; we all searched our bags and rooms, but no luck.
If YOU attended the convention and somehow missed the announcement, please do look through all the papers and materials you brought home from the event, just in case.
It's about 40 pages long, stapled, printed on Epson Matte Paper, 8.5 x 11″ portrait orientation.
And (I hate to say it, but just in case) if you happen to notice this picture book dummy with someone else's name somewhere, please let Zebo or her agent know RIGHT AWAY. Thanks so much!