Creativity tip: Take the time to look at the world a different way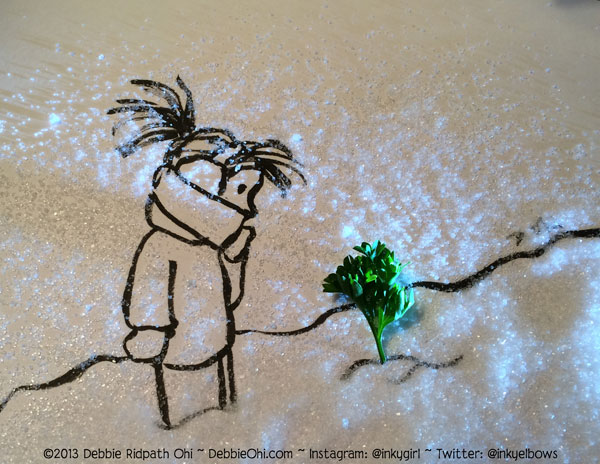 A creative tip for writers and illustrators: Every so often, take the time to look at things around you differently than you normally would. Sounds like a glib cliché, I know, but I encourage you to really give it a shot. When I'm walking through a familiar area or doing something I've done a zillion times before, I tend to take my surroundings for granted. Every once in a while, I force myself to stop and really look at something or someone. I mean really LOOK. If I have the time, I sketch or write about it in my notebook. If I only have a few minutes, like when I'm waiting in a grocery line, then I make it a mental exercise. I also do this through my found object art and encourage young people to do found object art for the same reason.
Since I consciously started doing this, I have found my work showing the benefits. I'm sharing this tip here in hopes that it might help some of you as well.
How you can apply this principle in your illustrations: Before settling on a way of illustrating a scene, experiment with different perspectives and other ways of interpreting the text. Feel free to use one of my brainstorming templates. Do more art just for the fun of it to keep yourself from falling into a rut. Doodle, experiment. Remind yourself you don't have to show anyone what you're drawing.
How you can apply this principle in your writing: Avoid describing people and things in clichéd phrases ("she was fit as a fiddle" etc.), take the time to make your characters and stories unique, don't chase trends. Carry around a notebook and jot down phrases, descriptions, ideas, names. Brainstorm. Write every day; it doesn't have to be for a book project or something you want to get published. Write for FUN. Experiment with poetry (you don't have to show anyone); I find writing poetry makes me more conscious of word choice and the sound of the words. Read what you write out loud; read in a different voice, at different speeds.
Do you have your own creativity boost techniques? Feel free to share them below in the comments.