Advice For Young Writers, Thumbnail Dummies, Office Cats and BIGFOOT DOES NOT LIKE BIRTHDAY PARTIES: Three Questions with Jaime Temairik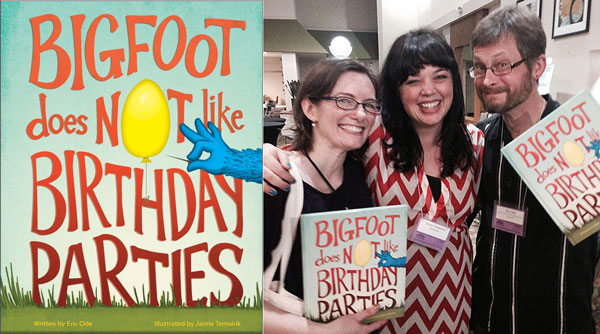 Jaime Temairik is an illustrator and author based in Seattle and is actually quite fond of birthday parties.
You can find Jaime at JaimeTemairik.com and on Twitter at @jaimetem.
BIGFOOT DOES NOT LIKE BIRTHDAY PARTIES! is a new picture book written by Eric Ode, illustrated by Jaime Temairik, published by Sasquatch Books in October 2015.
Synopsis of Bigfoot Does Not Like Birthday Parties!:
The townsfolk of Mossy Pockets want to throw a party to celebrate Bigfoot's special day, but Bigfoot Does Not Like Birthday Parties! Internal rhyme gives the growing lists of people, instruments, pies, and animals a delightful momentum. The party excitement builds until it all comes to a pie-smashing disaster.
For a peek inside Jaime's process, click on the image below to see the original thumbnail dummy for Bigfoot. From Jaime: "I think it's fun to see how similar (or different) the final art/layout is to the original brainstorm."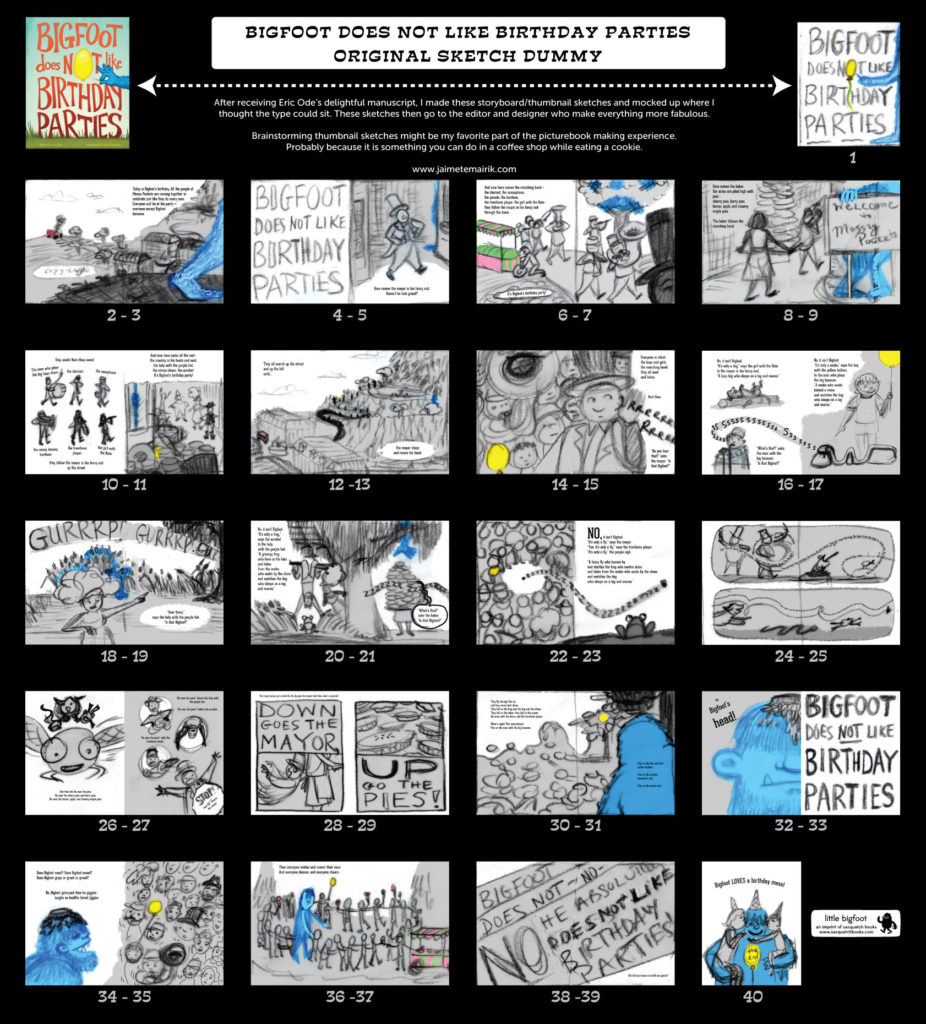 Q. Could you please take a photo of something in your office and tell us the story behind it?
My picturebook making office is sort of in my kitchen. My dog, Logan, and my cat, Bebop, keep me company while I work in the kitchen, and they nap a lot, so let's consider them office decor? This is a picture of Bebop being Bebop: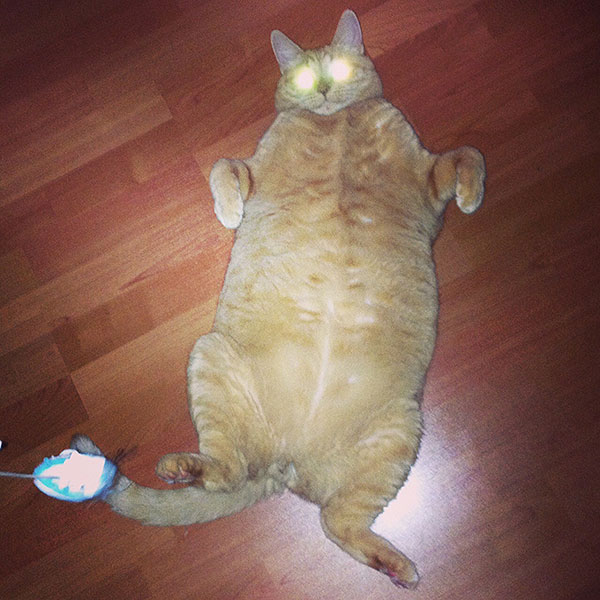 Q. What advice do you have for young writers and/or illustrators?
My advice for young writers and illustrators is Have an Art/Writing Smörgåsbord!
A smörgåsbord is a Swedish word that is defined as: a buffet offering a variety of foods and dishes (hors d'oeuvres, hot and cold meats, smoked and pickled fish, cheeses, salads, and relishes).
You never know what sort of art or writing style you will love and shine in until you try it. I drew a lot as a kid with pencils and pens, but didn't really paint or sculpt or try Photoshop until I got to high school where my art and photography classes had new and exciting painting supplies and paper for me to goof around on. My art style currently is pencil drawing, and painted textures and smashing them all together in Photoshop—I'd never have gotten to this style if I hadn't been lucky enough to try out all sorts of materials.
Melissa Sweet is a GREAT example of all sorts of materials and medium coming together to make amazing picturebook art and story. You can even grab art supplies from a REAL smörgåsbord—I love Debbie Ohi's (maybe you've heard of her) found object/food art. (From Debbie: Thanks, Jaime!)
If you can get your family, or school, or community center to help you find different media to play with, play your heart out! Art supply stores also have demo days where you can try out all sorts of new materials.
My advice for less-young writers and illustrators is the same, really, you should always be open to attending classes/conferences or getting books from the library about different writing or illustrating techniques. It's hard to splurge on new art supplies when you are on a budget, but maybe you can have an art supply potluck with artist friends and each person can share a technique or their preferred medium?
Q. What are you excited about right now?
Oh man, I am very excited about attending the 17th Annual SCBWI Winter Conference in New York in February. New York is my favorite place on the planet, and besides my family, children's book people are my favorite people on the planet. I am already chomping at the bit for February.
---
For more insights from book creators, see my Inkygirl Interview Archives and Advice For Young Writers And Illustrators From Book Creators.