Advice For Young Writers, Minecraft Books and Cute Office Dogs: Three Questions With Danica Davidson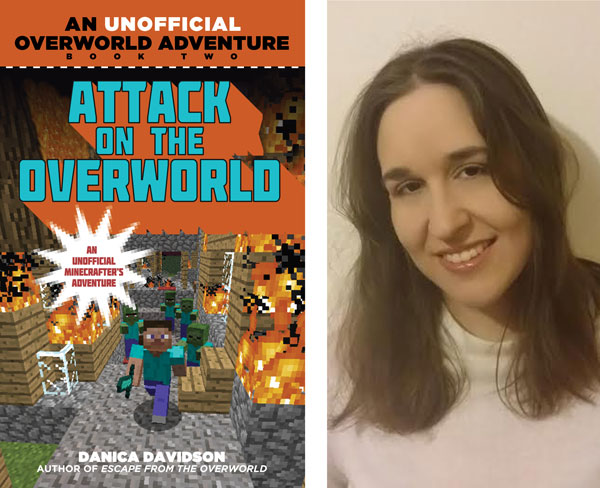 Danica Davidson started writing at age three and never stopped. Before selling her first book, she wrote for such places as MTV, CNN, The Onion and Los Angeles Times. Among other publications, she was recently featured by Forbes for her Minecraft writing. She's represented by the James Fitzgerald Agency. Attack Of The Overworld is the second book in Danica's Minecraft series, which is geared toward ages 7-12.
Also read Danica's recent post on the BNKids blog about Minecraft, Cyberbullying and Girl Power and her Cynsations interview.
You can find Danica at DanicaDavidson.com and on Twitter at @DanicaDavidson.
Synopsis of ATTACK ON THE OVERWORLD (Skyhorse, 2015): Attack on the Overworld is the sequel to Escape From the Overworld, where Minecraft character Stevie finds a portal to our world and befriends a girl named Maison. Now cyberbullies have hacked the portal and let themselves into the Minecraft world, turning it into eternal night and transforming people into zombies.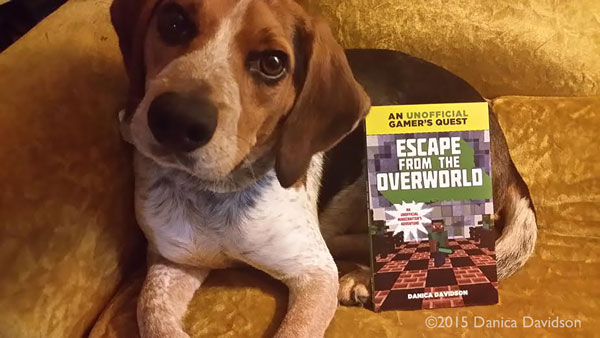 Q. Could you please take a photo of something in your office and tell us the story behind it?
Since I adopted my dog Porthos from the local shelter a couple years ago, he's been a constant companion.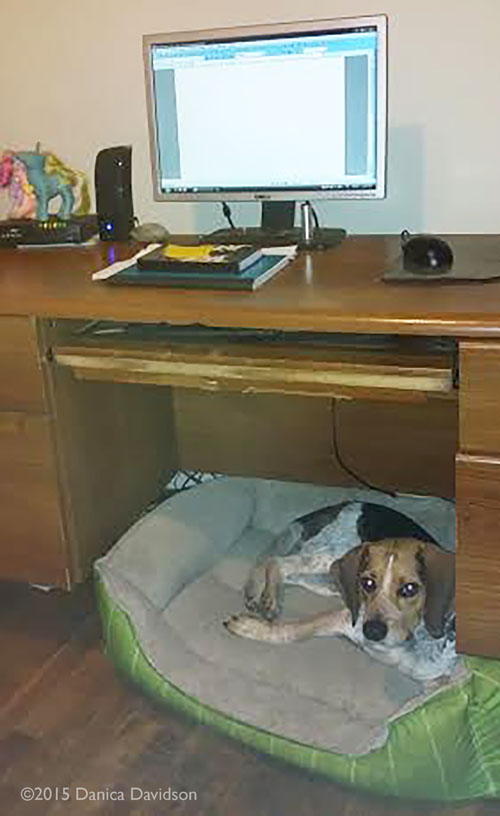 (Bonus points if you get his name reference: he's named after the beagle Porthos in Star Trek: Enterprise, who in turn is named after Porthos from The Three Musketeers. I know . . . I'm a nerd.) He always wants to be with me, so my boyfriend thought of placing a dog bed under my writing desk. Porthos likes to sleep by my feet while I'm writing and we go out for walks together when I'm brainstorming. I also like to bring him along to book signings of the book store owner says it's okay. He is the most literary dog I know!
Q. What advice do you have for young writers and/or illustrators?
The most common advice is usually to keep writing/reading/drawing, and I give that, too. But another piece of advice I wish I'd gotten is that it's normal to get TONS of rejections before you get published, and not only should you not give up, but you should not let it devastate you. Young writers are told to expect rejection, but I was never told to expect as much rejection as I've gotten, and sometimes it really got me down.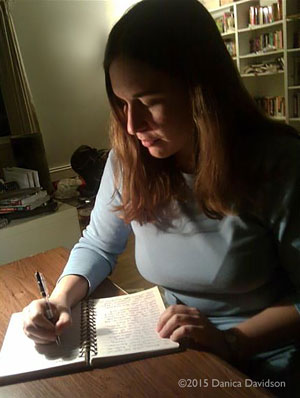 I remember a few years back, when I was swimming in rejection letters, an editor at a magazine told me something along the lines of, "I once met a famous writer who got TEN rejection letters. TEN! So don't feel so bad." I was thinking, "I passed ten rejections years and years ago. If ten is the definition of 'a lot,' I not only feel bad, but now I feel even worse." Another writer told me he thought it was time to give up after 35 rejections. Oh, I'd looong passed 35 rejections by then, but I was too embarrassed to say it because I thought he'd tell me to give it up at that point and I couldn't bear to hear that.
The hardest part is getting your foot in the door. But I kept working, kept networking, kept writing and kept submitting, and in this past year and a half, I've sold six books. And I'm ready to write more.
Some people are surprised to see me sell six books while in my twenties, but I tell them I didn't just start doing this. I've been submitting and getting rejected since I was eleven. Ever since I was little I've known this is what I wanted to do in my life, and if that's the case for you, follow that voice with hard work, persistence and a sense of humor.
Q. What are you excited about right now?
I'm excited to see more of my books come out and see where writing takes me next. I have two books out now: Escape from the Overworld and Attack on the Overworld, both Minecraft novels. The third Minecraft novel, The Rise of Herobrine, is out in April. My book Manga Art For Beginners, which teaches how to draw in a manga style, is out in March, and I worked with an amazing artist named Melanie Westin for that one. I've written a graphic novel for a major children's franchise that will be out in the fall. I don't know how much I can say yet, but there should be a big announcement on that one soon and it's a franchise everyone knows. And I'm about to get started on my fourth Minecraft book, which will be titled Down Into the Nether, and is scheduled to come out in June. This is what I love to do, and I want to write all different kinds of books for all different ages!
---
For more insights from book creators, see my Inkygirl Interview Archives and Advice For Young Writers And Illustrators From Book Creators.