Three Questions With Megan Crewe: Advice For Young Writers, Office Dragons and A SKY UNBROKEN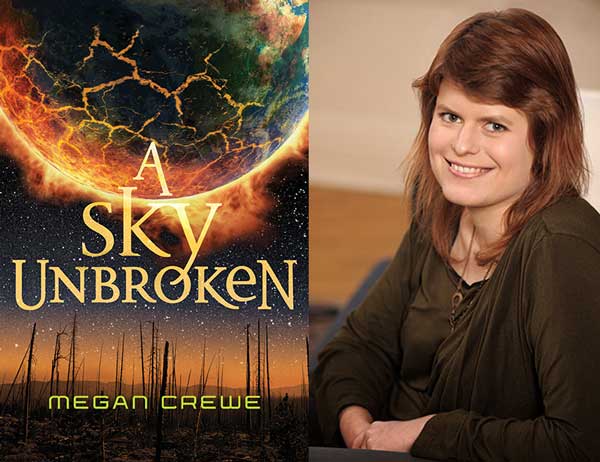 Like many authors, Megan Crewe finds writing about herself much more difficult than making things up. A few definite facts: she lives with her family in Toronto, she tutors teens with special needs, and she can't look at the night sky without speculating about who else might be out there.
I met Megan through the Toronto Area MG/YA Author Group, and I've appreciated her support and advice over the years!
Where you can find Megan: Website – Twitter – Facebook – Tumblr – Instagram
Synopsis of A SKY UNBROKEN:
In the riveting conclusion to the Earth & Sky trilogy, Skylar and Win must risk their lives and freedom to save what remains of Earth. But neither are prepared to uncover a conspiracy that could push the uncertain future they're fighting for completely out of reach.
Join Megan in her A SKY UNBROKEN online launch party on October 13th, 2015!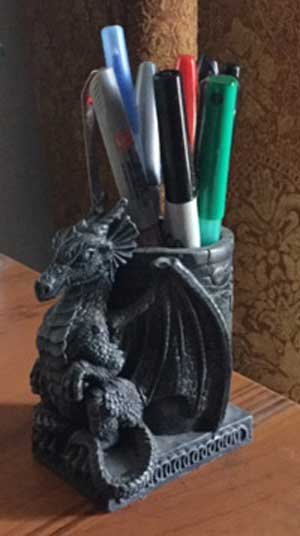 Q. Could you please take a photo of something in your office and tell us the story behind it?
I bought this dragon-guarded pen holder in Britain more than a decade ago, on my first solo trip overseas. It's been a fixture on my desk ever since. It reminds me to keep the magic in my writing and to strike out on new ground. And it conveniently holds the wide variety of pens I like to have on hand: blue ballpoint for mundane tasks, green gel for signing books, red for line edits, and black and silver Sharpies for signing bookplates and bookmarks.
Q. What advice do you have for young writers?
Read lots. Read widely. Read the sorts of books you'd like to write so you know what's already been done and what new ideas you can contribute. Read the sorts of books you don't expect to write to expand your understanding of storytelling. Many of my YA novels have been inspired by books from completely different genres.
Write lots. Write widely. Like any skill, developing your writing craft takes practice, and the more you practice, the more honed those skills will become. I find I learn the most by stretching myself, tackling new perspectives, formats, and plot elements–such as writing in journal entries in THE WAY WE FALL and giving time travel a spin in EARTH & SKY–always reaching farther or at least someplace different than I did the last time.
Rewrite. Get feedback from other people and rewrite again. Pretty much no one writes a story the best it can possibly be told the first time around. Don't be afraid to take out characters, add new ones, rearrange events, and other sweeping changes. I don't think I have any book where even the outline of the first draft fits the final version of the story.
And finally, be patient. Most people's first novels are not the first novel they sell. Often their second and third novels aren't either. I wrote ten books before I had one that was ready to be submitted to publishers. There's no shame in that. See above re: practice.
Q. What are you excited about right now?
I'm very excited to be sharing the end of the Earth & Sky trilogy with readers so soon and to be doing several events in the next couple months during which I hope to meet many of those readers. Talking with teens who love books is pretty much the best thing ever!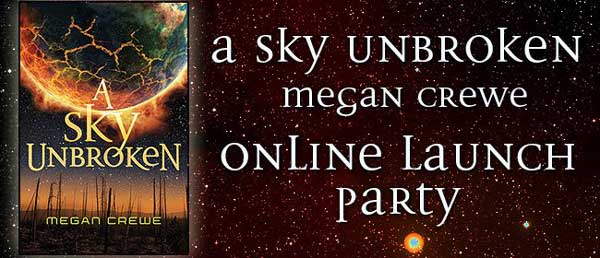 ---
For more insights from book creators, see my Inkygirl Interview Archives and Advice For Young Writers And Illustrators From Book Creators.