MY LIFE IS A ZOO series by Jess Keating (Sourcebooks Jabberwocky)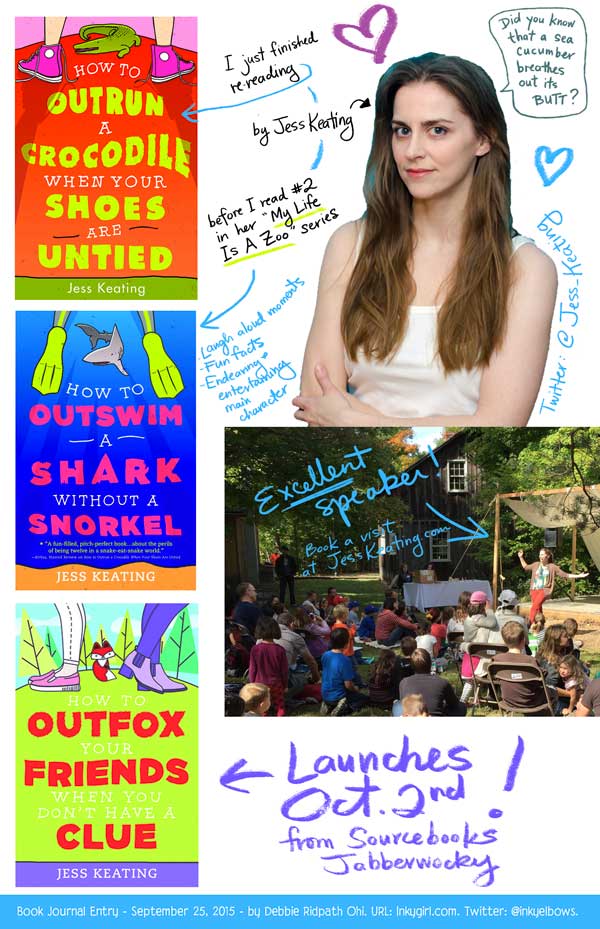 If you're looking for funny, smart middle grade books and lots of entertaining animal facts, you need to check out Jess Keating's "My Life Is A Zoo" series. I met Jess through Torkidlit and Nerd Camp; she's funny, smart and entertaining in person, too :-). The third book in her series, HOW TO OUTFOX YOUR FRIENDS WHEN YOU DON'T HAVE A CLUE, comes out from Sourcebooks Jabberwocky on October 6th.
Not surprising that these books are packed with fascinating facts in addition to being fun to read; Jess has a degree in Zoology and a Masters of Science.
I just finished rereading HOW TO OUTRUN A CROCODILE WHEN YOUR SHOES ARE UNTIED (a 2015 Red Maple Award nominee!). An excerpt from the Kirkus starred review: "The dollop of romance is refreshingly appropriate for middle school readers, and the angst Ana feels over the idea of performing in front of a crowd will touch plenty of sympathetic introverts. An amusing, highly readable book about the perils of being 12 in a snake-eat-snake world."
More info about Jess and her books (where you can also read excerpts)
Jess is also on Twitter at @Jess_Keating.
Also see Debbie's Reading Journal as well as Debbie's Bookstagram.