Three Questions with Patricia Newman: Advice For Young Writers, Penguin Paintings and her new EBOLA book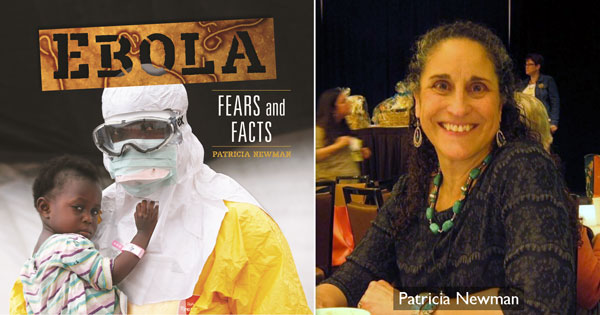 Patricia Newman is the author of fiction and nonfiction titles, and magazine articles for children. She writes what she wants to know and has covered topics as diverse as ocean plastic, trains, fighter pilots, and Ebola. Although many of her books have received critical acclaim, she writes for the kid she was to hook the next generation of readers. She is a frequent speaker at schools, libraries, and conferences.
You can find more info about Patricia Newman on her website – Facebook – Twitter and Pinterest.
Synopsis of EBOLA: FEARS AND FACTS (Millbrook Press, Oct. 1, 2015):
"From 1976 to 2013, the virus killed about 1,500 people. So why in 2014 did it kill nearly seven times that number? Ebola: Fears and Facts takes kids behind the sensational headlines to address their questions and concerns about the virus. What are the symptoms? Can we catch the virus? How does it spread? Find out how the 2014 epidemic compares to past Ebola outbreaks, and outbreaks of other infectious diseases. Ebola: Fears and Facts will help kids better understand this most-feared disease."
Ebola: Fears and Facts Book Trailer from Jim Bentley @Curiosity_Films on Vimeo.
Q. Could you please take a photo of something in your office and tell us the story behind it?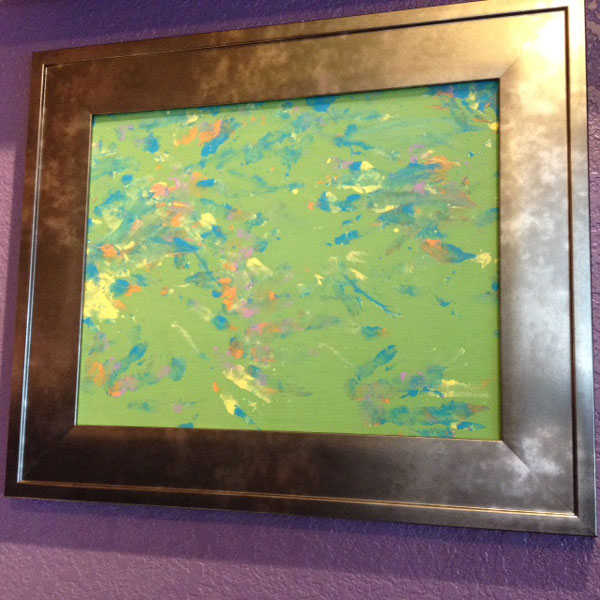 I love this picture! You might think it's a finger painting from my kids' preschool days, but it's not. My daughter is a zookeeper, and one day, she "asked" her penguins to paint me a picture. They walked across the canvas as an enrichment activity-can you see their footprints?-because they would do anything for my daughter. They loved her (as do I!). So, their artistic efforts hang in a place of pride. Her penguins even inspired a picture book that I'm currently revising.
Q. What advice do you have for young writers?
When I was a kid, it was hard to get excited about writing prompts. I never felt like I had good ideas, or perhaps I was too afraid to commit them to paper. So even though I was a good student, I guess you could call me a reluctant writer. Now, I love to write because I'm writing about the things that matter to me.
I know several schools encourage students to keep journals in which they write a few lines every day. If kids don't know what to put in their journals, I suggest making a list of things they love, and then choose something from the list to write about–even if the grammar and the spelling aren't perfect. Every day, go a little deeper into the topic. For example, ice cream would be on my list of things I love. On day one, I might write whether I like cups or cones (wafer vs. sugar vs. waffle) and why. On day two, I might write about the flavors I like. On day three, I might explain how I eat an ice cream cone, i.e. whether I eat the point off first or lick all the ice cream off the top and how I control drips. It doesn't matter what you write about, but you do have to be interested in it.
Q. What are you excited about right now?
I love writing about the natural world because whenever I take a close look, something fascinating is happening. Currently, I'm hard at work on two books about different aspects of the ocean. One of the books will feature epic photos from PLASTIC, AHOY! photographer Annie Crawley.
---
For more insights from book creators, see my Inkygirl Interview Archives and Advice For Young Writers And Illustrators From Book Creators.