Three Questions For Josh Funk: Advice For Young Writers, Scott Pilgrim and LADY PANCAKE & SIR FRENCH TOAST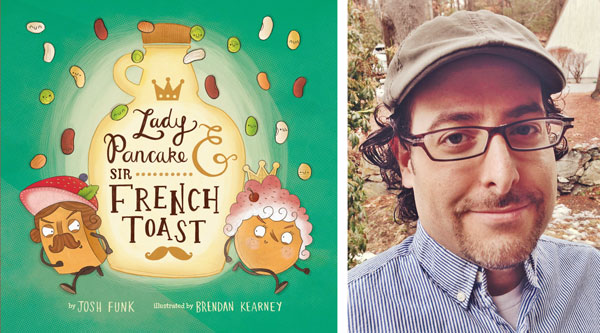 Josh Funk lives in New England with his wife and kids. He is the author of Lady Pancake & Sir French Toast (launches Sept 1st from Sterling) and the upcoming Dear Dragon (Viking/Penguin, 2016), Pirasaurs! (Scholastic, 2017), and more. Find out more info about Josh at his website, Twitter, Facebook.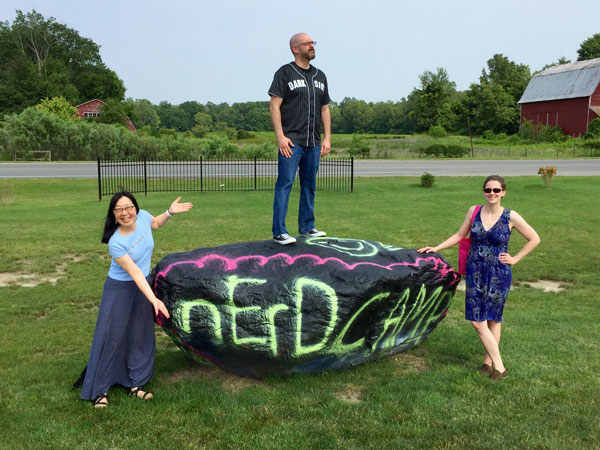 I met Josh at Nerd Camp earlier this year. Such a fun and funny guy, and so supportive of his fellow kidlit authors and illustrators!
Synopsis of LADY PANCAKE AND SIR FRENCH TOAST (written by Josh Funk, illustrated by Brendan Kearney, published by Sterling)
"The race is on … Lady Pancake and Sir French Toast are the best of friends until word gets out that there's ONLY ONE DROP OF SYRUP left. Only one of them can enjoy the sweet, sweet taste of victory. Is their friendship toast?"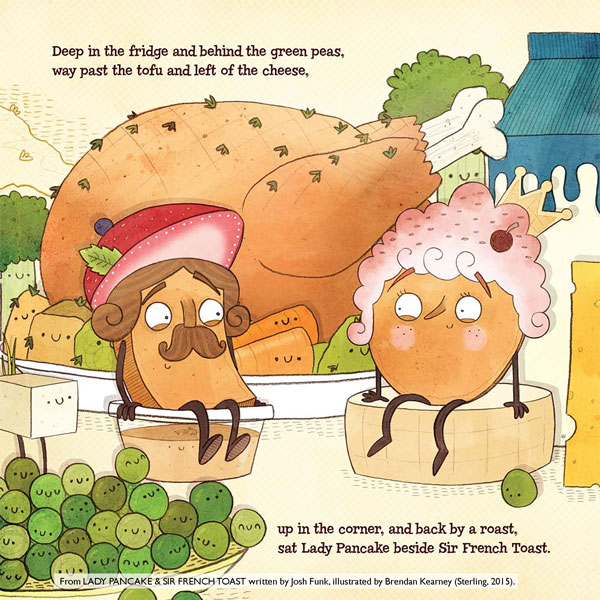 Q. Could you please take a photo of something in your office and tell us the story behind it?
I don't actually have an office. I pretty much do all of my writing from a laptop while sitting in bed (as I am right now). And I often throw on a movie I'm comfortable with in the background, something I know well enough so I won't get distracted from the writing, but maybe it'll inspire me. And my favorite movie to throw on is Scott Pilgrim vs. the World (it's on right now). So here's the 'not yet worn out' disc: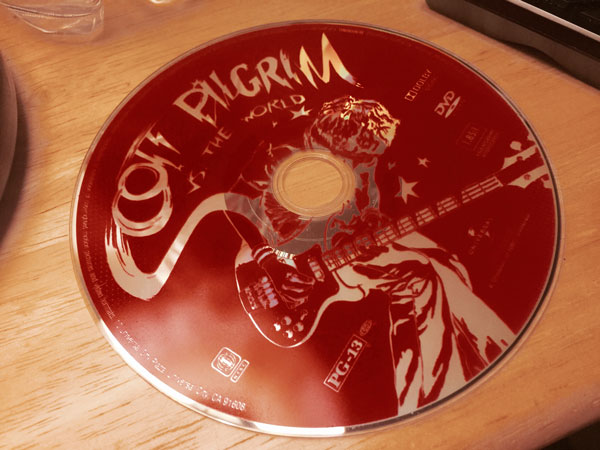 This movie has everything: humor (Michael Cera, Aubrey Plaza, Jason Schwartzman), music (songs by Beck), action (actors who played Superman, The Punisher, & Captain America on the big screen), video games (fighting, music, skating), romance (love story with a pink/blue/green-haired girl), vegans, fantastic cast (at least one Oscar nominated actress), special effects (see: action), based on a graphic novel (KaPow!), one of the best directors out there (Edgar Wright can do no wrong), and it takes place in Canada (who doesn't love ketchup chips?). It may not be for everybody, but if I were to make a movie, this would be it. And it's been on in the background while I've written many a manuscript.
Q. What advice do you have for young writers?
I'm not a teacher. But I'll tell you why I write, and I think it applies to any human: I write to entertain myself.
So write something you find fun.
Write what you'd want to read.
Write something to make your family and friends laugh.
Write a play you and your siblings can act out at the next family reunion.
Write a song!
And if it's a writing assignment for school, put your own twist on it. Only you can write like you. So put a little of yourself into everything you write.
Obviously there are times when writing assignments have to be taken seriously, but there's usually a way to make writing enjoyable.
Q. What are you excited about right now?
I'm really excited about graphic novels, as you might have guessed from my Scott Pilgrim obsession. But here I'm referring to those for children (and adults like me). There are so many amazing choices out there that we've devoured over the last few years. Lunch Lady, El Deafo, Squish, Babymouse, The Flying Beaver Brothers, Ricky Ricotta, Rutabaga the Adventure Chef, Comics Squad, Astronaut Academy, Sidekicks, Smile, Sisters, Drama, Rollergirl, Amulet, The Chronicles of Claudette, and more.
I have personally seen children learn to read (and learn to love to read) by way of the GN. The combination of art and writing makes for an amazing storytelling (and story consuming) experience. The abundance of talent developing graphic novels today is mind blowing. And I don't see it slowing down any time soon!
---
For more insights from book creators, see my Inkygirl Interview Archives and Advice For Young Writers And Illustrators From Book Creators.