Three Questions For Arree Chung: Advice For Young Writers and Illustrators, Gonzo and HOW TO PEE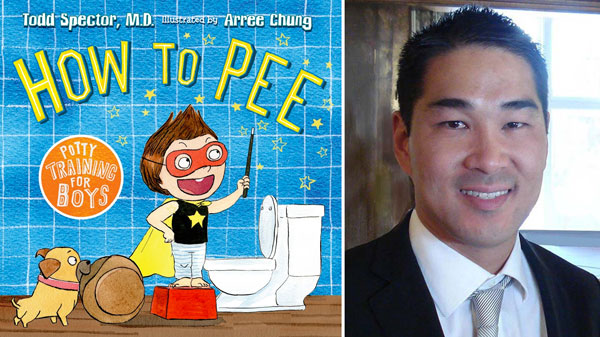 Arree Chung wrote and illustrated the picture book "NINJA!" and is also a founding member of Live in a Story, which offers wall decals created by children's book illustrators and designers. When he's not creating, you can find Arree riding his bike around the San Francisco Bay Area.
Where to find Arree: Website – Facebook – Twitter – Instagram.
Synopsis of How To Pee: Potty Training For Boys (written by Todd Spector, illustrated by Arree Chung, published by MacMillan):
"Out with the old and in with the new! Family physician Dr. Todd Spector presents a fresh and outrageously fun way to encourage little boys to give up their diapers. They can try it freestyle (in the backyard!), or give the potty a try with the help of a few props and plenty of imagination. Peeing in the potty is a lot more fun if you do it rocket style, cowboy style, or superhero style!"
Q. Could you please take a photo of something in your office and tell us the story behind it?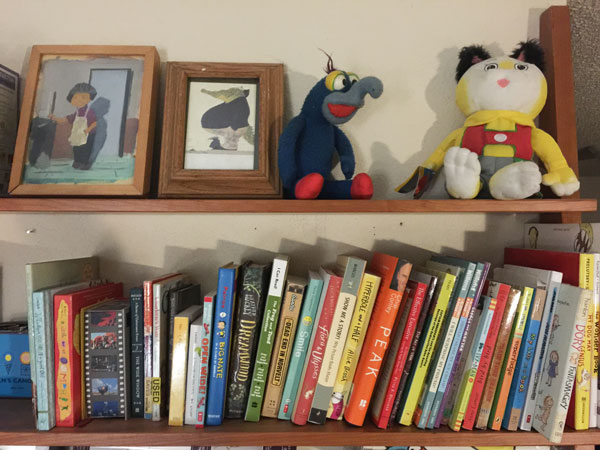 This is one of my favorite toys. Gonzo. This doll is probably older than I am! This doll is special, because Jerry Houle, my licensing mentor gifted this to me. Jerry spent years working with Jim Henson in building a licensing program for the muppets. I am a huge muppets fan and have always admired Jim for his storytelling and the art he has put in the world. Jim changed the way people looked at puppets.
Q. What advice do you have for young writers and illustrators?
As a creative person, the thing I love doing the most is creating something new out of thin air. It maybe a story that becomes a book, a doodle that becomes a painting or an idea that becomes a business.
Making something new can be hard but I find that there are two really hard points: starting and finishing. Here are some tips on how to make it.
GET Excited.
Start right away.
Attack it.
Do it NOW. Get it down.
Scribble. Let yourself go. There is no wrong.
Don't listen to your inner critic. Listen to your gut instincts. Work fast and intuitively.
Get your first draft done.
Accept that it's a process. It's okay that it's not perfect. You're making building blocks and you don't know what pieces you need yet.
Look at the work again. You'll probably see things you want to change about it. Change it.
Keep working on it. Identify what the heart of your idea is. It should be specific and feel honest.
Now reduce.
Keep reducing until you're left with just the essentials.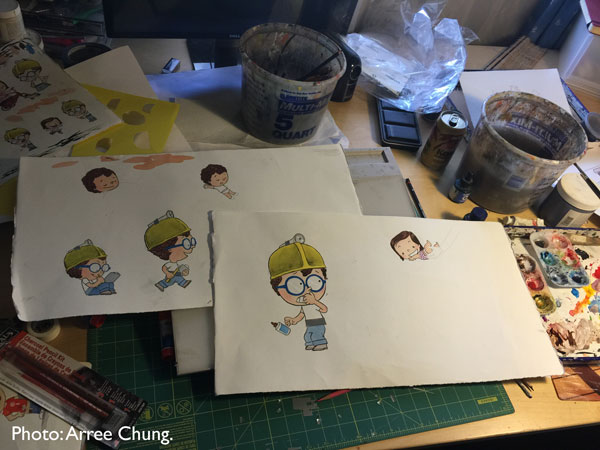 Q. What are you excited about right now?
So many things!
Books! I love storytelling. I have three books coming out next year.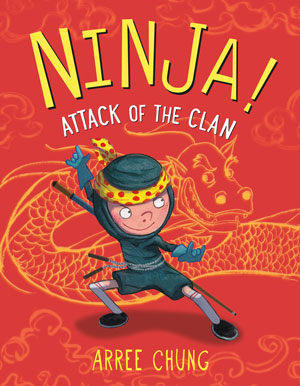 I'm excited about so many things right now. I have three books coming out next year. NINJA! Attack of the Clan (publisher: MacMillan) which is a sequel to my first book, NINJA! I'm illustrating a book called FIX-IT MAN (author: Susan Hood, publisher: HarperCollins), which is about being helpful and inventive. It has a very fun collage style to it. My third book out next year, is HOW TO PEE: Potty Training for Girls (author: Todd Spector, publisher: MacMillan) – which is a sequel to the potty training for boys book I illustrated. I'm really excited about all of the books.

---
For more insights from book creators, see my Inkygirl Interview Archives and Advice For Young Writers And Illustrators From Book Creators.