Three Questions For Alice Ratterree: Advice For Young Illustrators, Office Pencil Shavings and LILLIPUT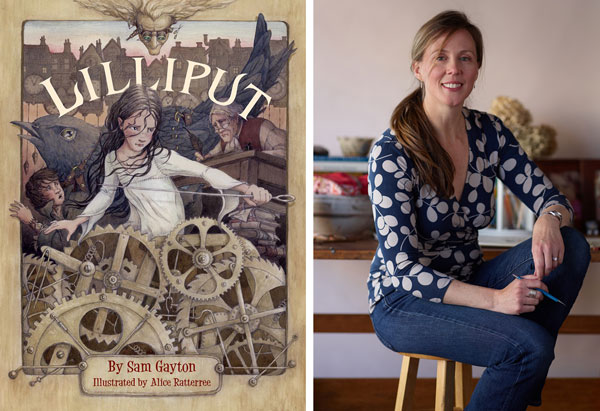 Alice Ratterree loves illustrating books for the young at heart. She is represented by Marietta Zacker of Nancy Gallt Literary Agency and is currently working on a picture book about the life of Jane Addams. She finds adventure in Greenville, South Carolina with her husband, their two children, and a beloved adopted sidekick, Sam the cat. To learn more about Alice, visit her at her website, and on Twitter and Facebook.
I met Alice through the SCBWI and adore her art. Did you know that Alice started her career as a classical singer? You can find out more about Alice's background as well as art process on Peachtree Publisher's blog.
Synopsis of middle grade novel LILLIPUT (written by Sam Gayton, illustrated by Alice Ratterree, for ages 8-12):
"Inspired by Gulliver's Travels, LILLIPUT is an exhilarating adventure filled with cunning escape plans, evil clock makers, and talkative parrots. Join Lily as she travels through eighteenth-century London – over rooftops, down chimneys, and into chocolate shops – on a journey to find the one place in the world where she belongs…home".
Q. Could you please take a photo of something in your office and tell us the story behind it?
This small, red cup sits on my drawing table and holds my pencil shavings.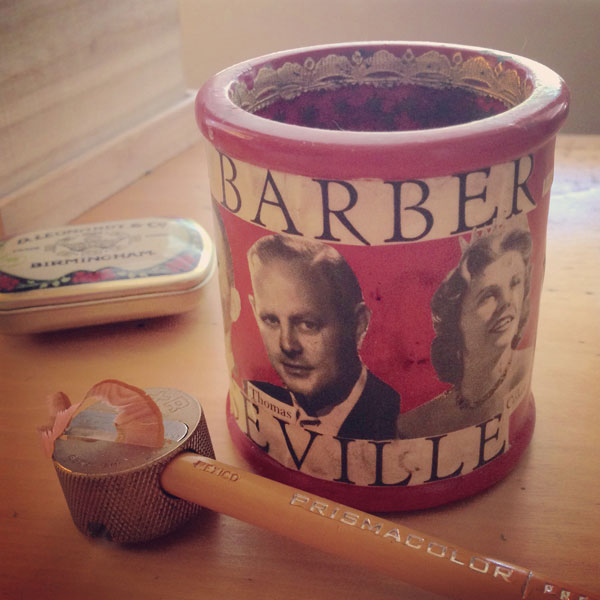 The picture on it is of my grandfather, Bill Thomas, who was a true renaissance man. After serving as a pilot in WWII, he sang opera and worked in education. This memento is from his time singing the role of Count Almaviva in Barber of Seville. I love how each cast member's photo is lovingly cut and arranged around the cup. Before embarking on my journey as a children's book illustrator, I was fortunate to have a successful career as an opera singer also. My grandfather and I always had a special bond through music that has informed my life as an illustrator. My first voice teacher, Jane Rolandi, is even pictured here too as Rosina!
Q. What advice do you have for young writers and/or illustrators?
Learn from the masters, but then respectfully ask them to leave your studio.
It's important to recognize the family tree of artists you belong to. Discover your heroes, and embrace the process they used to they create their work. Soak up everything about their lives and their technique…then, go beyond it. Imitation is a powerful teaching tool, but practice it wisely because it can limit your vision and ultimately squander your potential. How you see the world is uniquely yours. Take what you've learned from the masters, make it your own and strive to do it even better!
Q. What are you excited about right now?
My next project! I will be illustrating a picture book biography on the life of Nobel Peace Prize winner Jane Addams, the pioneer of social work in our country and founder of Hull House.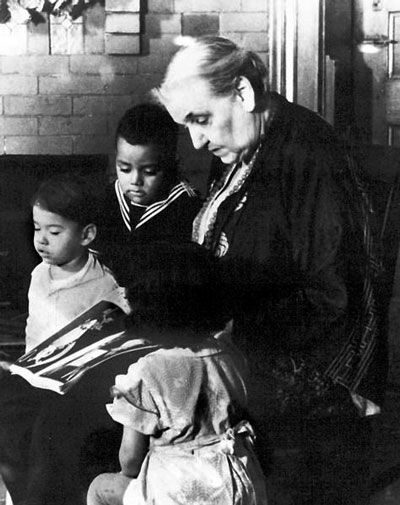 I am in awe of this amazing woman and it such an honor to take on the responsibility of introducing on a non-fiction character to a new generation. I will be travelling to Chicago in a couple of weeks to visit the Hull House and I cannot wait to take my sketchbook with me and spend the day walking where she walked!
Here is a recent sketch: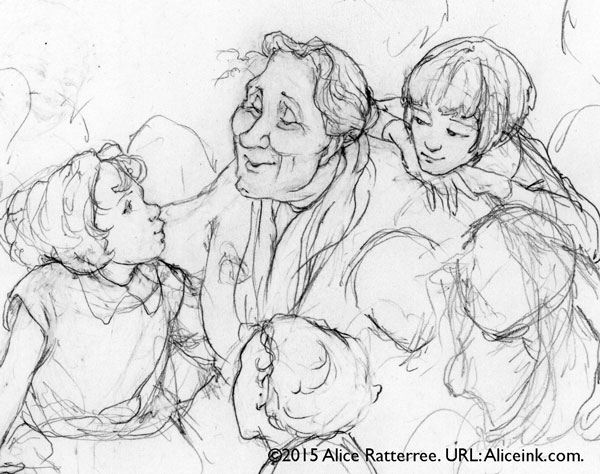 Thank you, Debbie, for inviting me to chat today!
---
For more insights from book creators, see my Inkygirl Interview Archives and Advice For Young Writers And Illustrators From Book Creators.