#BookADay: FAMILIES, FAMILIES, FAMILIES by Suzanne Lang & Max Lang (Random House Children's)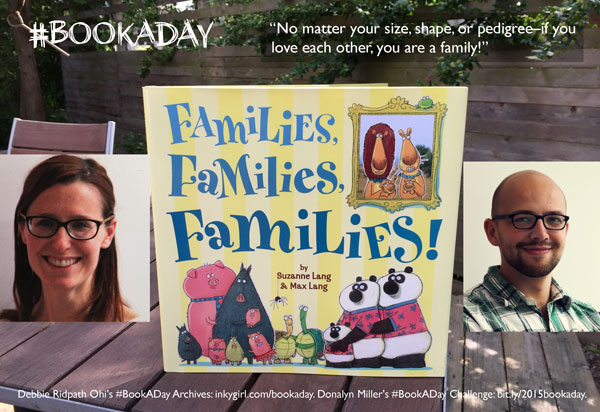 FAMILIES, FAMILIES, FAMILIES! by Suzanne Lang and Max Lang is a wonderful celebration of family love, no matter what the size or type. Adorable and goofy family portraits included nontraditional as well as traditional families. Published by Random House Children's Books this year.
Suzanne produces, develops and writes for children's television. Max codirected the film adaptation of The Gruffalo (!) as well as the Oscar-nominated adaptation of Room On The Broom.
Excerpt from a School Library Journal review: "The loud-and-clear message is that "if you love each other, then you are a family." And imagine the many children who will be reassured because they have found a portrait of a family they will recognize as their own. A solid choice for most libraries."
More about the book on the publisher website.
---
More info: Donalyn Miller's Summer Book-A-Day Challenge | Archives of my #BookADay posts.