Three Questions With Russ Cox: Advice For Young Writers and Illustrators, Tigers and debut author/illustrator picture book FARAWAY FRIENDS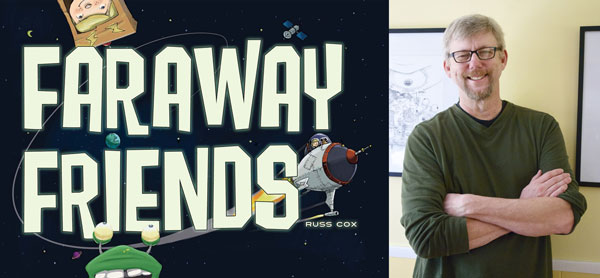 I first met Russ Cox through our mutual friend Hazel Mitchell, when we were both members of Pixel Shavings. I've been grateful to Russ for his encouragement and support, especially his tips re: Photoshop and Painter. He's one of the nicest people you could hope to meet. Plus check out the WONDERFUL and uncannily accurate drawing he sent me after I admired it online (and said it looked like me in younger days):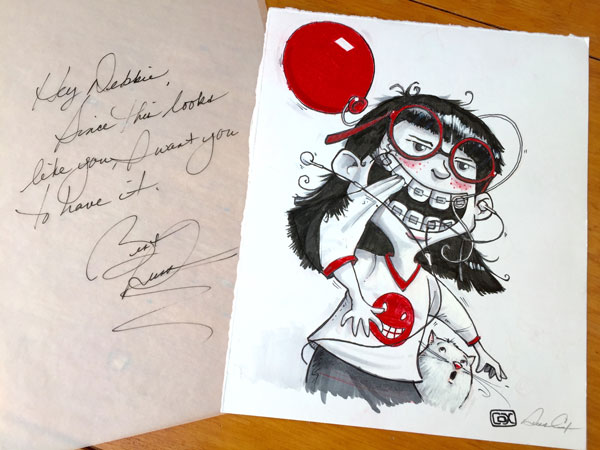 Russ lives in Maine with his wife and 4 furry art directors. When not creating children's books, he enjoys playing the banjo, moose juggling, and debating Einstein's theory that the speed of light is constant (only one of those is true). You can find Russ at his website, Twitter, Facebook, Flickr, Google+ and Tumblr.
Synopsis of FARAWAY FRIENDS:
Faraway Friends is about Sheldon, a would be astronaut, and his sidekick Jet, who are looking for a lost friend through a space adventure only to find a weird alien creature and its furry friend.
1. Could you please take a photo of something in your office and tell us the story behind it?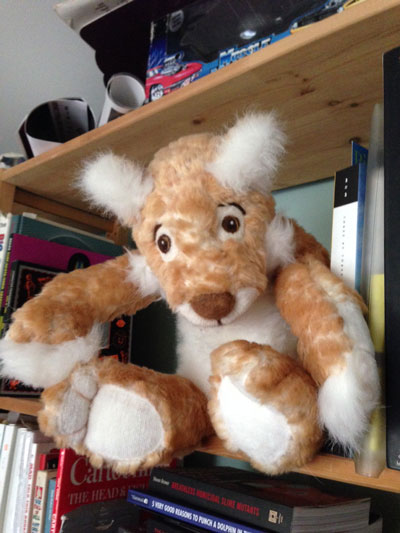 I have lots of knicknacks in my studio that I like to look at but this little tiger might be the best thing I have in it. It was made for me by the super talented Jennifer Carson as a surprise gift. She made it from a doodle I posted: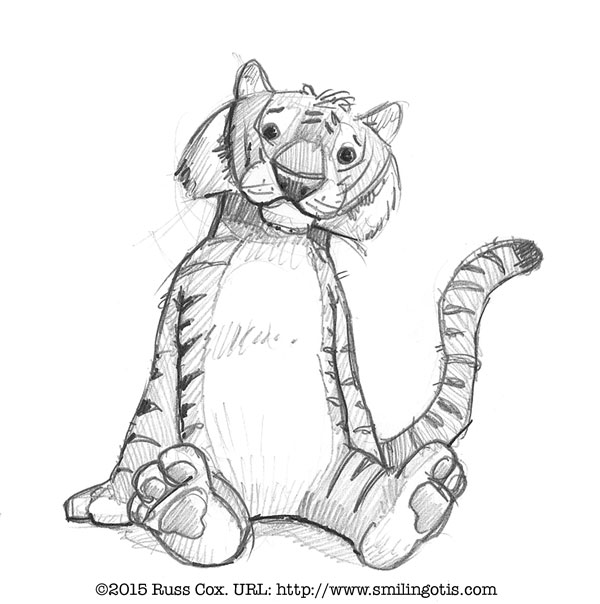 I was stunned when she handed it to me at a NESCBWI conference a few years ago. I smile every time I see it. I think I will call him Otis.
2. What advice do you have for young writers and illustrators?
Being an illustrator for a very long time, I am rather new to the writing end of the book world. The few things I have learned are:
Don't be afraid to put words to paper. Okay, this is one that I am still working on but I'm getting more comfortable with each attempt I make. I come from an illustration background so writing is outside my comfort zone. It was you, Debbie, who started me on this path after telling me to write a story from a doodle I shared. That nudge and doodle turned into Faraway Friends.
Share your stories with a few people or join a critique group. The fresh eyes and ears can help you find problem areas in your writing, and act as a great support network when the self doubt and fear start creeping in.
Embrace rejection. It is okay to hear "no thank you". It helps light that creative fire and you learn from it. Faraway Friends received a bunch of rejections before finding a home. Not everyone is going to love your story.
Turn off the modern world and go outside. There are stories outside your house and studio waiting to be heard and told.
3. What are you excited about right now?
I am really excited about doing some promotional events for Faraway Friends. I am in the midst of scheduling signings, festivals, and school visits for the summer and fall.
The projects on my drawing table at the moment are a book series for Penguin Random House called Puppy Pirates (written by Erin Soderbergh Downing) that I am illustrating . This has been a ton of fun to do. The first two books will be released this summer and the other two in the fall. I am also writing some new picture book stories and have begun putting together a graphic novel. That reminds me, time to turn off the computer and head outside.
——
For more insights from book creators, see my Inkygirl Interview Archives and Advice For Young Writers And Illustrators From Book Creators.