Three Questions with Pat Zietlow Miller: Advice for young writers, English teachers and bookmarks, peanut butter cups and WHEREVER YOU GO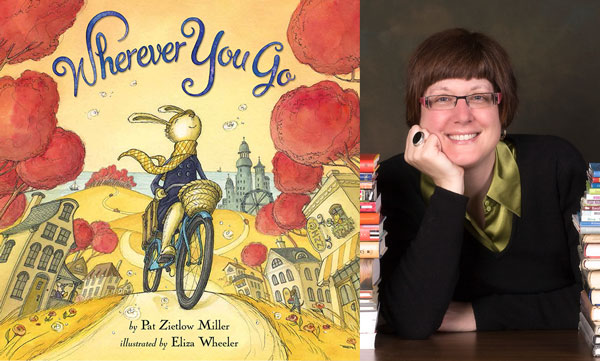 Pat Zietlow Miller wrote SOPHIE'S SQUASH, which won the Golden Kite Award, an Ezra Jack Keats New Writer Honor and a Charlotte Zolotow Honor. She has two books coming out this year: WHEREVER YOU GO (Little, Brown, April) and SHARING THE BREAD (Schwartz & Wade, August.) Pat also has six other books under contract.
For a synopsis of WHEREVER YOU GO plus more about the illustrator, Eliza Wheeler, see yesterday's Three Questions With Eliza Wheeler. Wherever You Gois a new picture book written by Pat, illustrated by Eliza, coming out from Little, Brown Books For Young Readers on April 21, 2015. As I mentioned in earlier posts, I absolutely ADORE this book and strongly recommend it.
Where you can find more info about Pat and her work: her website, PictureBookBuilders.com (where she is a regular contributor), @PatZMiller on Twitter.
Q. Could you please take a photo of something in your office and tell me the story behind it?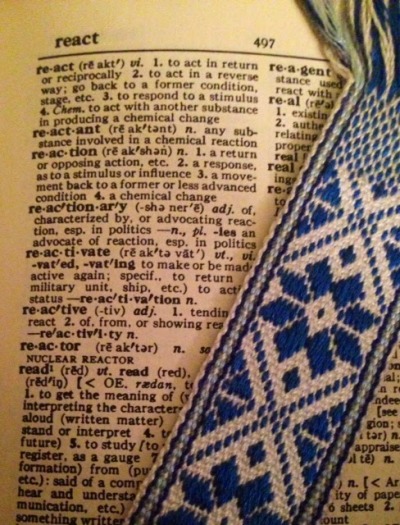 This is a dictionary and a bookmark I received when I was a senior in high school from my English teacher Gladys Veidemanis. The class voted on several awards, and I won "most likely to be published." It took about 25 years after high school, but it did happen!
Q. What advice do you have for young writers?
Read anything you can. Write anything you can.
When I was young I read anything and everything. Books. Newspapers, Magazines. Cereal boxes. The backs of shampoo bottles. I remember being very indignant once as a teen when the copy on the back of a soap container was missing a hyphen. "How could someone not have noticed that?" I asked my mom. She didn't have a good answer.
I also tried to write like my favorite writers. I was a huge Erma Bombeck fan, and a huge Rick Reilly fan and I tried to write essays that sounded like them. It might seem counterintuitive, but recognizing other people's writing styles and trying to replicate them ends up helping you figure out your own best writing voice.
But even if you read and write anything you can, you still may have a hard time getting your book published. I got 126 rejections before I sold my first book. This video tells how I persevered. (And now, I've sold nine books, so it was definitely worth the wait.)
Q. What are you excited about right now?
What a great question! Let me make you a list:
• Dark chocolate peanut butter cups from Trader Joe's.
• Finding out which colleges my daughter gets accepted into and helping her decide where she'll go.
• An oh-my-goodness-you-must-read-this middle grade book by Kate Messner called ALL THE ANSWERS.
• The fact that illustrator extraordinaire Eliza Wheeler is coming to Wisconsin from California to launch our picture book WHEREVER YOU GO.
• These shoes, which I cannot, unfortunately, afford.
I could keep going. There are lots of things to be excited about.
——
For more insights from book creators, see my Inkygirl Interview Archives and Advice For Young Writers And Illustrators From Book Creators.